Food
The very best places to eat pizza
by Sarah Alcock
Pizza, pizza, pizza – it's no longer just the choice for a hangover cure. There are hundreds of authentic, artisan pizzerias opening all over the country. Here are a few that the Sainsbury's magazine team knows to be darn tasty.
Small slices of info
• Pizza is the most popular food purchased in British restaurants and the second most popular item bought in supermarkets for dinner.
• It's gone full circle from being the most basic peasant supper to being the most in-demand gourmet trend.
• 6/10 casual restaurants have a pizza or pasta focus.
BEST VALUE


Sarah, content editor -

Franco Manca

, Balham, London SW12

They're popping up all over the place – there are now 10 in London. My favourite is Balham – it's relaxed, cosy and the pizzas are consistently good. I always order number 4 off the menu, which is Gloucester Old Spot ham with mozzarella, ricotta and wild mushrooms. And the best bit: it's only £6.85 (the price pizza should be!).

They also do pizza-making classes on the second Monday of every month at the Chiswick restaurant. It was fun and the pizza chefs are really knowledgeable. It'd make a great foodie present...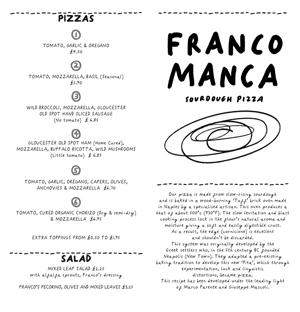 BEST T-SHIRTS


LUCY, food editor –

Pappagones

, Stroud Green, London N4

They wear T-shirts that say 'it'sa nice'a place to stuffa your face', which sounds awful but the pizza (and the pasta) is really good. The calzone is the best and their garlic bread comes with a herby tomato sauce so it's basically a pizza without the cheese!
(image taken from tntmagazine.com)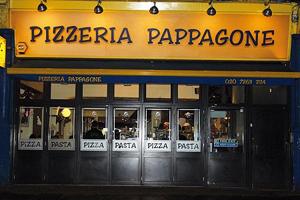 FAMILY RUN


Amy, marketing manager –

Famiglia

, Lewes, East Sussex

Famiglia is a family-run pizza place in Lewes - they make everything from scratch from locally sourced ingredients. Plus you always get a super-friendly welcome from the owner. Their calzone is the best. Make sure you book!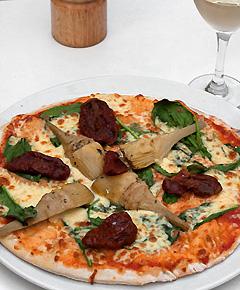 THE INSTITUTION


Michelle, deputy editor –

Salvo's

, Leeds

It's an institution. It's where I first had a real Italian pizza and probably the only restaurant where I've ever queued up for a meal! The original and best.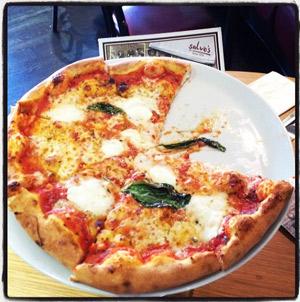 BEST VALUE
Leanne, picture editor – A Casa Mia, Herne Bay, Kent
It's the first restaurant in the UK to be approved by the Associazione Verace Pizza Napoletana. I met an Italian chef from a very posh restaurant in Kent who says he goes there a lot – if it's good enough for the Italians...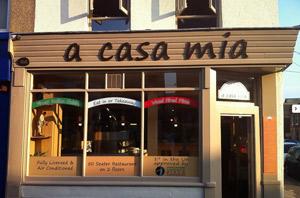 RUSTIC AND READY


Deborah, content editor –

Mediterranea

, Crystal Palace SE19

Mediterranea is a lovely Sardinian restaurant. It's proper rustic and they cook pizzas in the open so you can see yours being made. I love the Bufalissima, which has loads of mozzarella, loads of spicy salami and loads of chillies.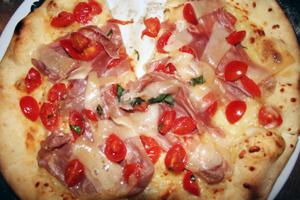 CHEESY AND FUN


Katrina, features writer –

Pizza Metro

, Battersea, London SW11

They serve pizza by the metre here (hence metro). The more people in your party, the longer the rectangular pizza will be! It comes served as one whole big measure of pizza so everyone just digs in.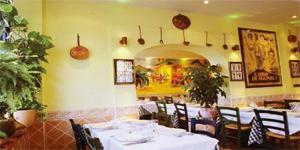 GLUTEN-FREE FAVE


Ellie, designer –

Pizza Express

(nationwide)

They do 9 gluten-free pizzas, which is 9 more than most places and it's definitely the best GF option I've ever tasted. There's gluten-free brownie on the menu, too.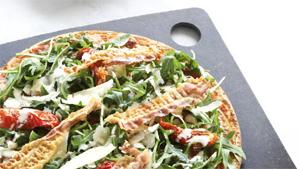 NEW YORK STYLE


Emily, sub editor –

Voodoo Ray's

, east London E8

Voodoo Ray's in Dalston serves huge, floppy slices of 22-inch New York-style pizza until the wee small hours. They always have a mix of veggie and meaty pizzas on their counter – my favourites are the Porky's (Cumberland sausage, Stilton, red onion, parsley, mozzarella, tomato sauce; £4.20 per slice), Cabbage Patch Kid (savoy cabbage, smoked back bacon, mozzarella and tomato sauce; £4.20 per slice) and the Green + White (ricotta, spinach, pine nuts and mozzarella; £3.90 per slice). You can also grab a frozen margarita (made from top-quality Sauza Hornitos reposado tequila, Cointreau, agave syrup and citrus juices) to wash it all down.
Don`t miss

---