Food
The 10 best lunches in London under a tenner
Looking for a good London lunch suggestion? Look no further. We've compiled our favourite lunches under £10 so you won't have to traipse around our fine capital...
Bonnie Gull Seafood Bar
Our editor-in-chief, Helena and acting food director Mitzie recently visited Bonnie Gull in Exmouth Market for a quick lunch. The £10 special lunch menu comes with three choices and includes a small glass of house wine, a beer or a soft drink. Helena recommends the light and fresh Isle of Man crab roll with avocado and pickled cucumber. It comes with a bowl of zingy tomato gazpacho drizzled with olive oil and is pretty perfect for cheering up a dull day.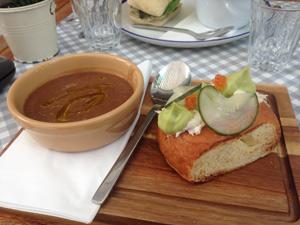 Bonnie Gull's soup-er lunch
Street Kitchen
Having recently opened their fourth shop in Broadgate Circle, Street Kitchen is our pick for hot sandwiches. The hot smoked salmon, pickled red cabbage and beetroot with dill mayo on a brioche bun (£4.75) should be enough to tickle anyone's sandwich fancy.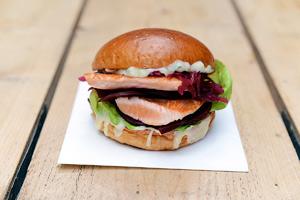 Street Kitchen know how to make a great sandwich!
Morito
Editorial assistant Bryony loves Morito on Exmouth Market. With various tapas dishes to choose from, you can create your own meal and eat as much or as little as you like. The grilled tetilla cheese, membrillo and walnuts (£5.50) and the jamon and chicken croquetas (£4.50) are particularly delicious.
Chipotle
With various shops all over London, Chipotle is intern Charlotte's favourite if you're up for something a little more substantial than a sandwich. With their 'pick as you go' approach you can really tailor your burrito to exactly what you want. Her meat of choice is the steak burrito (£6.95) but the other fillings are really all down to you.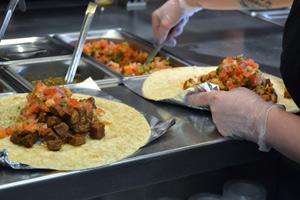 Chipotle burritos stuffed to the brim
L'Anima Deli
Our content editor Sarah recommends L'Anima Deli in Appold Street, Broadgate. You can choose to sit in or take away and can pick from a buffet of freshly made and deliciously appetising salads. With a menu that changes daily, it's hard to pick our favourites, but fingers crossed they have the duck salad or the roast Mediterranean veggies (both £5.50).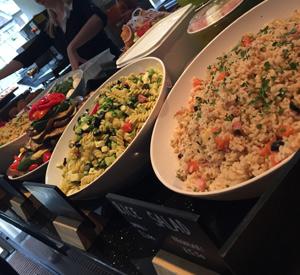 Irresistable salads at L'Anima Deli
Yard Sale Pizza
This Hackney favourite does incredible pizzas. And, even better, for an extra £2 your pizza base can be gluten-free. The TSB, including Tenderstem broccoli, Manchego, pine nuts, garlic and olive oil (£9) is mouthwatering!
Yalla Yalla
These Lebanese Restaurants can be found in Soho, Oxford Street or Winsley Street and have a great range of mezze and main dishes to choose from. A lighter option is the falafel, chickpea and broad bean patties with salad, tahini and garlic yogurt sauce (£4.25).
Kin
Art editor Loraine recommends the green chicken curry (£8.80) from Kin in Clerkenwell. Not for the faint hearted, these delicious dishes are sizeable so you may have to share. An added bonus is it's a little cheaper if you opt for takeaway.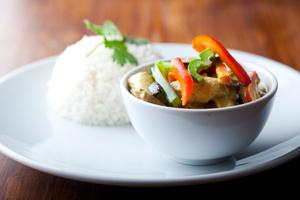 Kin's curry is hard to beat!
Patty and Bun
Sometimes you just can't beat a good burger and digital content producer Anne has got it covered. At Patty and Bun in Liverpool Street she always has the hugely popular Ari Gold cheeseburger (£7.50) with a generous beef patty, cheese, pickled onions, a winning combination of both ketchup and smoky BBQ sauce, and the all important brioche bun. Succulent, sloppy and utterly delicious! The sweet and smoky chicken wings, and the rosemary fries make great sides too.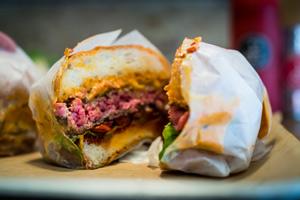 Patty and Bun's burgers are seriously delicious
Tibits
A little gem just off Regent Street, Tibits is a great vegetarian buffet bar with all lunch dishes from £2.30 per 100g. There are so many different options, from Louisiana chilli with avocado to a classic Caesar salad. You're completely spoilt for choice!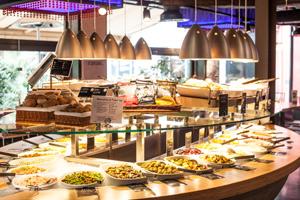 Tibits's buffet - we'll have a bit of everything please!
By Charlotte Davidson
About the author