Food
Taking Orders: Carmel
by Abigail Spooner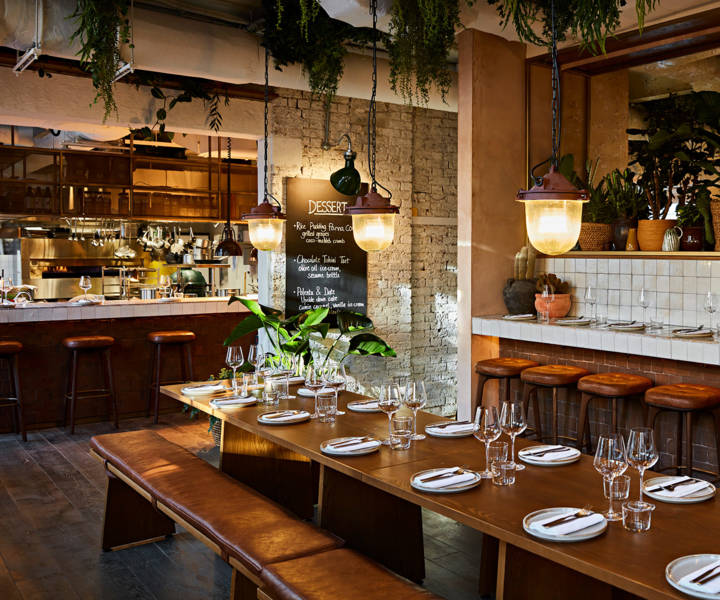 Carmel, Queen's Park
Abigail Spooner takes a seat at newly opened Carmel for a feast of sharing-style delights
Where is it?
Located down a cobbled mews street in the heart of Queen's Park, this area of North-West London has an upbeat neighbourhood atmosphere that welcomes this new dining spot with open arms.
What's all the fuss about?
From the successful team behind Berber & Q, brothers Josh and Paul Katz and Mattia Bianchi, have launched a relaxed, yet refined, all-day restaurant with a sharing style menu of Eastern Mediterranean and North African flavours.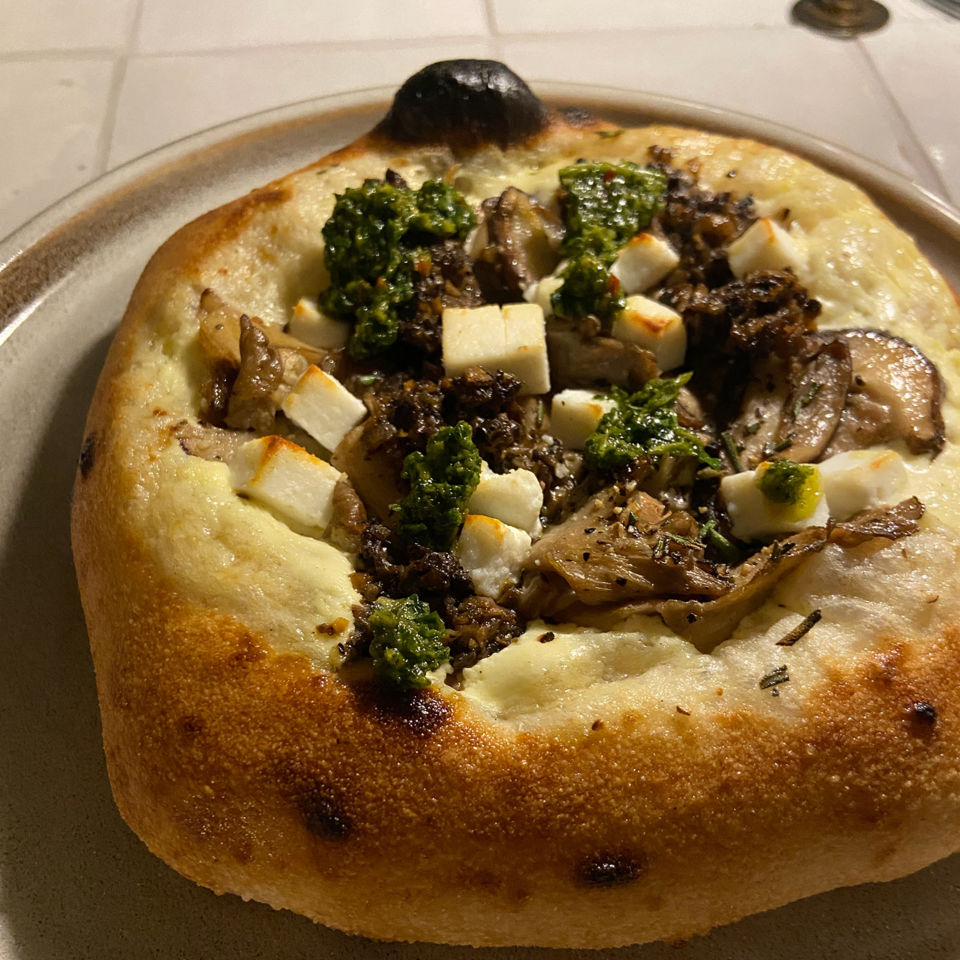 Sourdough flatbreads
What's the place like?
A long wooden sharing table takes centre stage in the intimate space with counter seats for watching the chefs hard at work in the open kitchen. We are perched in front of the drinks preparation area which proves especially useful for catching the bartender's eye. Plants and greenery drape from the ceiling whilst industrial style lights add to the laid-back atmosphere.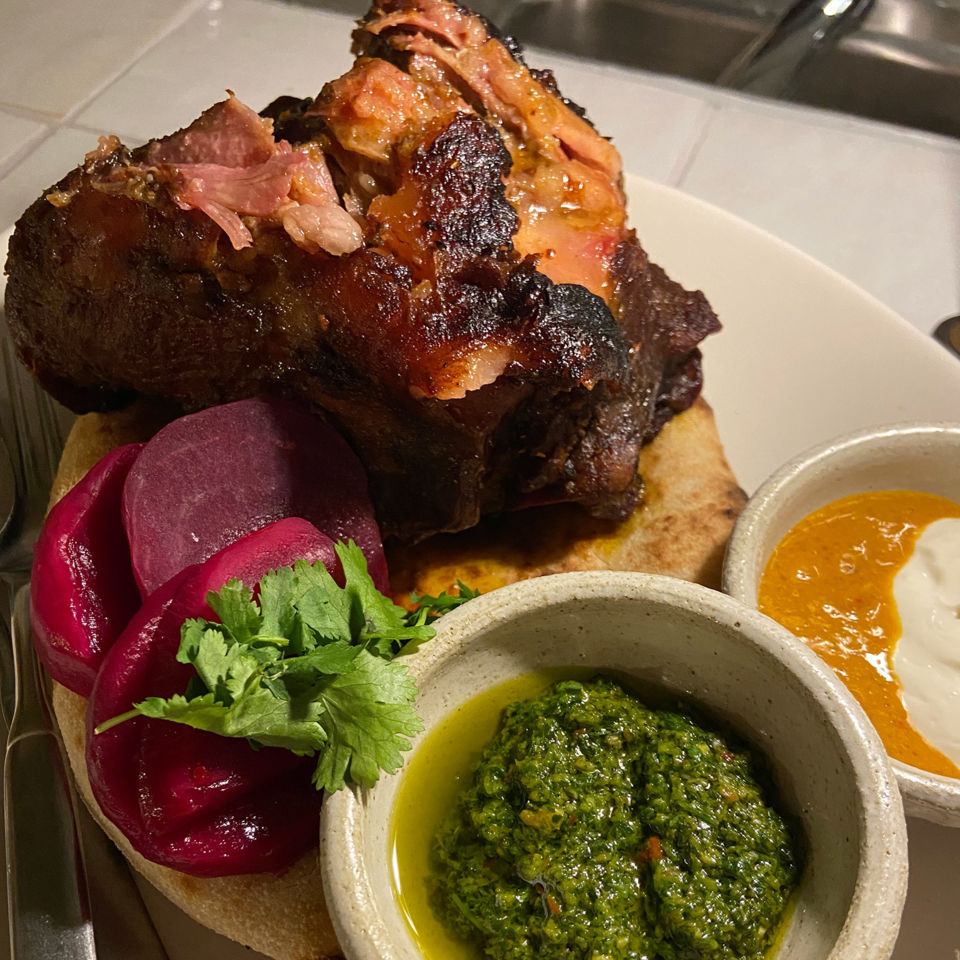 Smoked lamb neck shawarma
What did we eat and drink?
We begin by perusing the interesting cocktail menu and both opt for A Walk in QP. It's punchy and sophisticated with plum notes, maraschino and brancamenta liqueur. On the food front, we can't resist trying one of the fluffy, sourdough flatbreads, fresh from the wood-fired oven. Wild mushrooms and cubes of manouri cheese top a crème fraiche base with dots of s'chug (a verdant coriander and chilli sauce) adding heat. If this is a sign of things to come, we're in for a treat.
From the small plates section of the menu, humble smoked carrots are elevated with puffed freekeh, earthy beetroot and xigalo cheese. Soft and pillowy gnocchi arrive bathed in a turmeric yogurt sauce with spinach and toasted pine nuts. Lastly, we peel and dip jumbo-sized harissa prawns into courgette tzatziki which are absolutely worth the messy hands.
For our choice of large plate, smoked lamb neck shawarma shreds off the bone with ease to reveal meltingly tender meat. We pile it greedily into flatbreads with creamy garlic labneh and pink pickled turnip. Never one to be defeated by dessert, we order an intriguing rice pudding pannacotta with grilled grapes and a sticky polenta and date upside down cake with cumin caramel, ice cream and candied hazelnuts. Both hit the sweet spot and it's a good job we live three minutes around the corner as I'm not sure our stuffed bellies would allow us to walk much further. Happily stuffed, I might add.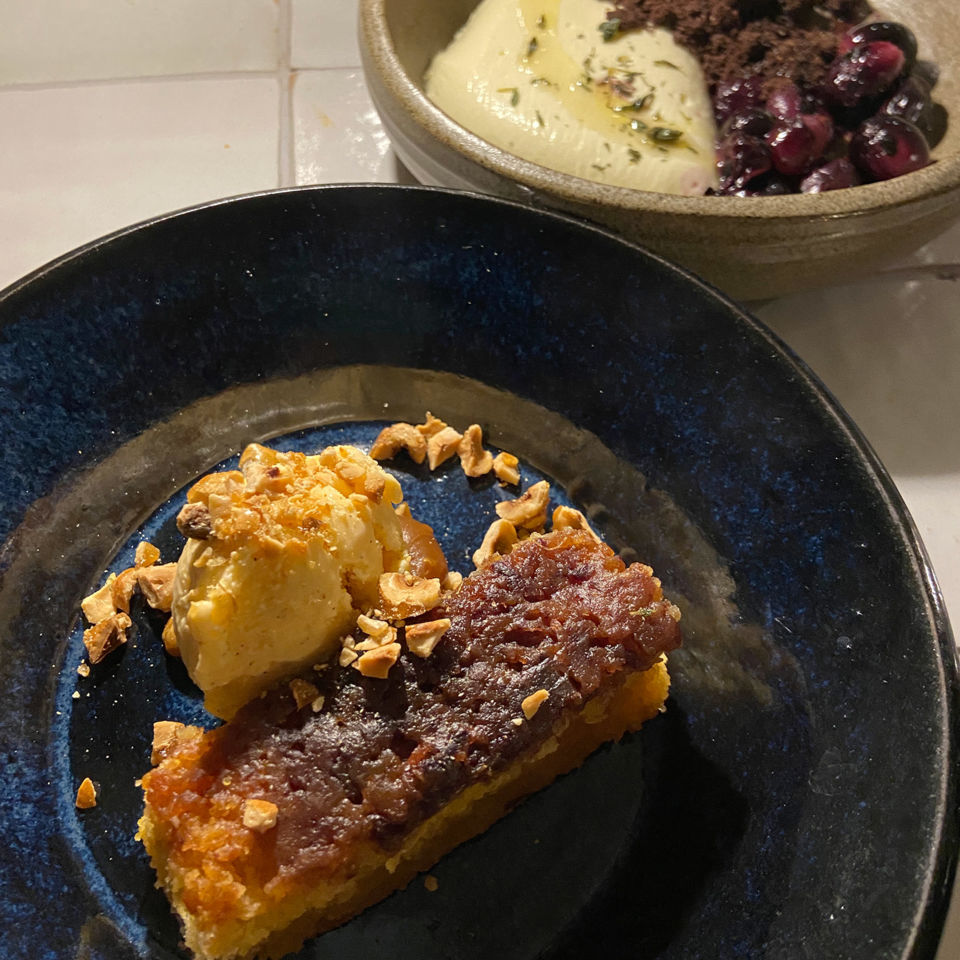 Sticky polenta and date upside down cake
Your verdict?
Moreishly good food…the kind of meal you're still thinking about for days to come. A new local favourite without a doubt.
Don`t miss

---