Food
Won't you take me to... Chicken Town
Fancy some fried chicken? When it comes to chicken shops, London is more than spoilt for choice - there are, apparently, over 8,000 outlets in the capital. And with children and teens particularly partial to the cheap and cheerful old favourite, chicken and chips (who can forget mums pushing chips through the school gates on Channel 4's Jamie's School Dinners?), it's little wonder that childhood obesity is such a problem. This is especially true of the north London borough Tottenham, which has one of the UK's highest rates (over 40% of 11-year-olds there are classed as obese).
So, if that's what kids want to eat most, how can you offer chicken and chips that are tasty and cheap - but just a bit healthier? With that in mind, and following a two-year research project, the new and groundbreaking concept of Chicken Town was born. With investment from Haringey Council and the Mayor of London and help from a kickstarter campaign, the restaurant (a not-for-profit company) serves healthier fried chicken at afforable prices. It opened its doors last month [November], right in the heart of Tottenham, just minutes from Seven Sisters tube station.
One great idea is the £2 Junior Special, a specially designed meal with chicken, sweet potato wedges, coleslaw and salad, available to under 18s during the daytime.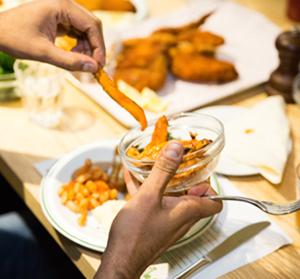 With a kitchen headed up by executive chef Giorgio Ravelli, previously at Upstairs at Ten Bells and The Ledbury, we couldn't wait to swing by and see if the food could live up to the admirable concept.
There's no booking option; but on a Friday night, it was buzzing yet not too busy and we were quickly shown to a table. The decor of the former fire station is pretty cool - industrial chic with bare walls, exposed pipework and the ubiquitous open kitchen.
All chicken is herb-fed, free-range and steamed prior to being flash-fried. We went for one Classic and one Fancy Pants (rosemary and lemon crumb coated) chicken - both were hot, crisp and not at all greasy. We (predictably) over-ordered on sides, tempted by those sweet potato wedges, hot chips (with cheese sauce and pickled jalapeños), greens and macaroni cheese... oh, and a salad with anchovy dressing. Staff were happy to pack up the leftovers for us to take home.
The food was tasty and wholesome, but not too worthy - we certainly didn't feel deprived. Chicken Town is a great initiative and deserves to be a success.
Chicken Town, The Old Fire Station, Town Hall Approach Road, N15; chicken-town.co.uk
About the author