Food
6 places... to soak up the World Cup spirit
Missed out on a ticket to Brazil? Don't worry, we've picked our top six spots to eat and drink in the World Cup spirit – think Brazilian hot dogs, street parties, barbecues, burritos, Caipirinha cocktails and beach bars. It's all up for grabs!
1. Bubbledogs
The gourmet hot dog restaurant/Champagne bar has launched 10 special new World Cup-themed hot dogs, each with toppings from a different competing country. Our favourites include the Japanese 'Junya' dog with teriyaki stir-fried noodles, nori and toasted sesame seeds; the Greek 'Stavros' with smoked aubergine purée, feta, pickled red onions and chopped parsley salad; and, of course, the English 'Breakie Dog' with crispy bacon, tomato relish, black pudding bits and a fried egg.
2. The Grill From Ipanema
For the duration of the World Cup tournament, the creators of
Cabana
, the Brazilian barbecue restaurant, will bring a taste of Rio to Covent Garden's Piazza – complete with golden sand from Brazil's shores. They'll be serving up Brazilian classics including flame-grilled skewers, chicken coxinhas and cassava chips, all washed down with a fruity selection of Caipirinhas and Batidas from the beach bar. During the day, visitors are invited to watch Brazil's iconic beach game, frescobol, being played, take part in cooking masterclasses and even bust some moves in the samba workshops.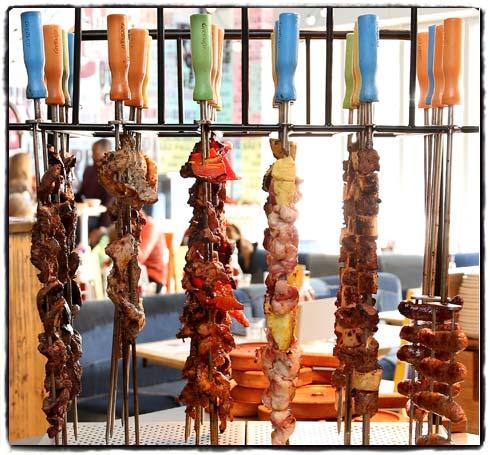 Cabana flame-grilled skewers
3. Camp and Furnace
If you're in Liverpool, get yourself to Camp and Furnace. It has announced a World Cup 'Fanpark' which promises to 'immerse the audience in a full-on Rio street party', as well as providing full coverage of the games. The Camp and Furnace kitchen will be serving up Brazilian specialties including espetinho de camarão (prawn skewers), empadinha (stuffed Brazilian pastries) and acarajé (fried black-eyed pea dumplings), as well as typical Brazilian cocktails such as Meia de Seda (gin, cacao liqueur and cinnamon) and Porradinha (cachaça and soda).
4. Benito's Hat
Burrito restaurant Benito's Hat has released the Bur-ROY-to in all its branches. Yes, the Bur-ROY-to – a burrito filled with roast pork belly, crunchy crackling, tangy apple and chilli salsa – dedicated to England manager Roy Hodgson. What's more, Benito's Hat will donate 50p to Street League, a charity which uses the power of football to help unemployed young people get into work and training, for every Bur-ROY-to sold. The Bur-ROY-to will be available in stores for as long as England remain in the World Cup.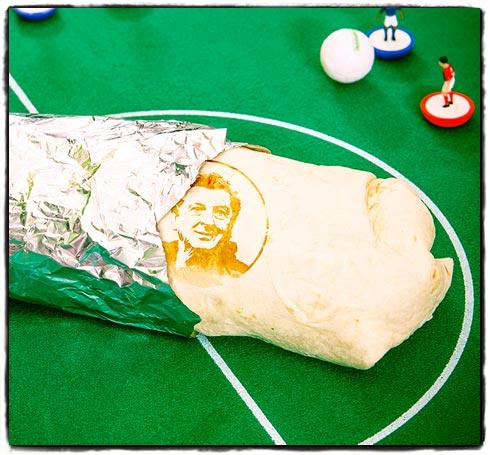 The 'Bur-ROY-to'
5. Isle of Wight
Football fans attending the Isle of Wight festival 12-15 June can breathe a sigh of relief, as the games will be shown on big screens in the BT Sport Field of Dreams. Unlike Glastonbury, which decided against showing some games due to clashes with its headline acts, festival-goers at Isle of Wight can flit happily between Boy George and Brazil vs Croatia or The Specials and England vs Italy. Then, to really get you into the Brazilian mood, kick back and relax at the Life's A Beach bar – complete with palm trees, golden sand, a sizzling barbecue and your favourite summer drinks.
6. Barzinho
Sunshine is guaranteed in Soho this summer with the launch of Barzinho at Archer Street . Inspired by the stunning must-visit destination of 2014, the venue has transformed its downstairs bar into a bold and beautiful Brazilian oasis, guaranteed to bring the Carnival joy into your life regardless of the weather outside. The bar is offering a special range of modern takes on the iconic Caipirinha. Guests can also sample the bar's signature award-winning cocktail, The Redeemer, made with caçhaca infused with acai berries, Campari infused with goji berries, fresh passion fruit juice and lime. Yum!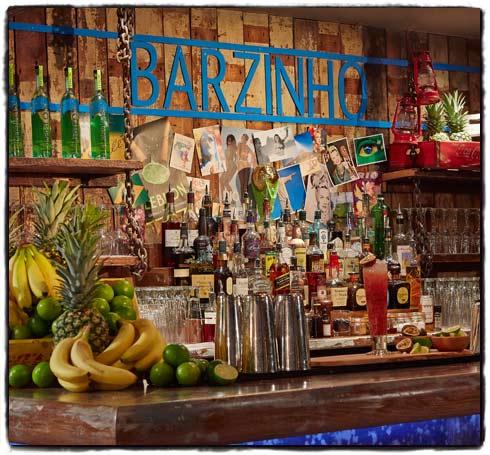 Ready for Rio!
About the author