Hot-water crust chicken, leek and shiitake pie
Serves
4-6
|
prep
30 mins
|
total time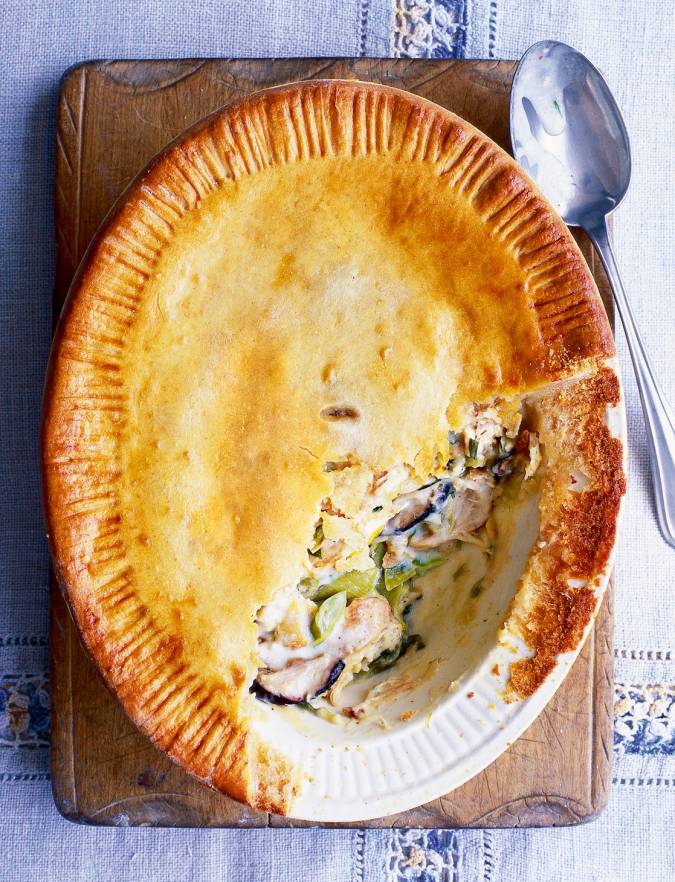 Nutritional information (per serving)
See more
Ingredients
1 medium leek, trimmed and sliced into thin rings

120g shiitake mushrooms, stalks discarded, caps finely sliced

25g butter

400g cold cooked chicken, shredded

1 tbsp chopped tarragon

1 tbsp chopped parsley
For the béchamel sauce:
40g butter

40g flour

300g fresh chicken stock

150ml single cream

1 tsp English mustard

a good squeeze of lemon
For the hot-water crust pastry:
175g plain flour, sifted, plus a little extra for dusting

50ml milk

10g butter

1 large egg, lightly beaten
You will also need:
a 25 x 18cm (1.5-litre) pie dish or similar
Get ahead
Assemble the pie, ready to cook, a few hours ahead; chill.
Gently cook the leeks and shiitake mushrooms in the butter until tender, then cool. Add the chicken, tarragon and parsley, and season. Set aside.

For the sauce, melt the butter in a pan, add the flour and cook over a low heat for 1-2 minutes until the mixture is golden and smells biscuity. If you don't cook the butter and flour properly, your sauce will taste floury. Pour in the stock and turn up the heat, whisking constantly, until it reaches simmering point and thickens slightly. Off the heat, stir in the cream, mustard and lemon juice, then cool.

Mix the sauce with the pie filling and check the seasoning. Preheat the oven to 200°C, fan 180°C, gas 6.

Tip

If you don't have time to make the pastry yourself, use a sheet of ready-made puff pastry, which, although not quite as delicious as homemade hot-water crust, will make a perfectly tasty pie. Simply fill the pie dish with the filling and then brush the edge of the dish with the beaten egg. Cut the pastry to fit before placing on top of the filling and finishing the recipe as shown above.

For the pastry, put the flour and ½ teaspoon of salt on to a sheet of baking paper (or into a jug). In a small pan, bring 50ml water, the milk and butter to the boil, then shoot the flour into the pan. Beat until lump free and shiny. You may need a little more hot water if the mixture doesn't work itself together properly into a smooth dough. Allow to cool to a manageable temperature, then, on a lightly floured surface, roll out the pastry dough to a thickness of ¼ cm.

Add the filling to a a 25 x 18cm (1.5-litre) pie dish or similar and drape the pastry over the top of the dish. Using a fork, press down along the edge of the dish, then carefully trim away the excess pastry.

Use a sharp knife to cut 2 holes in the pastry top to allow the air to escape. Brush the pie with the beaten egg and bake for 30-40 minutes until the top is golden and the filling piping hot. Remove the pie from the oven and let it stand for 5 minutes or so before serving.
Pies are always on the menu at my restaurant, a favourite from my home far away in New Zealand. They are so versatile and just the ticket on a cold day with some stir-fried winter greens