Red Leicester, pickled onion and watercress quiche
---
Prep time: 30 mins
Total time: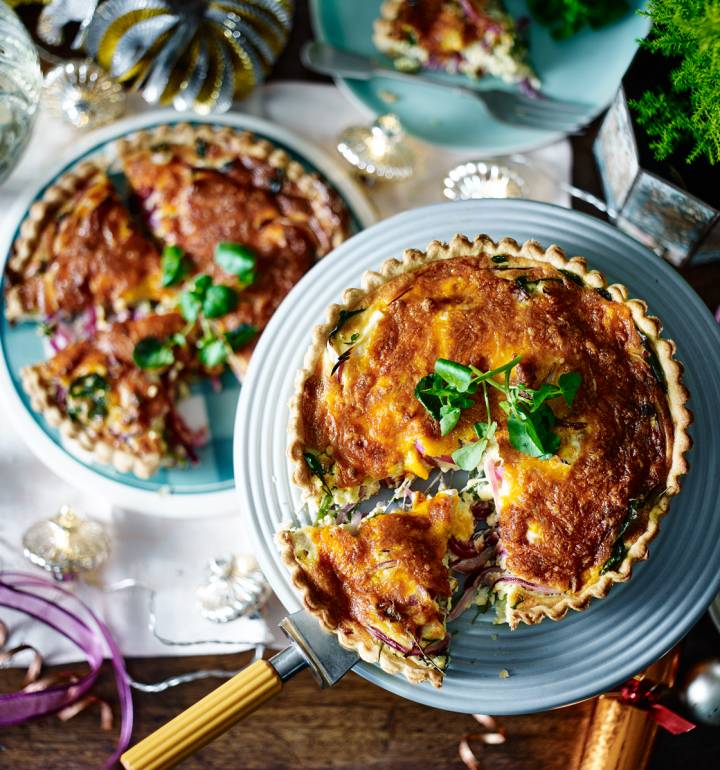 Recipe photograph by Toby Scott
Red Leicester, pickled onion and watercress quiche
---
Prep time: 30 mins
Total time:
---
See more recipes
---
Nutritional information (per serving)
---


Ingredients
450g plain flour, plus extra for dusting
225g cold butter, diced, plus extra for greasing
For the quick-pickled onions
250ml white malt vinegar
1 tsp caster sugar
1 tsp fine sea salt
2 medium red onions
For the filling
2 tsp English mustard powder
1 tsp fine sea salt
400ml double cream
6 large eggs
240g mature vegetarian Red Leicester, grated
1 x 80g watercress, roughly chopped, reserve a few sprigs for garnish
Step by step
Bake the quiches up to 1 day ahead, cool, cover and chill. Reheat on a baking tray for 15-20 minutes at 160°C, fan 140°C, gas 3.
Blend the flour and butter in a food processor until the mixture resembles breadcrumbs (or rub the butter into the flour by hand). Add 6 tablespoons of cold water and whiz until the mixture comes together in clumps; add another tablespoon if needed. Bring into a ball, then halve and wrap each piece in clingfilm. Chill for at least 30 minutes.
Pour the vinegar into a non-metallic bowl, add the sugar and salt and stir to dissolve. Finely slice the onions, add to the pickling liquid, stir, and set aside for 1 hour.
Meanwhile, preheat the oven to 200°C, fan 180°C, gas 6. Grease 2 x 20cm tart tins with a removable base. Roll out each ball of pastry on a lightly floured surface, then use to line the tins. Prick each base with a fork, line with baking paper and baking beans and bake for 15 minutes on a baking tray, then remove the paper and beans and bake for a further 7-8 minutes until lightly golden. Remove from the oven and turn down the heat to 160°C, fan 140°C, gas 3.
Meanwhile, drain the onions, discarding the pickling liquid, and pat them dry with kitchen paper. Whisk the mustard and salt into a little cream until combined, then whisk in the rest of the cream and the eggs. Stir in the cheese.
Scatter the onions and chopped watercress over the base of each quiche and pour in the filling mixture. Bake for 30-40 minutes until set, but still slightly jiggly in the centre. Allow to cool slightly before serving. Garnish with the reserved watercress.
Don't miss

---