Melting middle smoked haddock and prawn fishcakes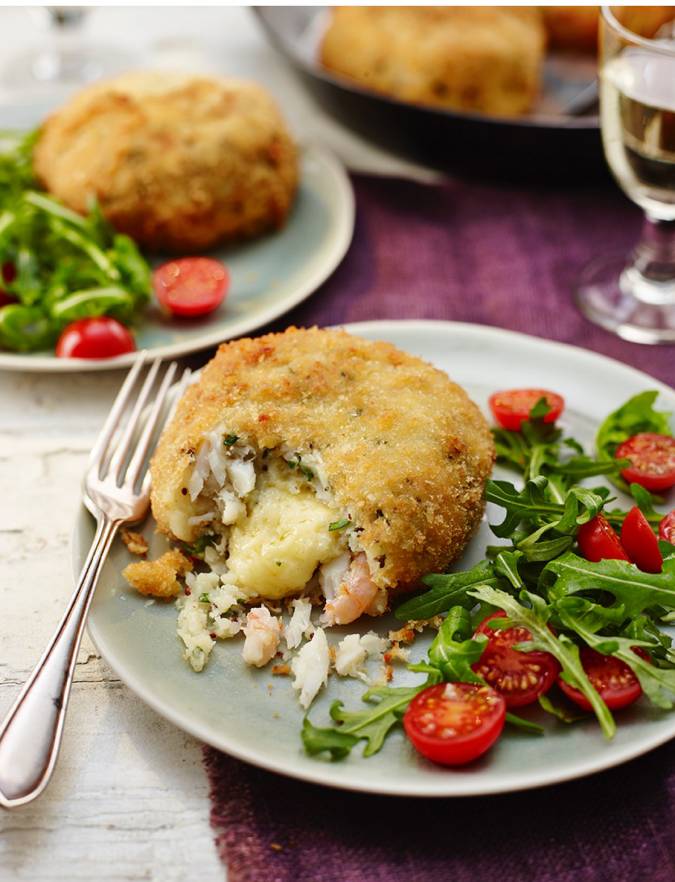 Nutritional information (per serving)
See more
Ingredients
750g floury potatoes, peeled and cut into large even-sized chunks

15g unsalted butter, plus extra for greasing

600g undyed skinless smoked haddock

2 bay leaves

1 x 200g pack MSC cooked peeled prawns, dried on kitchen paper

1⁄2 x 25g pack chives, finely chopped

1 tbsp wholegrain mustard

125g mature cheddar

2 medium eggs, beaten

125g panko breadcrumbs

3 tbsp vegetable oil, for frying
Get ahead
Prepare in advance and store uncooked in the fridge for 2 days.
Cook the potatoes in boiling salted water for 12-15 minutes or until tender. Drain, mash with the butter and seasoning; set aside to cool.
Meanwhile, preheat the oven to 200°C, fan 180°C, gas 6. Grease a large sheet of foil with butter and place the haddock in the middle, top with the bay leaves and some seasoning. Fold the foil over and scrunch the edges together to form a loose parcel. Put on a baking tray and bake for 12-15 minutes or until the fish is just cooked. Unwrap the foil and leave to cool slightly.
Add the prawns, chives and mustard to the potato and mix well to combine. Flake the haddock into large chunks (discard the bay leaves), gently stir into the mash so you don't break up the fish too much. Shape into 6 large balls and poke a hole in the middle of each with your thumb. Cut the cheese into six even cubes and press a piece into each hole, then shape the fishcake around to encase.
Lightly dust the fishcakes all over with flour, dip in the beaten egg and then coat in the breadcrumbs. Place on a lined baking tray; chill in the fridge for 15 minutes to firm up.
Heat the oil in a large frying pan and fry the fishcakes on both sides for 2-3 minutes until golden. Transfer to a baking tray; bake for 15-20 minutes until piping hot.