Butterflied lamb with Kentucky mop sauce
Serves
6
|
prep
30 mins
|
total time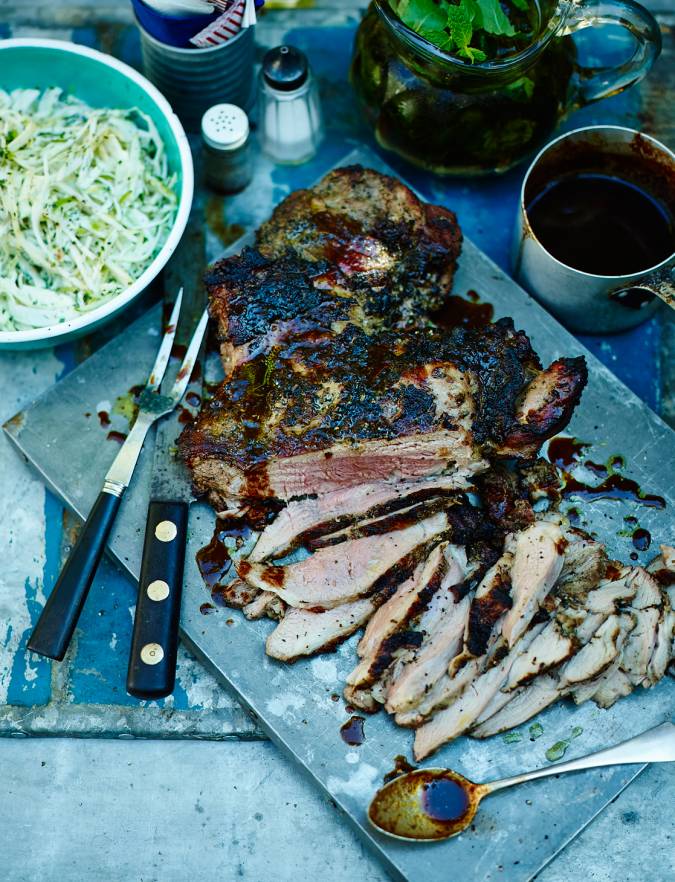 Nutritional information (per serving)
See more
Ingredients
1 boneless leg of lamb, weighing about 1.2kg
For the marinade
250g buttermilk or natural yogurt

juice of 4 lemons, plus zest of 1 lemon

1 tbsp groundnut oil

6 garlic cloves, sliced

½ x 28g pack mint, leaves chopped

2-3 tsp dried rosemary


2 tbsp dried thyme


2-3 tsp coarse ground black pepper (to taste)

½ tbsp sea salt flakes
For the Kentucky mop sauce
125ml Worcestershire sauce

100ml white wine vinegar


5 tbsp dark brown sugar


2 tbsp tomato purée

½ tsp garlic granules

½-1 tsp coarse ground black pepper (to taste)

1 tsp onion granules

¼ tsp ground cloves


juice of ½ lemon
Get ahead
You need to start this recipe the day before you want to serve it, so that the meat can marinate overnight.
First, whiz the marinade ingredients in a food processor or blender. If the lamb is ready tied, remove the string and open out the meat. Then, using a small sharp knife, make a few little slashes all over the lamb and put it in a large freezer bag. Spoon in the marinade and massage it into the meat, then expel any air from the bag, seal it and chill the lamb overnight.
To make the Kentucky mop sauce, heat all the ingredients with 150ml water and ½ teaspoon salt in a medium-sized saucepan over a medium-low heat. There's a lot of vinegar in this, so beware of the strong fumes. Allow the sauce to simmer for around 15 minutes until reduced by about a third, then leave to cool. Cover and chill.
The following day, use kitchen paper to pat as much of the marinade off your lamb as you can. Discard the marinade. Season the lamb, put it in a dish and leave it to sit for at least 20 minutes (so it comes to room temperature) until you're ready to cook.
This meat is going to be cooked directly, then indirectly to finish. Get a hot bed of coals started on
one side of your barbecue grill. You want it to last for about an hour at medium-high heat, so use a generous quantity of lump charcoal or briquettes, not instant lighting charcoal, which burns too quickly.
Carefully lay the lamb, fat-side down first, on your grate. Sear it for about 4 minutes, then flip it over and sear again for a further 4 minutes. Repeat on both sides – you should now have diagonal charred marks on the meat.
Now, slide the meat over to the opposite side of the grate, away from the coals, and close the lid. The lamb will take 35-45 minutes
 to cook to medium rare, turning the meat occasionally. If you have an instant-read thermometer, after about 35 minutes, insert it into the meat and if it reads 60-65°C/140-145°F, your lamb is ready. Carefully remove the lamb from the barbecue and allow it to rest, covered loosely in foil, for 15 minutes.
To serve, thinly slice the lamb and arrange on a serving dish. Drizzle some of the Kentucky mop sauce over the meat and serve the rest on the side for extra dipping.