Fright night cocktail from BrewDog
---
Prep time: 10 mins
Total time: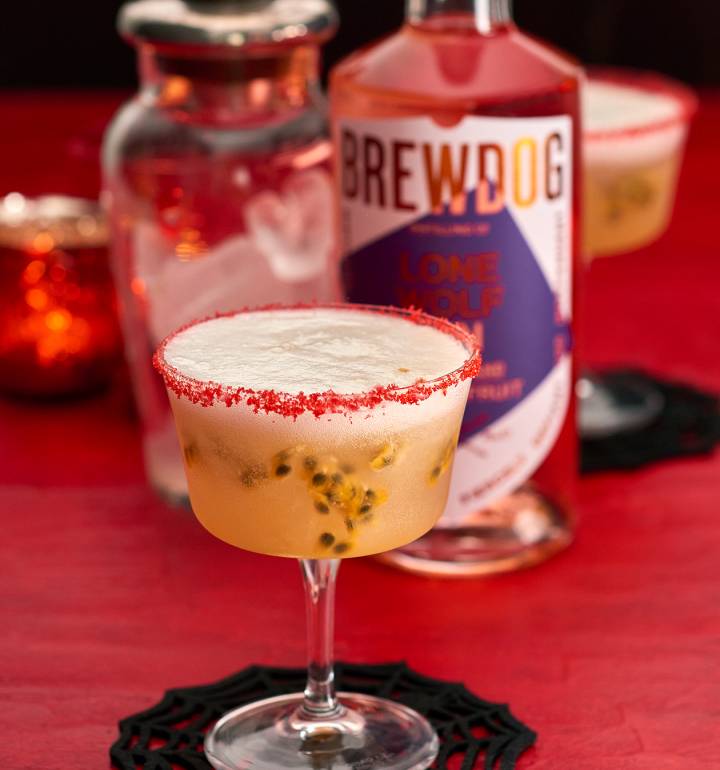 Recipe photograph by Clare Miller
Fright night cocktail from BrewDog
This fruity fright night cocktail is made with new BrewDog LoneWolf Peach & Passion Fruit Gin
---
Prep time: 10 mins
Total time:
---
See more recipes
Ingredients
2 tsp granulated sugar
2-3 drops red food colouring gel
50ml fresh lime juice
crushed ice and ice cubes
seeds and pulp from 2 passion fruits
100ml BrewDog LoneWolf Peach & Passion Fruit Gin
10ml sugar syrup
Prosecco, chilled, to serve
Step by step
Place the sugar and food colouring gel in a small freezer bag. Seal the bag and rub with your fingertips to evenly colour the sugar. Spread the coloured sugar on a plate.
Very lightly brush a little of the lime juice around the rim of 2 chilled cocktail glasses, then dip the rims into the sugar to lightly coat. Half fill each glass with crushed ice and stir in the passion fruit seeds and pulp.
Half fill a cocktail shaker with ice cubes. Add the gin, remaining lime juice and sugar syrup and shake thoroughly for about 1 minute. Pour into the glasses, top up with the Prosecco and serve.
Don't miss

---