Bloody gin fizz from BrewDog
---
Prep time: 15 mins
Total time: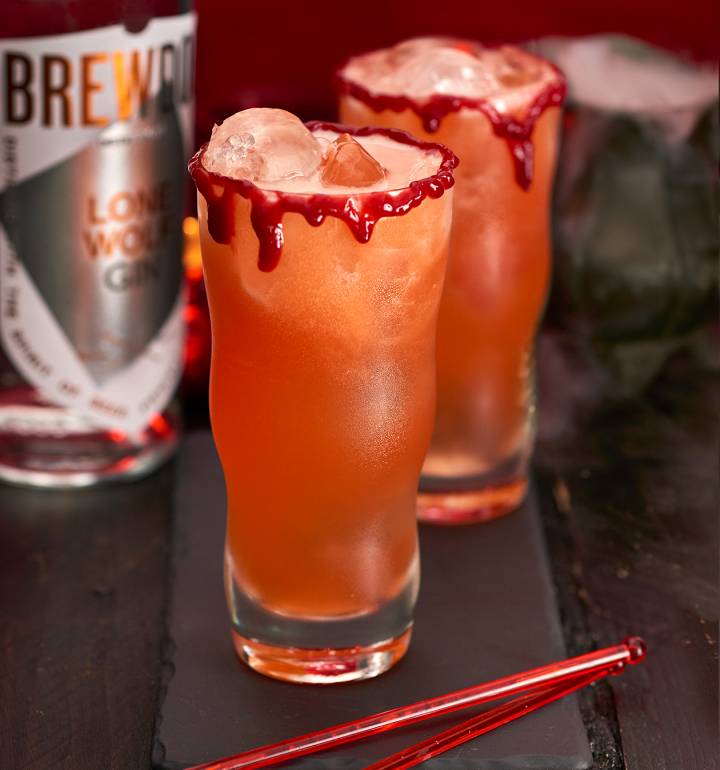 Recipe photograph by Clare Miller
Bloody gin fizz from BrewDog
Try a new twist on a gin fizz this Halloween with new BrewDog LoneWolf Gin
---
Prep time: 15 mins
Total time:
---
See more recipes
Ingredients
55g frozen mixed berries
1 tbsp caster sugar
ice cubes
50ml Lone Wolf London Dry Gin
50ml Aperol
50ml fresh lime juice
25ml sugar syrup
½ x 330ml can San Pellegrino blood orange sparkling drink
Step by step
Place the berries, sugar and 2 tablespoons water in a small saucepan. Heat gently until the sugar dissolves, then simmer for 4-5 minutes, stirring occasionally until the mixture is very thick and pulpy. Cool for 10 minutes, then push the mixture through a fine-holed sieve to make a thick purée.
Half fill a cocktail shaker with ice cubes and add the Brewdog Lone Wolf Gin, Aperol, lime juice and sugar syrup. Shake thoroughly for about 1 minute, then strain into 2 chilled highball glasses filled with ice. Top up with the blood orange sparkling drink. Use a teaspoon to drizzle the berry purée around the rims of the glasses to resemble dripping 'blood' and serve.
Don't miss

---