Ultimate vanilla custard
---
Serves:
4-6 (makes about 600ml)
Prep time: 15 mins
Total time: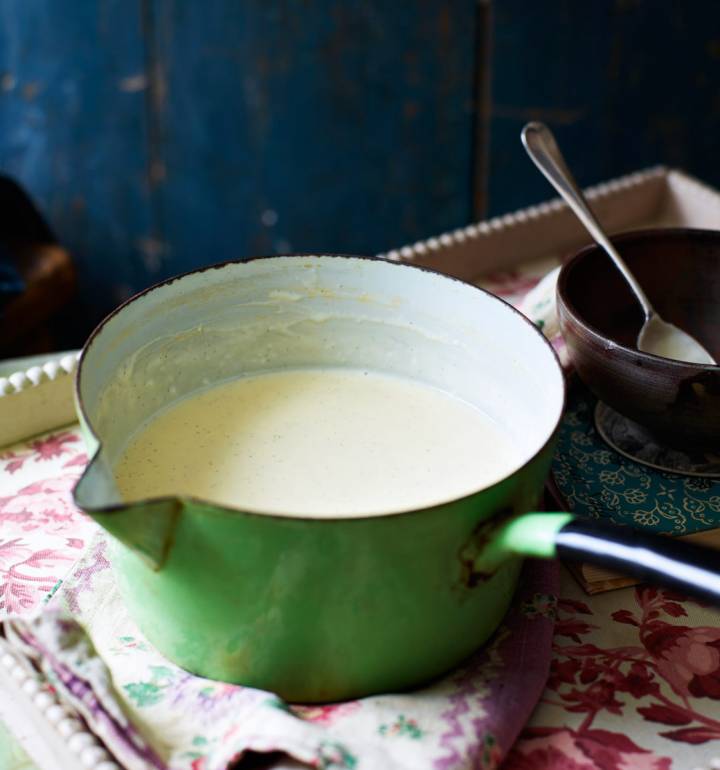 This recipe contains partially cooked eggs / Recipe photograph by Tara Fisher 
Ultimate vanilla custard
---
Serves:
4-6 (makes about 600ml)
Prep time: 15 mins
Total time:
---
See more recipes
---
Nutritional information (per serving)
---


Ingredients
1 x 568ml carton whole milk (or use half whole milk and half double cream)
1 vanilla pod, split
4 large egg yolks
2 slightly rounded tbsp caster sugar
2 tsp cornflour
Step by step
Make the custard up to a few hours ahead; pour it into a jug and press clingfilm directly onto the surface of the custard to prevent a skin forming. Keep at room temperature for up to 3 hours to be served at room temperature, or transfer to the fridge once cool.
Pour the milk into a pan. Scrape out the seeds from the vanilla pod and add those to the pan along with the scraped pod. Heat the milk to just below simmering point, stirring occasionally, then take the pan off the heat.
In a bowl, whisk the egg yolks, sugar and cornflour until just combined – a balloon whisk is ideal.
Pour the hot milk onto the egg mixture, whisking continuously.

If you're feeling indulgent you can use half double cream and half milk to make the custard.

Pour the custard mixture back into the rinsed-out pan and return it to the heat. Keep the heat low and whisk constantly until the custard has thickened – about 10 minutes. It should coat the back of a wooden spoon when it is ready. Do not let it boil!
Pour the custard into a jug, fish out the vanilla pod and serve hot, warm or cold with your favourite winter pudding.
Don't miss

---