Mulled cranberry and red onion chutney
Makes
5 x 250ml jars
|
prep
20 mins
|
total time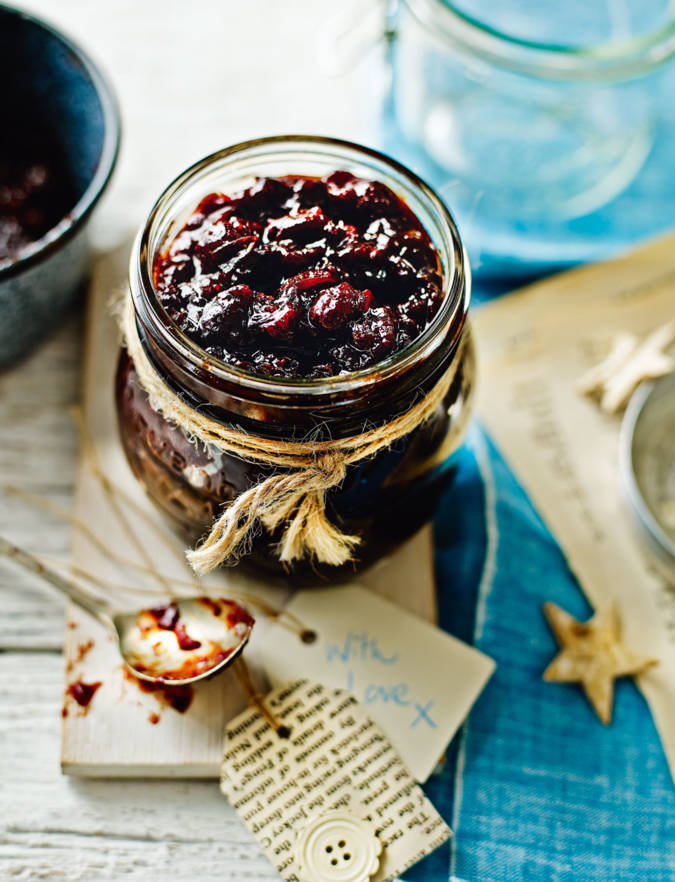 Nutritional information (tablespoon)
See more
Ingredients
½‎ bottle mulled wine

700g light muscovado sugar

2 cinnamon sticks

1 star anise

½‎ tsp ground allspice

zest and juice of 4 large oranges (about 350ml)

900g cranberries

2 red onions, finely chopped

850ml red wine vinegar

2 tsp salt
Get ahead
Once made, store in a cool dry place for at least 1 month to allow the flavours to mature before eating. The finished chutney can be stored unopened in a cupboard or larder for up to 6 months. Once opened, store in the fridge.
First make a sugar syrup, by heating the mulled wine with half the sugar in a pan until dissolved. Then increase the heat and bubble for 5 minutes until reduced and syrupy. Transfer to a large heavy-based saucepan or preserving pan (about 8-10 litres capacity).
Add the rest of the ingredients to the pan. Bring to the boil, then reduce the heat and simmer for 1½-2 hours, or until you can draw a wooden spoon across the surface and leave a trail that doesn't fill up with vinegar. If you have a thermometer it should reach 104°C. (You will need to keen an eye on it so it doesn't boil over). Don't let it get too thick, as it will thicken on cooling.
Once the chutney is ready, ladle into warm sterilised jars and discard the spices. Cover with wax discs, seal with lids, cool and label.

Tip Save interesting jars to fill with produce (always sterilise jars before using). Decorate with simple rustic labels tied on with string.
This chutney is delicious with a cheeseboard or served with cold cuts and makes a great gift, too