Ribeye steak with Béarnaise sauce & pommes Anna
Serves
2
|
prep
30 mins
|
total time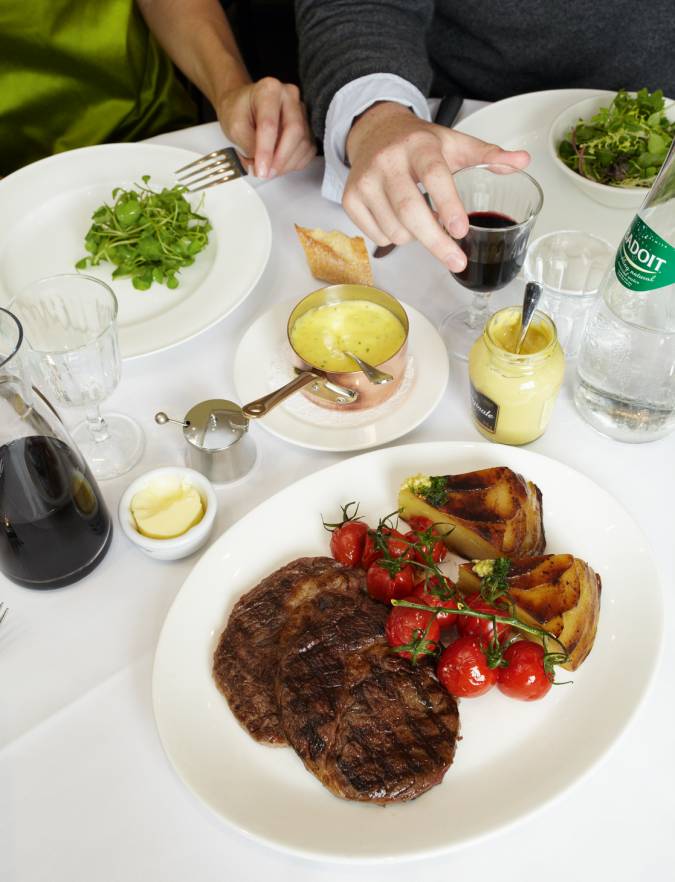 Nutritional information (per serving)
See more
Ingredients
225g cherry tomatoes on the vine

1 tbsp olive oil, plus a little extra for frying

2 ribeye steaks
For the pommes Anna
750g Desirée potatoes, peeled and thinly sliced

75g butter, melted

1 clove garlic, finely chopped

1 tsp finely chopped parsley
For the Béarnaise sauce
2 tsp white wine vinegar

2 large egg yolks

50g butter, melted

1 tbsp chopped tarragon

a squeeze of lemon juice, to taste
You will also need
a small heavy-based ovenproof frying pan, about 16cm diameter x 5cm deep, buttered
Get ahead
Make the Béarnaise sauce a few hours ahead; serve at room temperature. You can also make the pommes Anna ahead; slice and reheat in a low oven
For the pommes Anna, preheat the oven to 200°C, fan 180°C, gas 6. Place the pan over a low heat and carefully arrange a neat layer of overlapping potato slices on the bottom. Brush with some of the melted butter and season with salt and pepper. Continue to layer the potatoes, melted butter and seasoning until all the potatoes have been used.
Brush the potatoes with the remaining butter and season. Turn up the heat to medium and cook for a further 5 minutes or until you can see the sides beginning to crisp up; this will help the bottom layer of the potatoes to brown. Remove from the heat and cover carefully with kitchen foil. Bake in the preheated oven for 40-45 minutes, or until the potatoes are tender.
When the potatoes are ready, remove from the oven and put a similar-sized plate on top of the pan. Weigh it down with two cans of beans, or similar, and leave to stand for 30 minutes to firm up.

Tip This makes a generous amount of pommes Anna, but any leftovers will still be good the next day. A watercress salad is nice to serve alongside.

Put the tomatoes on the baking tray, drizzle with the olive oil and season with salt. Roast in the oven for 15 minutes.
Meanwhile, heat a heavy-based griddle pan until very hot. Season and lightly brush each steak with oil. Griddle for 1 minute, then turn around to create a criss-cross marking and cook for another minute. Repeat on the other side – this will give medium-cooked steaks. Leave the steaks to rest on a board or plate for at least 5 minutes before serving.
To make the Béarnaise sauce, put the vinegar and egg yolks in a small bowl over a small pan of gently simmering water. Whisk continuously until the mixture just thickens, then remove from the heat and whisk in the hot melted butter, a little at a time, until the butter is all incorporated – the sauce should be the consistency of loose mayonnaise. Add the tarragon, a squeeze of lemon juice and salt to taste.
Turn the potato cake onto a board. Arrange the garlic and parsley in the middle and cut into wedges. To serve, transfer the steaks to a warm plate, adding a couple of potato cake wedges, some tomatoes, and tuck in. Eat with the Béarnaise sauce on the side.