Côte de boeuf with chips
---
Total time: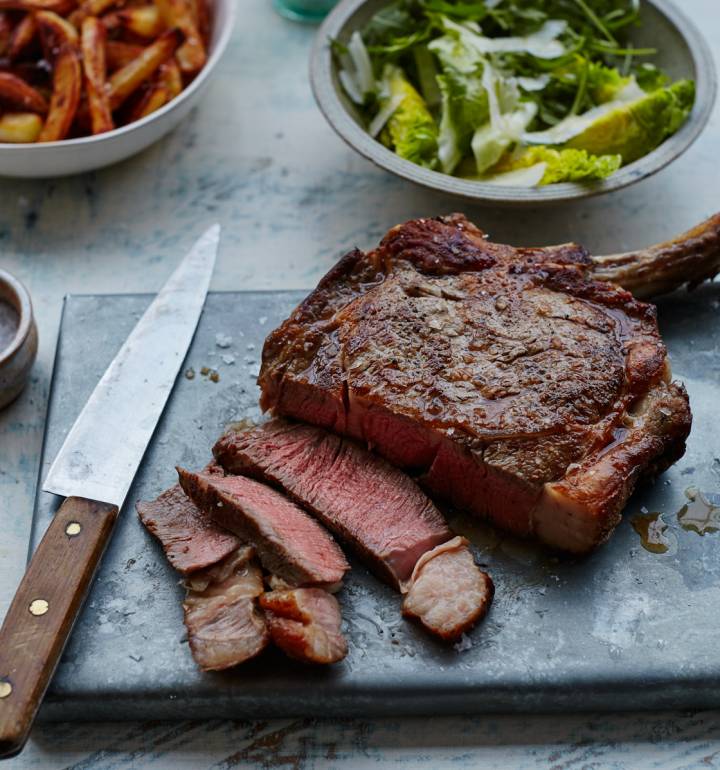 Recipe photograph by Laura Edwards
Côte de boeuf with chips
---
Total time:
---
See more recipes
---
Nutritional information (per serving)
---


Ingredients
1 x single rib of beef (1.2-1.4kg), from the butcher's counter
1 tbsp olive oil
2 garlic cloves, crushed
4-5 sprigs of thyme, leaves only
4 medium floury potatoes, peeled and cut into chips
2 tbsp beef dripping or olive oil
sea salt
juice of 1⁄2 lemon
2 tsp Dijon mustard
a pinch of caster sugar
3 tbsp extra-virgin olive oil
1 Little Gem lettuce, leaves separated
1⁄2 x 70g bag wild rocket
20g Parmesan cheese, finely grated
Step by step
marinade the beef a few hours in advance
Put the rib of beef in a dish and rub with the olive oil, garlic and thyme and plenty of black pepper; leave to marinate at room temperature for at least 1 hour.
Preheat the oven to 220°C, fan 200°C, gas 6. Put the chips into a pan of cold salted water, bring to the boil; simmer for 2-3 minutes until starting to soften. Drain; return to the pan over a low heat to dry and fluff up.
Heat the dripping or oil in a roasting tin, add the par-boiled chips, toss well to coat; roast for 30 minutes initially, turning occasionally.
Meanwhile, heat a griddle pan over a high heat. Season the rib with sea salt and then sear for 2-3 minutes each side until lovely and browned. Transfer to a small, shallow roasting tin and cook along side the chips for 17-22 minutes for medium rare (or calculate at 10 minutes per 500g for rare, 12 minutes per 500g for medium-rare). The temperature in the centre should be between 48-52°C when you take it out of the oven and pierce in the centre with a kitchen thermometer. Transfer to a warmed serving plate to rest, loosely covered in foil. While the meat is resting continue to cook the chips until golden – about 50 minutes to 1 hour in total.
Whisk the lemon juice with seasoning, the mustard and a good pinch of caster sugar. Gradually whisk in the extra-virgin olive oil. Put the leaves in a bowl; pour over the dressing. Scatter with the Parmesan; toss.
Slice the meat from the rib and serve with the chips and salad.
Don't miss

---