Commercial
Home for the holidays
With overseas travel on pause for many, you'll need all the meal inspo you can get for holidaying at home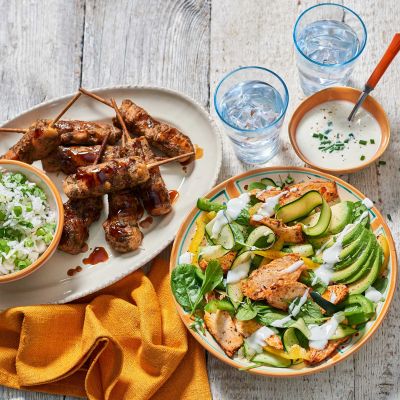 Easy does it
Planning a picnic, packing your lunch or looking for a no-cook dinner option on a blazing hot day? Sainsbury's new range of ready-to-eat British chicken essentials is packed with low-effort options for healthier, easy-to-pull-together summer meals. There are chicken breast slices (in either Cajun or coronation marinades) that are great for adding to sandwiches and salads, spicy buffalo wings and teriyaki-style thigh fillet kebabs (simply heat and eat or serve cold), and roasted chicken legs that can be eaten as they are or shredded into wraps and salads.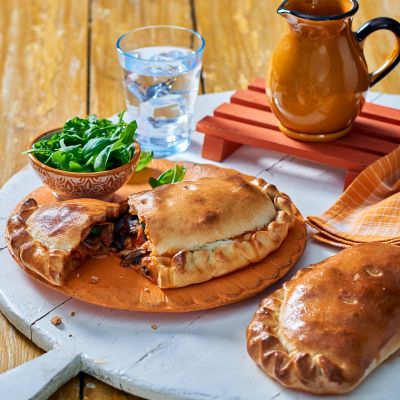 Dough to go
or easy entertaining, look no further than The Northern Dough Co. Its no-need-to-knead, ready-to-roll pizza dough can be simply and easily shaped into everything from classic pizzas loaded with toppings to garlic dough balls and hearty calzone. Find it in the freezer aisle.
HAM AND MUSHROOM CALZONE
Defrost 2 frozen The Northern Dough Co. Dough Balls. Fry 150g sliced mushrooms in a little oil, add 300g passata and cook until reduced slightly. Let cool, then stir in 200g diced mozzarella, 100g torn ham, 75g diced Emmental and some fresh basil. Season. Roll out each dough ball to a 22cm circle. Pile the filling onto one side of each circle, leaving a 2cm border. Brush the border with water then fold the dough over and crimp to seal. Make two holes in the top of each, brush with beaten egg and bake at 240°C, fan 220°C, gas 9 for 12-15 mins until golden. Serve with salad.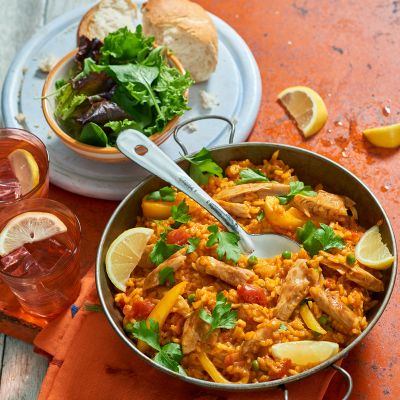 All-inclusive
The Vegetarian Butcher is all about replicating that moreish taste and texture you get from meat, while being better for the planet and kinder to animals. Its products are made by meat lovers, for meat lovers – why not try What the Cluck chunks (high-protein, soya-based, chicken-style chunks) in this easy paella?
VEGAN PAELLA
In a large lidded frying pan, fry 1 chopped onion in a little oil. Add 1½ tsp hot paprika, ½ tsp turmeric and 300g paella rice. Cook, stirring, for 1 minute. Add a 400g tin chopped tomatoes and 900ml vegetable stock. Season and cook uncovered for 12-15 minutes until the rice is just tender. Stir in 200g frozen peas, 1 sliced yellow pepper and 2 x 160g packs The Vegetarian Butcher What The Cluck. Cover and cook for 5 minutes. Top with chopped parsley and serve with lemon wedges and salad.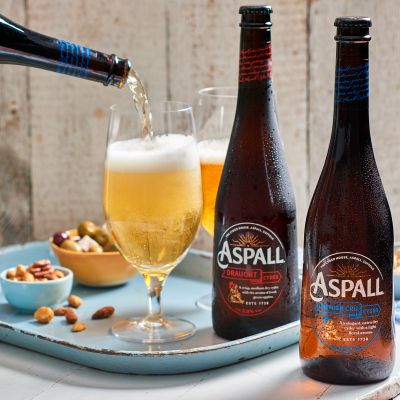 A welcome drop
Who said summer socialising was all about the weekend? Gathering with friends for a drink and some food on a weeknight can be just as enjoyable. A chilled bottle of Aspall Cyder – whether Draught Suffolk Cyder, Imperial Cyder or Premier Cru Dry Cyder – is the ideal drink to enjoy with food and friends. Since 1728, Aspall has combined a love of cyder-making with a passion for innovation – apples are still pressed at the original Aspall Cyder House, resulting in the very finest cyders for all to enjoy.