Food
6 easy ways with apples
by Sarah Alcock
Crumbles, drinks, tarts, sauces, muesli – is there anything the humble apple can't do? This Apple Day, we've come up with some quick and easy ideas to try.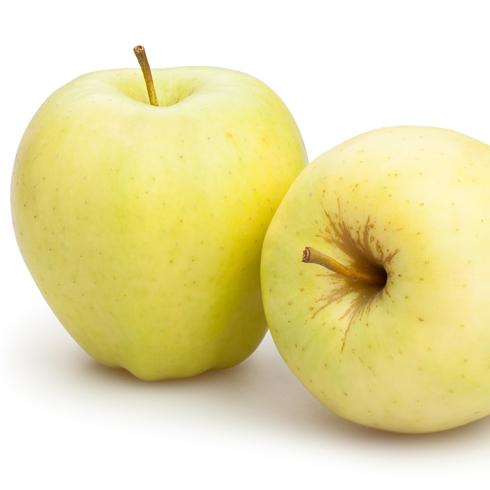 EASY LUNCH IDEA:
Apple, onion and cheese tart
Gently sweat onions with butter until soft, then add large chunks of apple. Tip onto a sheet of ready-rolled puff pastry, then dot with goats' cheese or Stilton. Bake for 25-30 minutes at 200°C, fan 180°C, gas 5 until golden – a perfect easy lunch if you're feeding people this weekend...
BONFIRE NIGHT INSPIRATION: Mini toffee apples
Ever thought of making miniature toffee apples? They're perfect as sweet nibbles or to top big cakes or cupcakes. Using a melon baller, scoop out little balls from the peeled apple. Place a cocktail stick in each of them. Heat 100g sugar over low heat in a small saucepan until the sugar has dissolved. Increase the heat and bubble, swirling the pan occasionally, until the sugar has caramelised and is deep golden. Remove from the heat, tilt the pan to one side to make a pool and very carefully dip the apples into the caramel. Leave them in the pan for about 5 minutes, then slowly pull them out of the caramel, so that a shard of caramel is left on the top of each apple. Remove the cocktail sticks and leave to cool and set on an oiled baking tray.
Get the recipe for our toffee apple, date and walnut cake here.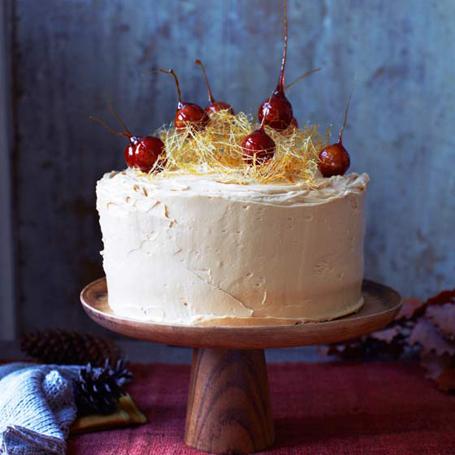 SATURDAY NIGHT WARMER:
Hot cider
Cosy up this weekend with a hot cider. Pour 1 litre of good-quality cider into a saucepan and add 1 sliced orange, a cinnamon stick, a couple of cloves, some freshly grated nutmeg and ½ a vanilla pod. Bring gently to a boil, turn the heat down to low and leave to gently simmer for around 10 minutes. Taste and add some honey to sweeten if needed and you can add a splash of brandy too, if you like. Discard the whole spices and orange before serving.
CRUMBLE, OBVIOUSLY...
For the very best apple crumble, use two-thirds Bramleys, for their tartness and fluffy texture, and one-third eating apples, which will keep their shape when cooked. Top with your favourite buttery crumble mix (we love adding a few hazelnuts in there) and bake until bubbling...
Get the recipe for our apple and blackberry jumblenut crumble here.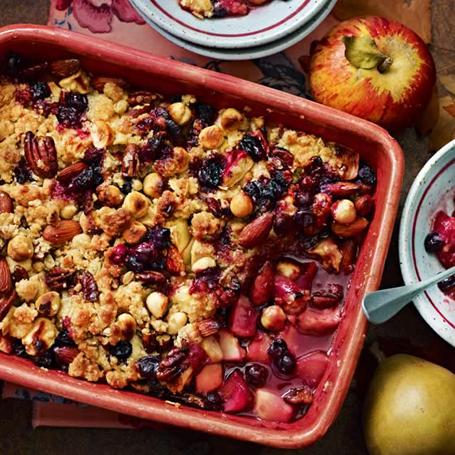 SPRUCE UP YOUR GRANOLA:
Spiced apple compote
Cook peeled, cored and chopped apples with a dash of water, a generous pinch of mixed spice and sugar, to taste. Serve your spiced apple compote with Greek yogurt and granola for breakfast.
EASY RUSTIC PUDDING: Apple hand pies
Make easy hand pies: cut out 12cm discs from a sheet of ready-rolled puff pastry and add a few peeled apple slices to one side of each. Add some diced marzipan and dried cherries. Fold the pastry into half-moon shapes so they look like mini Cornish pasties and press the edges to seal the pies. Glaze with milk and sprinkle with sugar. Bake at 190°C, fan 170°C, gas 5 for 25-30 minutes.
Don`t miss

---