Asparagus, spring onion and mint tart
Serves
4
|
prep
10 mins
|
total time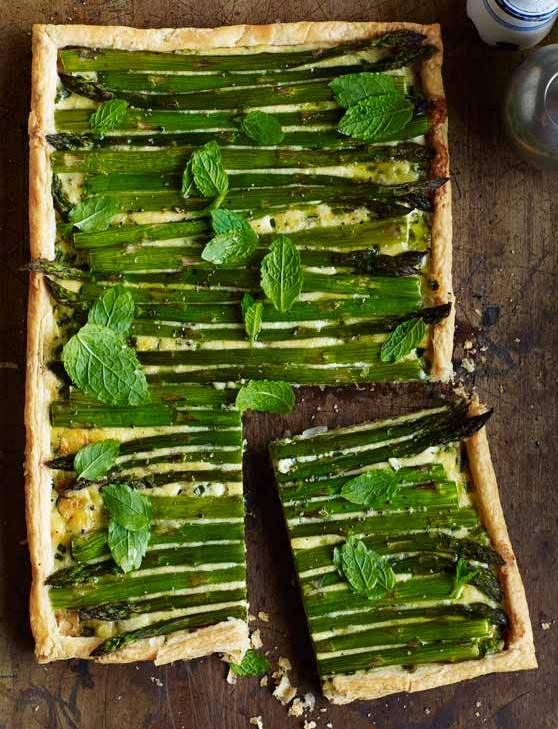 Nutritional information (per serving)
See more
Ingredients
350g slender asparagus spears

2 tbsp extra-virgin olive oil

125g (about 1 bunch) spring onions, trimmed and thinly sliced

1 x 375g pack ready rolled puff pastry

200ml double cream

2 medium eggs

40g Parmesan, finely grated (or vegetarian alternative)

1 garlic clove, crushed

a handful of mint leaves, finely chopped, plus a few baby leaves
Preheat the oven to 200°C, fan 180°C, gas 6. Trim off the woody ends of the asparagus. Bring a pan 
of water to the boil, then add the asparagus and cook for 4-5 minutes or until just tender. Tip into a colander and run under the cold 
tap. Leave to drain.
Heat the oil in a small frying pan, 
add the spring onions and a pinch 
of salt and cook for about 5 minutes until soft and sweet. Set aside.
Unroll the pastry and put it onto a large baking sheet. Use the tip of a knife to score a line all the way around, about 1.5cm in from the edge. Don't cut all the way through: it's just to form a rim for the tart. Prick the centre with a fork. Knock up the pastry. Cook for 20 minutes, then remove from the oven and press down the centre, leaving a raised 
rim around the outside.

Tip If you 'knock up' the edges of the pastry, you'll get a good rise - hold a sharp knife horizontally against the cut edge of the pastry and gently tap the pastry edge all the way round, to separate the layers.

Meanwhile, beat together the 
cream, eggs and grated Parmesan, with the garlic and some seasoning. 
Add the chopped mint and cooked spring onions.
When the pastry is ready, turn the oven down to 160°C, fan 140°C, 
gas 3. Pour the filling into the prepared pastry case. Arrange 
the asparagus tightly in lines on 
top and splash with olive oil.
Bake the tart in the oven for about 25-30 minutes, or until the top has puffed up a little. Drizzle 1 tablespoon of extra-virgin olive oil over the top and leave to cool for a few minutes, then slip on to a board. Scatter with the mint leaves and cut into slices.