Mushroom and tofu sisig
---
Serves:
4-6, as part of a sharing spread
Prep time: 20 mins
Total time: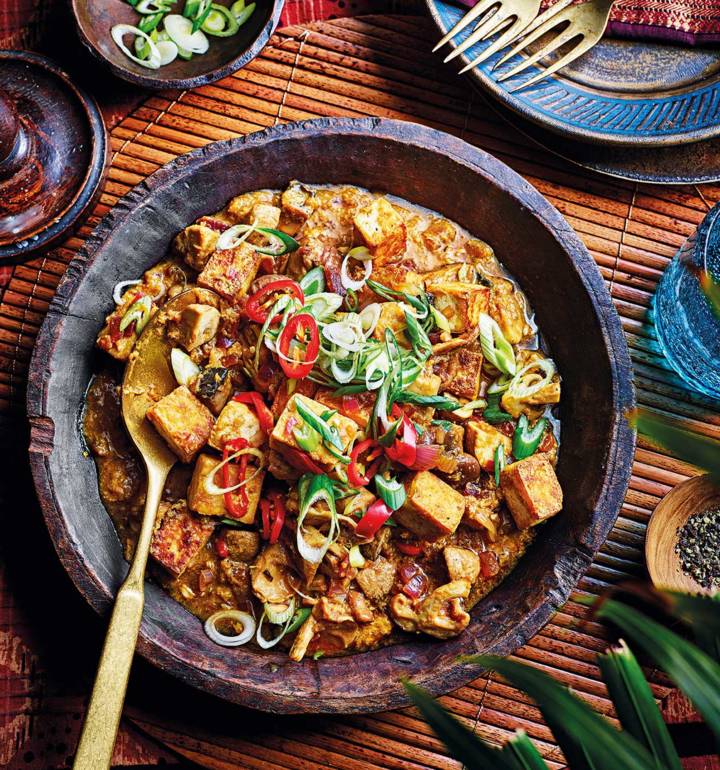 Recipe photograph by Kris Kirkham
Mushroom and tofu sisig
Sisig is a popular Filipino appetiser, traditionally made from chopped pork offcuts and often served on a sizzling dish. Here, a mixture of mushrooms and tofu replicate the meaty texture, while egg is stirred through at the end for creaminess
---
Serves:
4-6, as part of a sharing spread
Prep time: 20 mins
Total time:
---
See more recipes
---
Nutritional information (per serving)
---


Ingredients
1 x 280g block extra-firm tofu
200g mixed mushrooms, cut into small 1cm dice (we used shiitake, oyster and chestnut mushrooms)
2 tbsp vegetable oil
½ red onion, finely chopped
15g root ginger, finely grated
1 red chilli, finely sliced on the diagonal
2 tbsp lime juice
2 medium eggs
1 spring onion, finely sliced on the diagonal
For the marinade
120ml tamari (or 100ml regular soy sauce*)
85ml cider vinegar
4 garlic cloves, crushed
½ tsp freshly cracked black pepper
To serve
cooked rice or crusty bread* (such as sourdough)
Step by step
Press the tofu and marinate the mushrooms several hours ahead. If you like, cook to the end of step 5 an hour or two before serving; reheat and continue from step 6.
Drain the tofu, then wrap loosely in several layers of kitchen paper and place on a plate. Sit another plate on top and weigh it down with a few full food tins. Leave to press for at least 30 minutes. Change the kitchen paper if it gets soaked through. Discard the paper and cut the tofu into 1.5-2cm cubes.
Combine all the marinade ingredients in a large mixing bowl. Add the mushrooms and mix well, making sure they are fully coated in the marinade, then set aside for 10 minutes.
Meanwhile, heat 1 tablespoon of oil in a large pan over a high heat and fry the tofu until browned on all sides. Set aside on a plate lined with paper towel.
Reduce the heat to medium and add the remaining oil to the same pan. Sauté the red onion, ginger and half the sliced chilli for 5 minutes until fragrant, or until the onion turns translucent.
Turn the heat up to high and add the mushrooms and their marinade. Cook for another 6-8 minutes, mixing and tossing the ingredients in the pan, until the mushrooms become tender and the sauce has mostly reduced.
Mix in the fried tofu cubes and the lime juice, then season to taste.
Crack two eggs into the pan, then stir through until just cooked.
Transfer immediately to a serving plate and scatter over the sliced spring onion and the remaining chilli. Serve immediately with rice or crusty bread as you prefer.

*Use tamari, not soy, and serve with rice or with gluten-free crusty bread, if required for a gluten-free diet.

Don't miss

---