Tortang talong
---
Serves:
4-6 as part of a sharing spread
Prep time: 20 mins
Total time: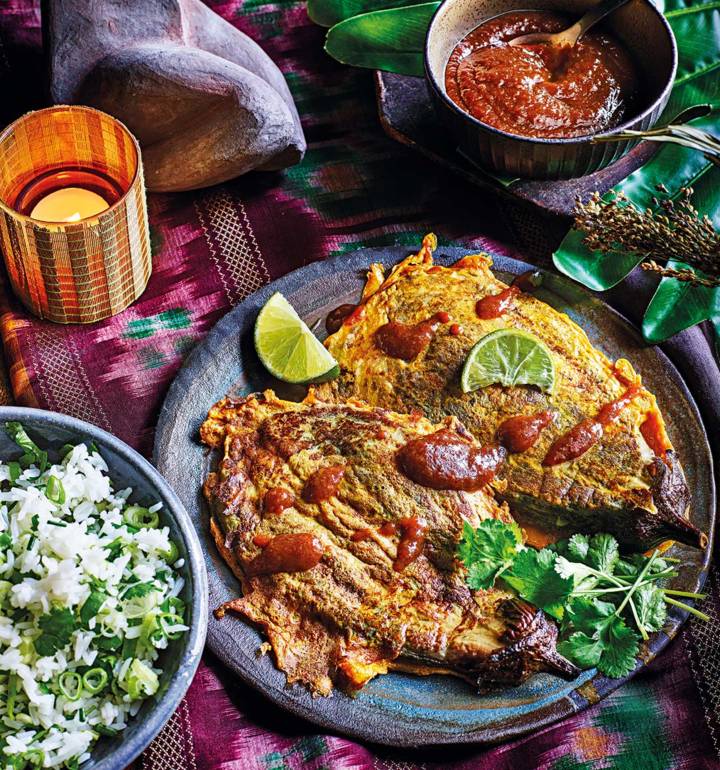 Recipe photograph by Kris Kirkham
Tortang talong
Sometimes the simplest recipes are the best. This aubergine omelette is a favourite go-to recipe in many Filipino homes, either served like this or sometimes stuffed with pork
---
Serves:
4-6 as part of a sharing spread
Prep time: 20 mins
Total time:
---
See more recipes
---
Nutritional information (per serving)
---


Ingredients
2 medium-large aubergines (about 300g each)
4 medium eggs
2 tbsp vegetable oil to fry, plus extra to grease
To serve
cooked jasmine rice
banana ketchup (see recipe below)
lime wedges
Step by step
Using a skewer or fork, poke some holes all over the aubergines, then rub with a little vegetable oil. Char on the barbecue or under a hot grill (or over a gas flame); you want to cook them until the skins have burnt and start to blister and the flesh has softened. Transfer the roasted aubergines to a bowl and cover with a plate. Leave until cool enough to handle.
Beat the eggs with seasoning in a shallow dish.
Peel the cooled aubergines, leaving the stems and flesh intact. Using the back of a fork, flatten and press each one before adding to the egg mixture.
Heat 1 tablespoon of oil in a large frying pan. Lift one aubergine from the egg mixture and add to the hot pan and pour more egg mixture on top (leave some for the other aubergine). Immediately use a spatula to fold the egg mixture into the sides of the aubergine to reflect its shape. Fry for 2-3 minutes until golden brown on each side; transfer to a warm plate and keep warm. Repeat with a tablespoon of oil and the other aubergine and egg mixture.
Serve with jasmine rice and some banana ketchup, plus lime wedges to squeeze over if you like.
Don't miss

---