Patatas bravas
---
Prep time: 30 mins
Total time: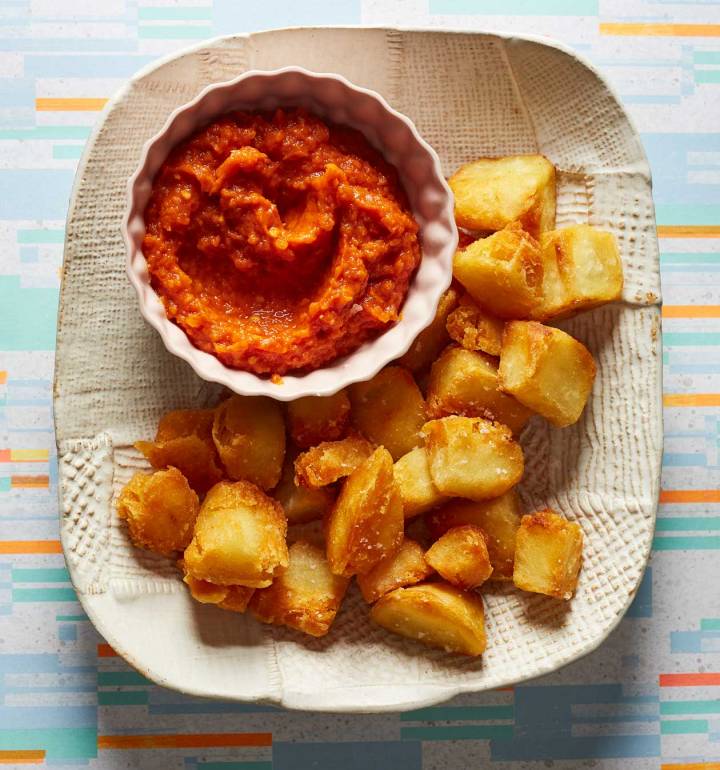 Recipe photograph by Dan Jones
Patatas bravas
Transport yourself to Spain with Brindisa's patatas bravas recipe. Fried potatoes with spicy tomato sauce, what's not to love?
---
Prep time: 30 mins
Total time:
---
See more recipes
---
Nutritional information (per serving)
---


Ingredients
750g King Edward potatoes, peeled and cut into 2.5cm cubes
500ml vegetable or sunflower oil, for deep-frying
sea salt
For the sauce
1 red chilli or a pinch of dried chilli flakes (plus extra flakes if required)
2 tbsp olive oil
½ large sweet onion, finely chopped
1 carrot, peeled and finely chopped
¼ large leek, finely chopped
1 garlic clove, finely chopped
500g ripe medium tomatoes (or see tip on the right)
1 tbsp tomato purée (optional)
a pinch of sugar, to taste
Step by step
The sauce can be made up to 3 days ahead and chilled, or frozen. Reheat gently to serve.
First, make the brava sauce. If using a fresh chilli, preheat the grill, roast the chilli for 2 minutes on each side to bring out the flavour, then leave to cool and remove the stalk.
Heat the olive oil in a pan, add the onion, carrot, leek, garlic and the whole roasted chilli pepper, if using, and cook very slowly for 20-25 minutes, until the vegetables are soft, but not coloured, stirring from time to time to make sure they are not catching.
Either grate the tomatoes or, if you prefer, de-skin and de-seed them. Add the tomatoes to the pan. If your tomatoes aren't the ripest, you might want to help the colour and flavour with a tablespoon of tomato purée. If you are using chilli flakes instead of a fresh chilli, add them now. Simmer over a very low heat for about 45 minutes, stirring frequently. The sauce should be very thick, and a rich, deep orange colour. Taste and add extra dried chilli if necessary, for more heat.

If your tomatoes aren't very ripe, the sauce can be made with a 400g tin of chopped tomatoes, along with 100ml water or stock.

When you are happy with the spiciness, take the pan off the heat and blend the sauce in a food processor until it is as thick as mayonnaise. Taste and, if necessary, season with salt and/or a pinch of sugar.
While the sauce is simmering, cook the potatoes in boiling water for 10 minutes until tender if pierced with the tip of a sharp knife, then drain in a colander and leave to dry really well.
Heat the oil in a deep pan (making sure it comes no further than a third of the way up). It needs to be around 180°C, but if you don't have a thermometer, put in a small piece of potato – if it sizzles, the oil is hot enough. Gently lower in the potatoes (cook them in 2 or 3 batches) and deep-fry for about 3 minutes or until they are golden and crunchy. Drain on kitchen paper.
Sprinkle with sea salt and serve with the brava sauce. You can spoon this over the top of the potatoes, or do as I prefer and serve it on the side, so people can take as much or as little as they like.

Recipes adapted from Brindisa: The True Food Of Spain by Monika Linton (Fourth Estate, £29.95)
Don't miss

---