Tomato and aubergine chutney
---
Prep time: 15 mins
Total time: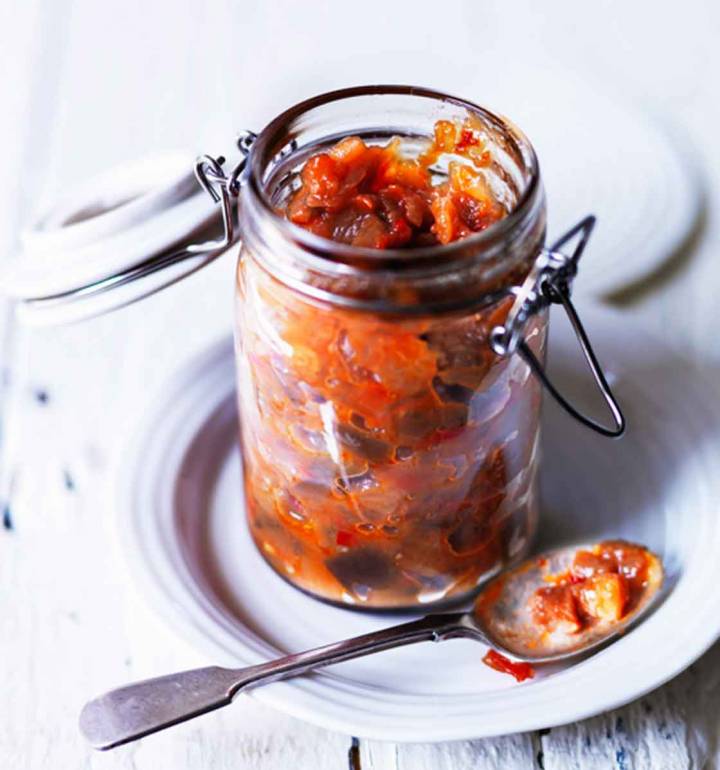 Recipe photograph by Karen Thomas.
Tomato and aubergine chutney
---
Prep time: 15 mins
Total time:
---
See more recipes
---
Nutritional information (tablespoon)
---


Ingredients
4 tbsp olive oil
3 onions, chopped
3 garlic cloves, sliced
750g ripe tomatoes, chopped
2 aubergines, destalked and chopped small
2-3 red chillies, chopped
4 tbsp sultanas
200g light brown soft sugar
250ml white or red wine vinegar
Step by step
The chutney will keep for several months unopened, stored in a cool place
Heat the olive oil in a large pan or preserving pan. Stir in the onions and garlic, and cook gently for 10 minutes until the onions have softened.
Tip in the tomatoes, aubergines, chillies and sultanas; stir together over the heat for 5 minutes.
Add the sugar, vinegar and 2 teaspoons of salt, and stir.

Heat jars in a moderate oven for 10 minutes to sterilise them.

Simmer the mixture for 1¼ hours, uncovered, stirring from time to time until thick – when you drag the end of a wooden spoon through the chutney, it should leave a trail.
Transfer the hot chutney to hot sterilised jars. Seal with plastic-coated lids and leave to cool.
Don't miss

---