Slow cooked pulled pork tacos
---
Prep time: 20 minutes
Total time: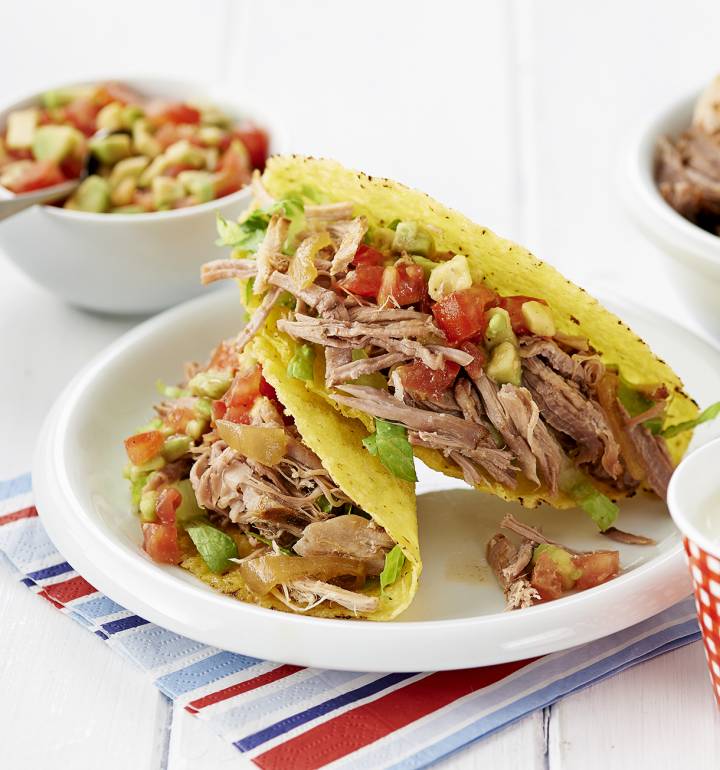 Slow cooked pulled pork tacos
---
Prep time: 20 minutes
Total time:
---
See more recipes
Ingredients
1 red onion, thinly sliced
2 ½ tbsp Mexican spice blend
1 British pork large boneless crackling shoulder joint by Sainsbury's
100ml orange juice
3 large tomatoes, diced
1 avocado, peeled, stoned and diced
juice of 1 lime
8 taco shells, warmed
Step by step
Place the onion in the slow cooker. Rub the spice mix all over the pork shoulder and then place the pork on top of the onions. Pour over the orange juice and cover with the lid. Cook on a high heat for 4-5 hours or a low heat for 7-8 hours.
The pork is ready when it's almost falling apart when prodded with a fork. Gently remove it from the slow cooker and place in a bowl. Remove the skin and fat with a sharp knife, then shred the meat with two forks. Add 1-2 ladles of the liquid left in the slow cooker, depending on how moist you want the pork, and add some of the onions. Toss together.
Make the salsa by combining the tomatoes, avocado and lime in a
small bowl. Season to taste.

To give your tacos a kick, add a finely chopped red chilli to the salsa
for an extra kick.

Fill each taco shell with lettuce and top with pork, salsa and a dollop of soured cream, and serve.
Don't miss

---