Greek butter beans with halloumi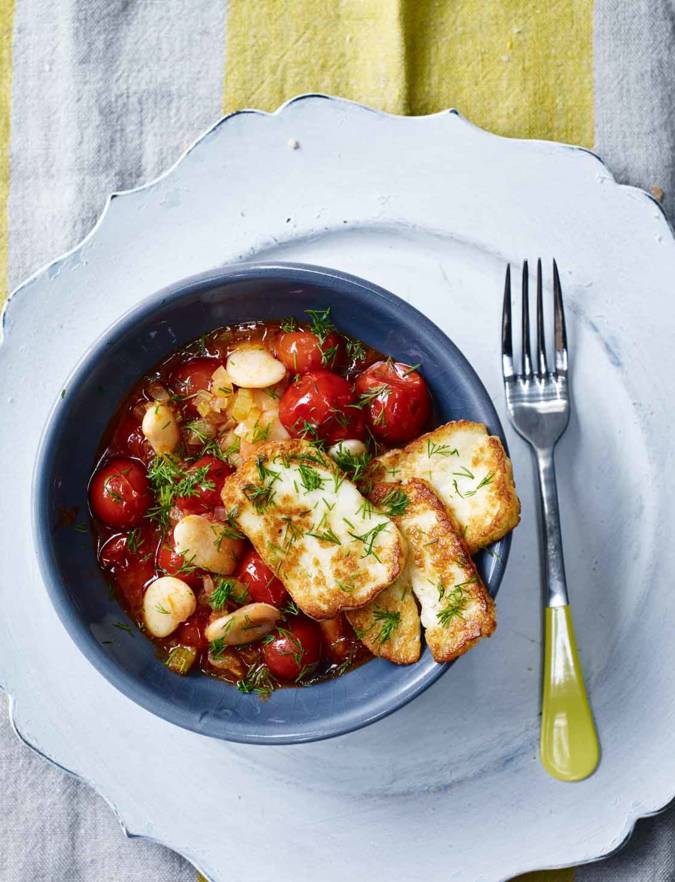 Nutritional information (per serving)
See more
Ingredients
1½ tsp olive oil

1 small onion, finely chopped

2 celery stalks, finely chopped

2 garlic cloves, crushed

½ tsp ground cinnamon

1 x 400g tin butter beans, rinsed and drained

1 x 400g tin cherry tomatoes

1 tbsp chopped dill, plus extra to serve

½ lemon

½ x 225g pack light halloumi, sliced
Heat 1 tablespoon olive oil in a large pan. Add the onion, celery and garlic; cook over a medium heat for 3-4 minutes. Add the cinnamon and 100ml just-boiled water; cook over a high heat for about 8 minutes until the vegetables have softened and the liquid has mostly evaporated.
Add the butter beans, cherry tomatoes, 1 tablespoon of the dill, the zest of ½ lemon and about 1 teaspoon lemon juice to the pan. Season and simmer over a medium heat for 5-10 minutes until reduced a little.
Meanwhile, heat ½ teaspoon olive oil in a nonstick frying pan over a high heat. Fry the halloumi for 1-2 minutes each side until golden. Spoon the beans into bowls, top with the halloumi. Sprinkle with dill; serve with crusty bread of your choice!