Warm tuna niçoise ratatouille stack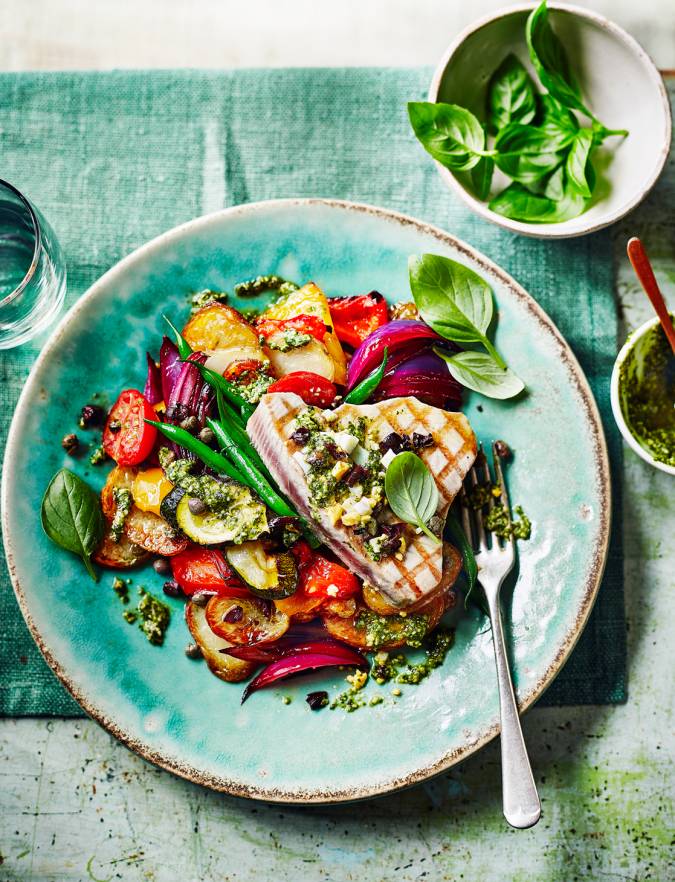 Nutritional information (per serving)
See more
Ingredients
450g new potatoes, cut into 5mm slices

6 tsp olive oil

2 red peppers

2 yellow peppers

10 Sundream plum vine tomatoes, halved

2 courgettes, cut into 5mm diagonal slices

2 red onions, each cut into 8 wedges

150g extra-fine beans, trimmed

1 medium egg

1 tbsp green pesto

4 small Taste the Difference tuna steaks (100g each)

1 tbsp non-pareilles capers

4 pitted black olives, chopped

fresh basil leaves, to garnish
Get ahead
You can roast all the vegetables ahead, then reheat at the same temperature for 8-10 minutes.
Preheat the oven to 220°C, fan 200°C, gas 7. Add the potatoes to a pan of salted boiling water and cook for 5 minutes. Drain well, tip into a bowl and toss with 3 teaspoons olive oil and seasoning. Spread on a large shallow roasting tray in a single layer. Roast in the oven for 25-30 minutes, turning halfway, until golden and crisp.
Meanwhile, cut each pepper into 6 wedges, deseed and put in the bowl you used for the potatoes. Add the tomatoes, 1 teaspoon oil and seasoning, toss to coat, then spread over half of another large roasting tray. Toss the courgettes and red onion with 1 teaspoon of oil and add to the tray. Roast the vegetables below the potatoes for 20-25 minutes, until tender and lightly roasted. Check after 15 minutes, turning the vegetables if needed, and removing the tomatoes to a plate to keep warm.
While the vegetables are roasting, bring a pan of water to the boil. Add the beans and cook for 3 minutes until just tender. Refresh under cold water in a colander, then set aside. Add the egg to the pan and cook for 8 minutes. Cool under running water, peel and chop roughly. Thin down the pesto with ½ tablespoon water in a small bowl.
When the vegetables are almost ready, preheat a griddle pan or heavy frying pan. Rub the tuna steaks with the final teaspoon of oil, season lightly and cook for 1-2 minutes on each side, depending on thickness. They should still be slightly pink in the centre.
To serve, divide the crispy potatoes between 4 warmed plates, then add the roasted veg and green beans. Serve a tuna steak on top, then scatter on the chopped egg, capers, olives and basil leaves. Drizzle with the pesto and serve.
Bursting with Mediterranean flavours, this vibrant dish combines the best elements of a niçoise salad, fused with ratatouille.