Summer garden salad with peaches and mozzarella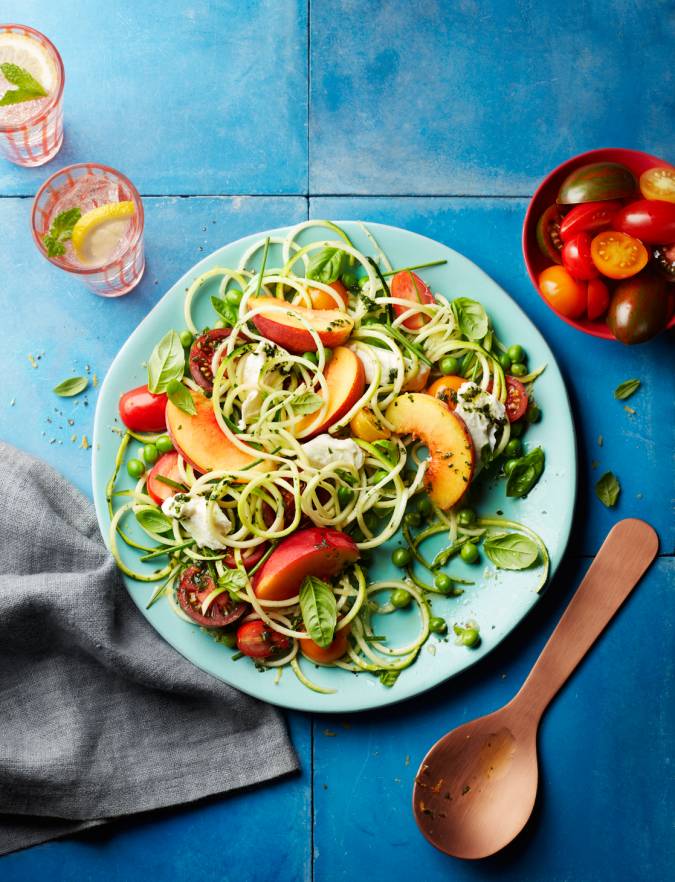 Nutritional information (per serving)
See more
Ingredients
½ x 28g pack basil, leaves picked

zest and juice of ½ lemon

3 tbsp extra-virgin olive oil

1 x 300g pack courgetti

75g Heritage Jewel tomatoes (or other mixed-colour cherry tomatoes), halved

75g freshly podded peas

¼ x 25g pack chives, cut into about 3cm lengths

2 ripe peaches, sliced into wedges

1 x 125g ball vegetarian mozzarella, drained and sliced
Reserve a few small basil leaves for garnish, then blend the rest with the lemon juice, olive oil and seasoning to make a vivid green dressing.
Toss the courgetti, tomatoes, peas, chives and peaches together with half the dressing. Divide between 2 plates and top with the sliced mozzarella. Drizzle the rest of the dressing on top and garnish with the reserved basil leaves and the lemon zest.
Make the most of high- summer produce with this light but satisfying garden salad.