Moroccan spiced lamb pie with almonds and apricots
---
Prep time: 35 mins
Total time: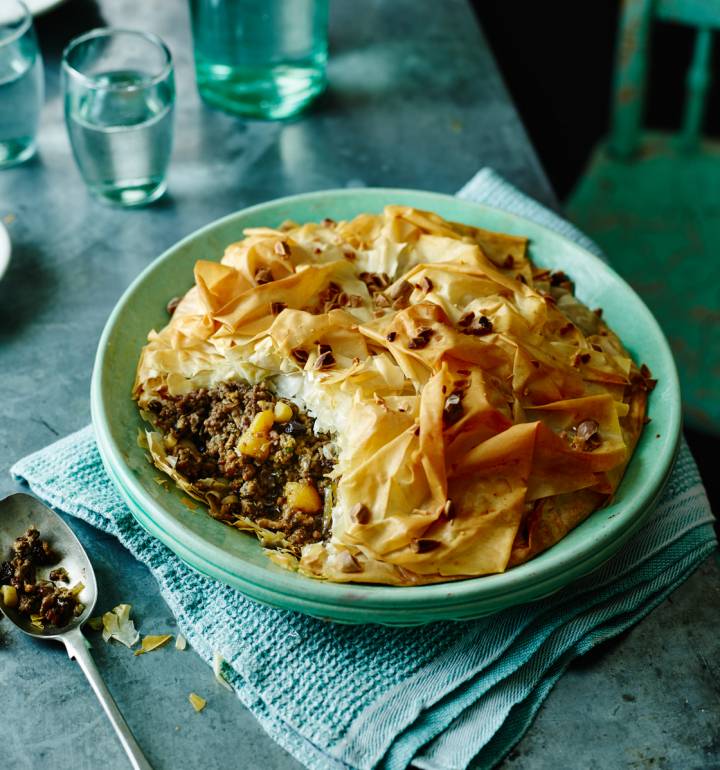 Recipe photograph by Dan Jones
Moroccan spiced lamb pie with almonds and apricots
---
Prep time: 35 mins
Total time:
---
See more recipes
---
Nutritional information (per serving)
---


Ingredients
½ x 0.4g jar saffron threads
2 tbsp olive oil
2 red onions, finely sliced
4 garlic cloves, finely chopped
1 tsp ground cinnamon
½ tsp ground ginger
1 tsp ras el hanout
750g lamb mince
1 tbsp plain flour
40g currants
60g dried apricots, snipped into pieces
50g blanched almonds, roughly chopped, plus 1 tbsp extra for the topping
1 x 31g pack coriander, finely chopped
½ x 28g pack flat-leaf parsley, finely chopped
100g butter
7 sheets of filo pastry, from 1 x 220g pack
Step by step
Make up to the end of step 3, cover loosely with foil (wrapping well if freezing) and chill for up to 24 hours or freeze for up to 2 months. If chilled, simply bake according to the recipe, adding an extra 10-15 minutes' cooking time. To bake from frozen, cook covered in a preheated oven (160°C, fan 140°C, gas 3)for 45 minutes, then remove the foil and turn up the heat to 180°C, fan 160°C, gas 4. Cook for another 45-55 minutes or until golden and completely heated through.
Grind the saffron to a powder in a pestle and mortar then add 2 tablespoons of warm water and leave to infuse while you prepare the rest of the filling.
Heat the oil in a large, wide sauté pan over a medium heat and cook the onions for about 10 minutes until soft. Add the garlic and fry for a minute or so, then stir in the spices and cook for another 30 seconds. Add the lamb, turn up the heat and fry until well browned. Stir in the flour and cook for a couple of minutes. Add 200ml water, the saffron liquid, dried fruit and almonds, season and bring to a simmer. Cook for 2-3 minutes. Allow to cool for 30 minutes, then stir in the fresh herbs.
Melt the butter. Open the filo and cover with a damp cloth to prevent it from drying out. Brush a 2-litre pie dish or 25cm round ceramic flan dish with butter, then lay 1 sheet of filo across half the width of the dish, so it overhangs the sides, and brush with butter. Use another to line the other half, and brush with more butter, then lay a third sheet across the middle of the two, covering the join, and brush with more butter. Spoon in the cooled filling, then fold the overhanging sheets over the top. Lay 1 sheet on top, brush with butter and lay another on top of that. Fold in any overhang, then brush the final 2 sheets with butter and scrunch them up on top. Top with extra chopped almonds. Loosely cover with foil, being careful not to squash the pastry.

Freeze the remaining five sheets of filo pastry to use in another recipe, such as mincemeat filo parcels.

To bake straight away, preheat the oven to 180°C, fan 160°C, gas 4. Bake for 55 minutes until the pastry is golden and the filling is piping hot through.
A delicious twist on a tagine
Don't miss

---