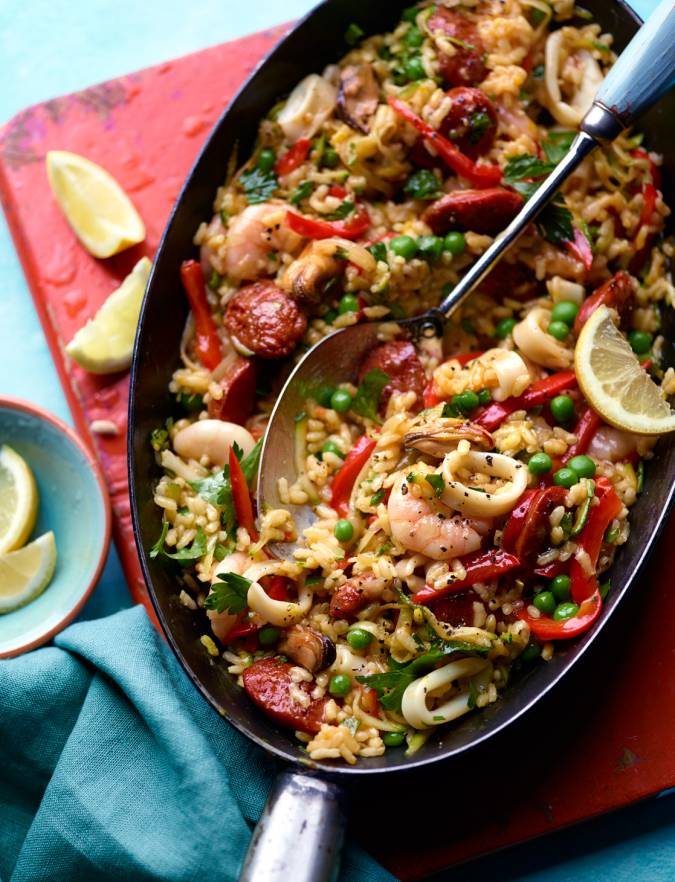 Nutritional information (per serving)
See more
Ingredients
1 x 250g pack cooking chorizo, halved lengthways

1 tbsp olive oil

1 onion, sliced

1 red pepper, deseeded and sliced

250g Spanish paella rice

a pinch of saffron (optional)

800ml hot chicken stock

1 x 350g pack seafood selection, defrosted

150g frozen peas

1 lemon, cut into wedges

½ x 28g pack flat-leaf parsley, roughly chopped
Heat a large, deep lidded sauté pan. Fry the chorizo for 2-3 minutes on a high heat, then remove to a plate using a slotted spoon and discard most of the chorizo oil.
Return the pan to the heat, add the oil and onion, cover and cook for 5 minutes. Add the red pepper; cook for 2-3 minutes. Stir in the rice.
Stir the saffron, if using, into the stock; pour onto the rice and stir well. Bring to the boil, reduce the heat; simmer, uncovered, for 10 minutes, stirring occasionally. Cover and cook for 5 minutes; stir in the seafood and chorizo, cover and cook for 3 minutes. Add the peas to the pan and cook for 2 minutes.
Remove from the heat, add a squeeze of lemon and most of the parsley, stir and season. Cover and leave to stand for 1 minute.
Scatter with the remaining parsley; serve with lemon wedges.