Slow-roasted shoulder of lamb and potatoes
Serves
6-8
|
prep
30 mins
|
total time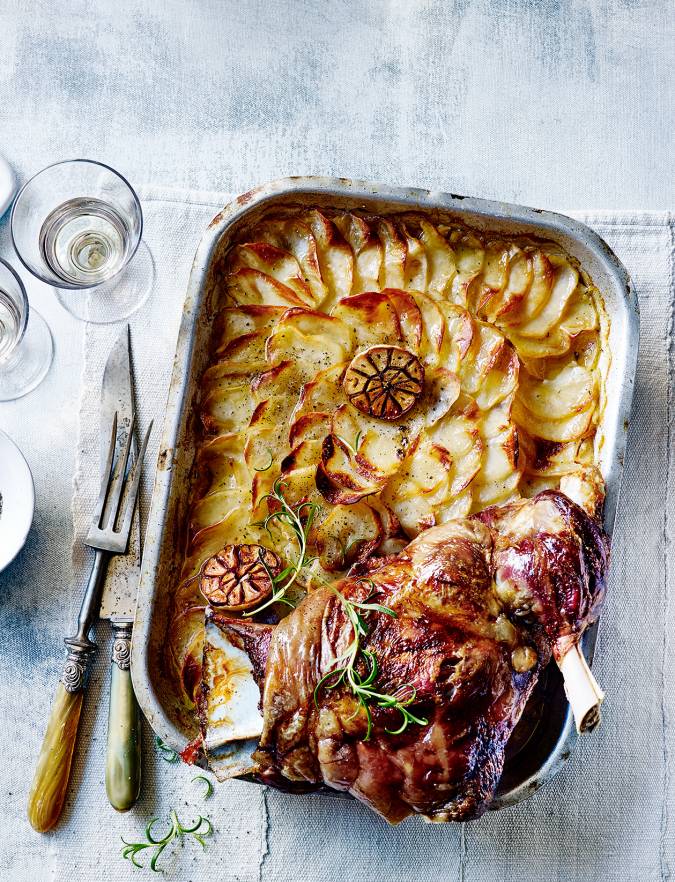 Nutritional information (per serving)
See more
Ingredients
1 shoulder of lamb, about 2kg

1 tbsp vegetable oil

40g unsalted butter

2 onions, peeled and sliced

1 sprig of rosemary, leaves roughly chopped

2kg large potatoes, peeled and very thinly sliced (about 2mm thick)

600ml hot lamb stock (or vegetable stock)

1 whole garlic bulb
Preheat the oven to 150°C, fan 130°C, gas 2. Season the lamb shoulder generously.
Put a large heavy-based frying pan (or casserole) over a medium heat, add the oil and heat gently. Put the lamb into the pan and slowly colour, turning it, until it's brown all over. Remove from the pan; set aside.
Wipe any leftover oil out of the pan with some kitchen paper and place the pan back on the heat. Add the butter. When that has melted, add the onions and cook gently for 10–15 minutes, or until golden brown. Add the chopped rosemary, stir well to combine, remove the pan from the heat and set aside.
Lay a third of the sliced potatoes on the bottom of a roasting tray measuring about 35cm x 25cm. Season them with salt and pepper, then add a layer of the onions. Add a second layer of potatoes and then onions, and then a final layer of potatoes, seasoning as you go. The height of the potato and onion stack should be about 5cm. Now pour the lamb stock over the potatoes.
Cut the garlic bulb in half horizontally, and place it on top of the potatoes and onion mixture, cut side down.
Sit a wire rack over the tray of potato and onions, and put the lamb on top. Pop the whole thing into the oven and leave to cook slowly for 4 to 4½ hours, or until the meat is really tender and the potatoes are cooked when pierced with a knife. All the delicious lamb juices will have soaked into the potatoes and the stock will have evaporated, leaving the potatoes sweet and delicious.
Shred the lamb off the bone and serve with the potatoes. Don't forget to share out the garlic. I like to serve this with a green salad.