Meringue snowflake wreaths
---
Prep time: 30 mins
Total time: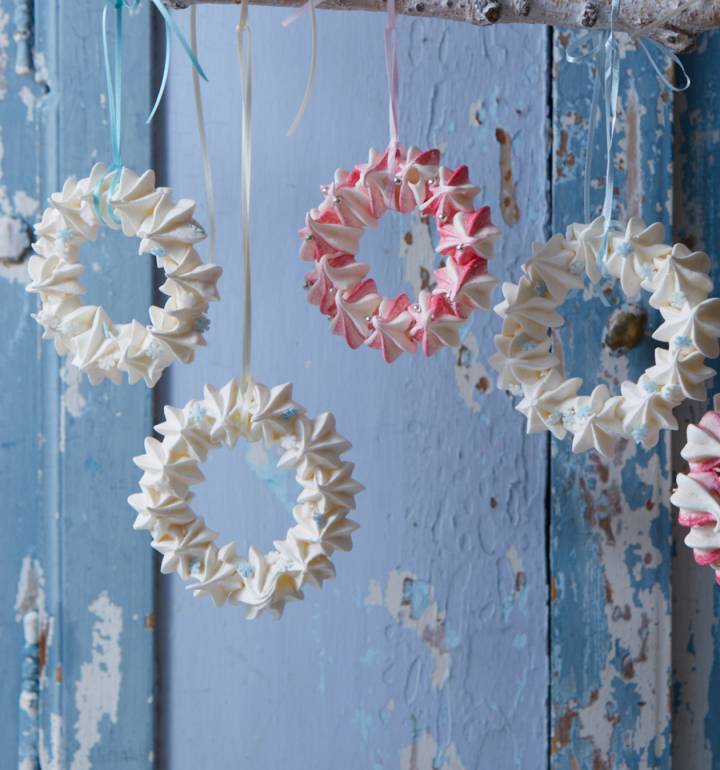 Recipe photograph by Catherine Frawley
Meringue snowflake wreaths
Easy to make and so effective, these delicate wreaths hang beautifully. Make ahead, and hang on the tree just before your guests arrive
---
Prep time: 30 mins
Total time:
---
See more recipes
---
Nutritional information (per serving)
---
Ingredients
4 medium egg whites
200g caster sugar
a few drops of pink food colouring gel or paste - check this is vegetarian, if required
cake sprinkles*, such as silver balls or sugar snowflakes, optional - check this is vegetarian, if required
edible glitter spray, optional
Step by step
Make up to a week ahead. Store in an airtight container, layered with baking paper. Lift carefully. Once hung, best eaten within 2 days.
Preheat the oven to 120°C, fan 100°C, gas 1⁄2. Prepare 2 piping bags, each with a 1.5cm star nozzle (or rinse and dry your piping bag and nozzle in between the two types of meringue). Line 2 large baking trays with baking paper. Use a 10cm round cutter to draw 6 circles on each sheet, spaced apart, then turn the paper over.
Whisk the egg whites to stiff peaks in a large clean bowl then gradually add the sugar. Keep whisking until the sugar has dissolved and the mixture is glossy, thick and smooth. Spoon half into one of the piping bags.
Paint 3 stripes of colouring up the inside of the other piping bag, then spoon in the rest of the meringue.
Pipe mini meringue stars inside each circle template on the trays, to form a wreath shape, making sure that the stars connect to each other. You'll make one tray of white, one pink. Decorate with silver balls or sugar snowflake sprinkles. Bake for 2 hours in the low oven. Turn the oven off and leave them to cool and dry out in the oven, ideally overnight.
Use a palette knife to gently release the meringues from the baking paper. Spritz with edible glitter spray for a sparkling effect and carefully tie with ribbon before hanging on the tree.

Use the leftover yolks to make mayonnaise, or spaghetti carbonara.
Don't miss

---