Vanilla baked cream with poached apricots
Serves
8
|
prep
30 mins
|
total time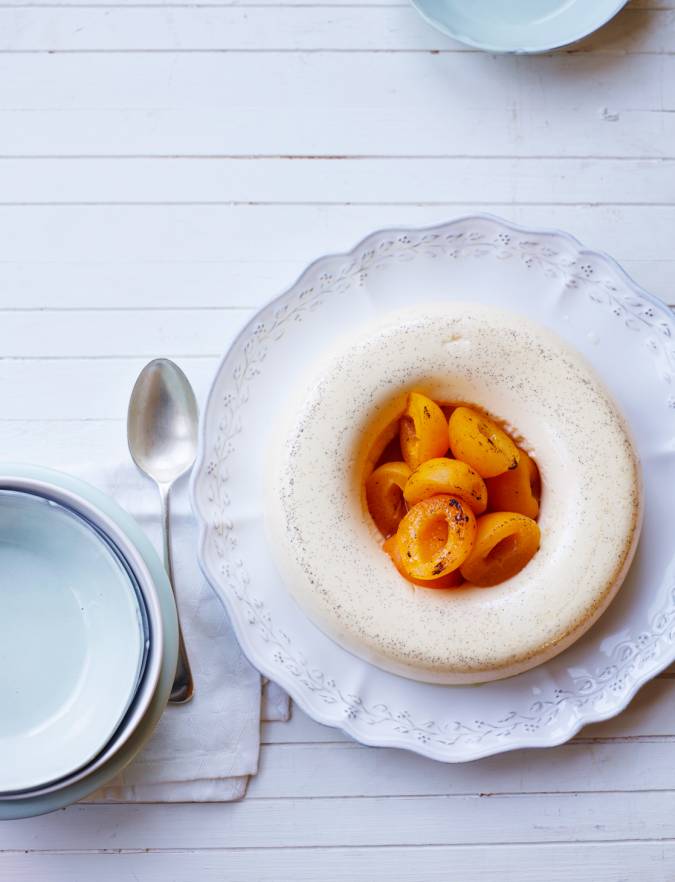 Nutritional information (per serving)
See more
Ingredients
For the baked cream ring
100g caster sugar

2 vanilla pods

450ml whole milk

3 large eggs

3 egg yolks

450ml double cream
For the vanilla poached apricots
about 1kg fresh apricots (3 x 320g punnets fresh apricots)

2 vanilla pods

150g caster sugar

juice of 1 lemon
Get ahead
Make the cream several hours ahead, to allow for chilling time. It will keep for 2 days in the fridge, as will the apricots.
For the baked cream ring, put the sugar in a pan, split the vanilla pods lengthways and scrape out the seeds with the tip of a knife, mixing them into the sugar with your fingertips. Pour in the milk. Bring almost to the boil. Take off the heat, and set aside for 30 minutes to cool until hand hot.
Preheat the oven to 150°C, fan 130°C, gas 3. Beat together the eggs and yolks in a bowl, then strain in the milk, and stir in the cream. Strain the mixture through a sieve into a jug, then pour into a nonstick 23-24cm/2 litre ring-shaped cake tin or metal jelly mould (or see Kitchen secret). Put the mould into a small roasting tin and pour hot, not boiling, water into the roasting tin until it comes halfway up the outside of the mould. Bake for 40-45 minutes until set but still slightly wobbly.
Remove the tin from the oven, lift the mould out of the hot water. Leave to cool at room temperature, then chill for at least 2 hours.

Tip If you don't have a ring mould, you can bake the vanila cream in a 20cm square dish for 1 hour (in a hot bath as main method). Cool, chill and serve in the dish.

For the poached apricots, halve the fruit and remove the stones. Slice open the vanilla pods lengthways, scrape out the seeds with a knife and mix into the sugar with your fingertips. Put the vanilla sugar, 500ml water and the vanilla pods into a pan and leave over a low heat until the sugar has dissolved, stirring occasionally. Bring to a simmer, and add the apricots. Bring back to a simmer until the apricots are just tender when pierced with a cocktail stick. This will depend on the ripeness of your fruit, so keep an eye on them. Lift the apricots out of the syrup with a slotted spoon. Return the syrup to the heat and boil rapidly until reduced by half (about 300ml). Add the lemon juice, leave to cool, then strain over the fruit. Chill the apricots or serve at room temperature.
To turn out the baked cream ring, press lightly with your fingertips around the outer and inner edge to break the seal from the tin. Dip for 15 seconds into a bowl of hot, not boiling, water. Give it a gentle shake then invert onto a plate. Serve with the apricots. This recipe contains partially cooked eggs.