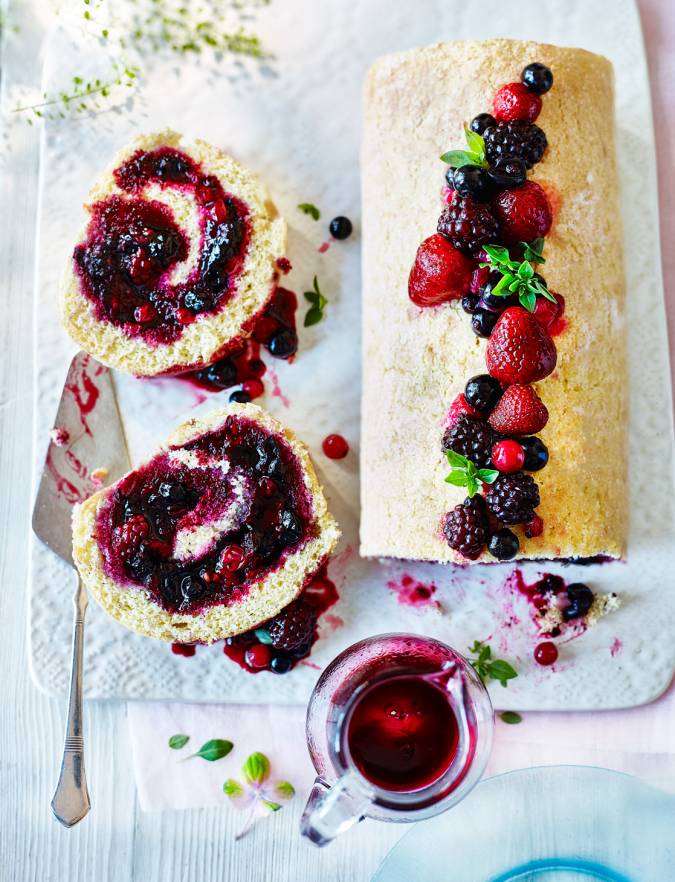 Nutritional information (per serving)
See more
Ingredients
For the filling and topping
100g caster sugar

2 x 400g pack Sainsbury's basics berry mix, frozen

3 tbsp crème de cassis (or blackcurrant cordial)

a few leaves of Greek basil or mint, to decorate
For the sponge
125g caster sugar, plus extra for dusting

3 large eggs

125g plain flour, sifted
Get ahead
Make 1 day ahead, cover and chill. Bring to room temperature before serving.
Preheat the oven to 200°C, fan 180°C, gas 6 and line the Swiss roll tin (see above) with baking paper. For the filling, put the sugar in a pan with 150ml water. Heat gently until dissolved. Increase the heat and bubble for 3 minutes until syrupy. Add the frozen fruit and cook for 5 minutes, stirring occasionally. Add the cassis or cordial then tip the mixture into a sieve over a bowl to collect the juice. Set aside a few whole berries for decoration.
For the sponge, put the sugar and eggs into a large bowl and whisk for 10 minutes until pale and really thick. Fold in the flour in 2 batches until combined.
Transfer the mixture to the prepared tin and spread out evenly. Bake for 12 minutes until golden, risen and just firm.

Tip Using a frozen berry mix is a cost-effective way to get a good variety of berries in your recipes. They work especially well when you cook them, as in this roulade.

Lay a sheet of baking paper onto a clean surface. Dust with caster sugar and turn the sponge out onto the sugared paper. Peel off the sponge lining paper and discard.
Working quickly while the sponge is warm, spoon the cooked berries all over the sponge, leaving a 1cm border all around the edge. Drizzle with 6 tablespoons of the berry juice. Score a line 1cm in from one short edge of the sponge. From this edge, roll up the sponge, using the score line and paper to help. Sit the roulade seam-side down on a plate and leave to cool. Cover and chill for 4 hours so the syrup can soak into the cake.
Put the remaining berry juices into a clean pan. Bring to the boil, bubble for 5 minutes until syrupy, and then leave to cool.
Before serving, drizzle the roulade with a little fruit syrup and decorate with the reserved whole, cooked fruit. Top with Greek basil or mint and serve with the remaining syrup and vanilla soya yogurt on the side.
You will need a 23cm x 33cm Swiss roll tin. This is lovely with Alpro vanilla soya yogurt.