Crown jewels cupcakes
Makes
12 cupcakes
|
prep
1 hr 30 mins
|
total time
2 hrs, plus cooling and setting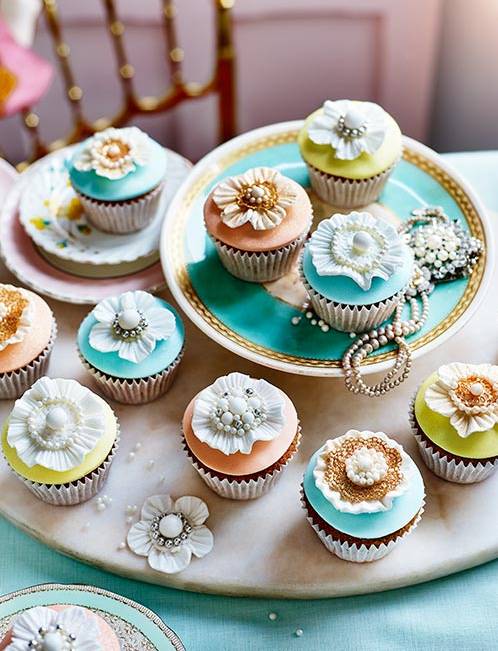 Ingredients
You will need
12-hole muffin tin

12 white cupcake cases

7cm plain round cutter

disposable piping bag

4.5cm flower cutter

5cm fluted or crinkle round cutter

a cocktail stick

tweezers
For the cupcakes
5 Earl Grey tea bags

175g butter, softened

175g caster sugar

1 tsp Valencian orange extract

3 large eggs, beaten

175g self-raising flour, sifted

½ tsp baking powder

100g ground almonds
For the decorations
300g ready to roll soft white icing

a few drops of Dr Oetker Sunshine Yellow, Sky Blue, and Hot Pink gel food colours

150g Cake Decor Gold Edible Lace Kit

25g butter, really soft

50g icing sugar, sifted

cornflour, for dusting

2 tbsp shredless orange marmalade, warmed or beaten to loosen

125g white flower and modelling paste

edible silver balls

edible white shimmer pearls

Cake Decor gold and silver glitter spray
Get ahead
The cakes can be made the day before decorating, or keep them in the freezer, uniced, for up to 2 months. Once decorated, the cakes will keep for 2-3 days in a cake tin.
Preheat the oven to 180°C, fan 160°C, gas 4 and line a 12-hole muffin tin with cupcake cases. Put the teabags in a mug and pour over 75ml boiling water. Leave to infuse for 15 minutes.
Put the butter, sugar and orange extract into a large bowl and whisk until light and fluffy. Gradually add the eggs, whisking well after each addition. Remove the tea bags from the water, squeeze and discard. Then, add the tea-infused water to the bowl. Fold in the flour, baking powder and ground almonds until combined.
Divide the mixture equally between the paper cases and bake in the oven for 25-30 minutes until golden and risen. Leave to cool in the tin for 5 minutes, then transfer to a wire rack to go cold.

Tip Make the gold lace in advance. The shapes keep for at least a week once dried. You won't need to use the whole tub for this recipe as a little goes a long way, and it lasts in the cupboard, resealed, for a long time.

The modelling icing brooches will dry hard. You can make them up to a week in advance; store in a dry place, covered.

How to decorate:

Divide the white icing into 3 equal pieces. Knead one third of the white icing with a little yellow food colouring until pale yellow. Wrap in clingfilm. Repeat with the remaining icing so you have a pale blue piece and a pale, apricot-coloured piece (make this by mixing the yellow and pink food colouring together).

Make the edible lace according to the pack instructions. There are a variety of templates to make different designs and patterns. Then, make the brooches (see below for instructions).
Make the buttercream by creaming together the butter, icing sugar and 1 teaspoon of slightly cooled boiled water until smooth. Put a disposable piping bag in a mug or glass for support and fill it with the buttercream. Snip a 3mm hole from the end. Set aside.
Lightly dust a clean work surface with cornflour. Roll out the yellow icing until it is about 3mm thick. With a 7cm round cutter, stamp out 4 circles. You may need to re-roll the icing to make enough. Brush the tops of 4 cupcakes with the marmalade, then put a yellow circle on the top of each cupcake, lightly pressing down. Repeat with the remaining icing colours and cupcakes.
Pipe a small dot of buttercream onto each cupcake and use to secure a brooch (see below). Spray all over with gold or silver glitter, depending on your cake design.