Chocolate Christmas house
Makes
1 house and 30 tree biscuits
|
prep
3 hours
|
total time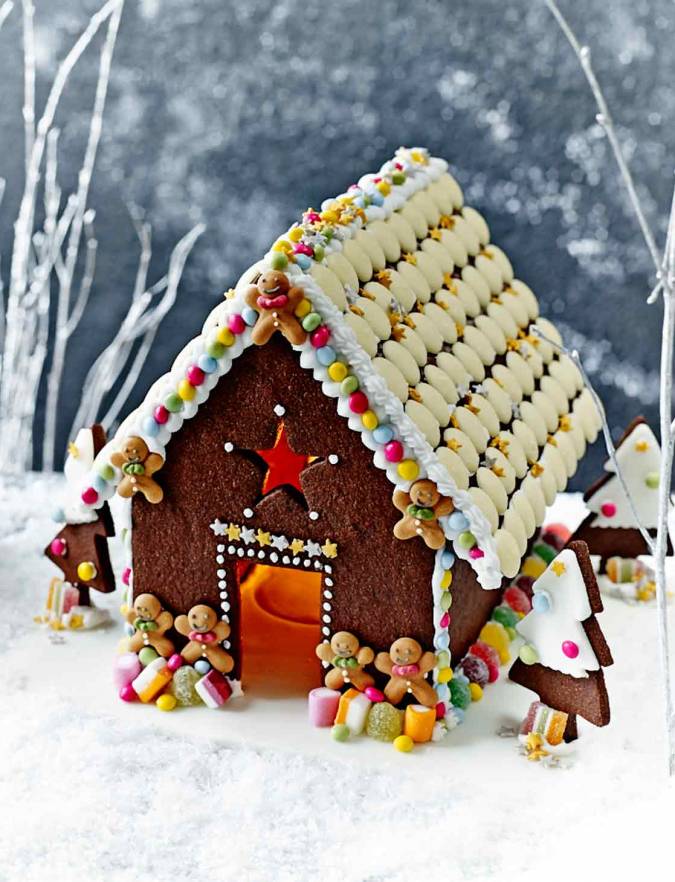 Nutritional information (per serving)
See more
Ingredients
For the chocolate dough
100g Belgian dark chocolate

400g soft unsalted butter

300g caster sugar

100g golden syrup

2 large eggs, lightly beaten

700g plain flour

100g cocoa
To decorate
icing sugar, for rolling

1 x 500g pack ready-to-roll soft white icing

1 x 500g pack royal icing sugar

2 x 70g packs white chocolate buttons

gold and silver stars from Sainsbury's gold and silver sprinkle assortment

1 x 160g pack Rowntree's Jelly Tots

1 x pack each 12 gingerbread men cake decorations*, chocolate beans, dolly mixtures, Dr Oetker jelly slices
You'll also need
baking paper

a rolling pin

a cereal packet for cardboard templates

a small pizza cutter or sharp knife

a small star biscuit cutter

a Christmas tree biscuit cutter

25-26cm flat square cake board

a large piping bag and 5mm nozzle
Get ahead
Unless you have a day set aside, you will probably need to make the house in stages over 2-3 days. For example, day 1: bake the biscuits; day 2: construct the house up to the end of step 4; day 3: finish constructing the house and decorate. Make up to 2 weeks ahead; store in an airtight container.
Melt the chocolate in a heatproof bowl over a pan of barely simmering water. Set aside to cool a little. In a large bowl (or using the bowl of a stand mixer), cream the butter and sugar together until well combined.
Beat in the melted chocolate and golden syrup. Mix in the eggs until well combined and sift in the flour and cocoa. Mix until it forms a cohesive dough. Chill for 45 minutes.
Lay a sheet of baking paper on the worktop and place a quarter of the dough on top. Put a sheet of baking paper on top and roll out the dough to about 35cm x 25cm, roughly the thickness of a £1 coin. Repeat with the other quarters of dough to create 4 pieces. Carefully stack the pieces of dough in their baking paper on a chopping board or baking tray; rest in the fridge for at least 1 hour.
Cut two of each template out of cardboard. Remove the dough from the fridge and remove the top layer of baking paper from each piece. Lay the cardboard templates on top and cut out them all out using a pizza cutter or sharp knife.
Cut a door out of one end panel (as marked on the template); cut a window out of both end panels using the small star cutter.
Use the base layer of baking paper to lift the house shapes onto 2 large flat baking trays – ensure there is at least 3cm between the pieces. Chill for at least 30 minutes.
Preheat the oven to 190°C, fan 170°C, gas 5. Use a Christmas tree cutter to cut biscuits out of the excess dough – you only need 4 for the house but there'll be enough dough to make at least 30 trees altogether. Put the trees on a separate baking sheet to the house pieces; chill for 30 minutes. Bake the house pieces, in batches, for about 18-20 minutes. Bake the tree biscuits for 10 minutes.
Leave to cool completely on the trays. The cooled house pieces should be firm and hard to the touch. If still a bit soft, bake for a little longer, taking care not to burn the edges.

Download our templates to make your house.