Caramel apple cake
Serves
10-12
|
prep
30 mins
|
total time
1 hr, plus cooling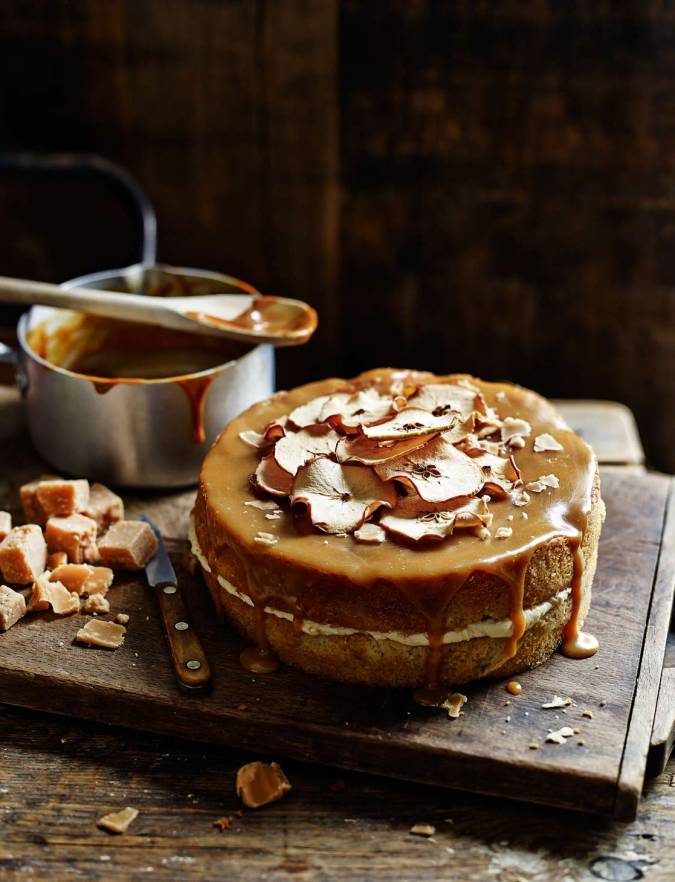 Ingredients
500g Bramley cooking apples, peeled and chopped into 2cm pieces

finely grated zest and juice of 1 lemon

225g soft unsalted butter, plus extra for greasing

225g caster sugar

3 large eggs, lightly beaten

200g self-raising flour

2 tsp baking powder

50g ground almonds

1 tsp mixed spice

apple crisps (see Kitchen secret) and 2 tbsp fudge pieces, to decorate (optional)
For the caramel buttercream
100g soft unsalted butter

200g icing sugar

2 tbsp Carnation Caramel (from a tin)

1 tbsp semi-skimmed milk
For the caramel icing
75g unsalted butter

75g icing sugar

1 tbsp Carnation Caramel
Get ahead
Bake the sponges the day before; store in an airtight container. Assemble the cake 2 hours before eating.
Preheat the oven to 180°C, fan 160°C, gas 4. Grease and line 2 x 20cm loose-bottomed round sandwich tins.
Toss the apple pieces in the lemon juice; put to one 
side.In a large bowl, beat the soft butter, sugar and lemon zest, then gradually add the eggs, mixing well between each addition. Fold in the flour, baking powder, almonds and mixed spice.
Drain the apple pieces and stir into the mixture. Divide equally between the tins. Bake for 25-30 minutes.

Tip

To make apple crisps, cut a Pink Lady apple across the middle into 20 paper-thin slices; place on a lined baking tray. Mix 1/2 tbsp each of lemon juice and clean honey and brush over both sides of the slices. Bake for 50-55 minutes at 140c, fan 120c, gas 1, until lightly golden and dried; leave to cool.

Love salted caramel? Try using Taste the Difference salted caramel sauce instead of Carnation Caramel. Leftover caramel is delicious drizzled over ice cream.

Remove the cakes from the oven and leave to cool 
in the tins for 10 minutes, then turn out onto a wire 
rack to cool completely.
To make the caramel buttercream, mix together all 
the ingredients together until combined.
To make the caramel icing, put all the ingredients 
into a pan and stir until melted and smooth. Transfer 
to a bowl, then leave to cool for 10 minutes.
To assemble, spread the buttercream evenly over top 
of one of the cakes, then top with the other cake. Spoon over the icing so it dribbles down the sides. Decorate with apple crisps and fudge pieces, if you like.