Travel
Skiathos: let's hit the beach
Sun, seafood and stylish people – Greek Skiathos is the perfect relaxed getaway, says Helena lang.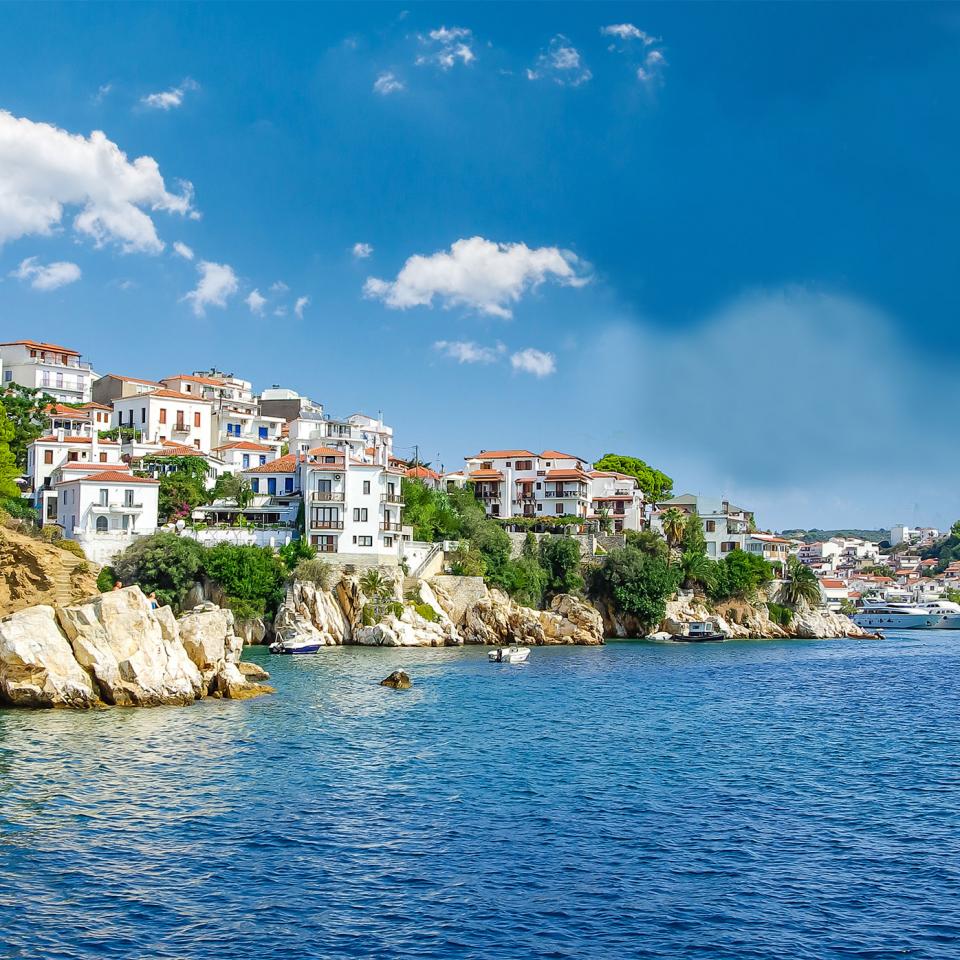 Skiathos town - the perfect place to lunch by the harbour and watch the huge power boats
We have arrived at the capital of kaftan chic. With the sun glinting in an azure-blue sky, women young and old float along the wooden beach walkways in fluorescent cheesecloth, jungle-print cotton and hippy-inspired crochet, painted toes glinting from their bejewelled flip-flops. For chaps, this is definitely a budgie-smuggler-free zone – most men are snoozing on their cushioned sunloungers under crisp white parasols in marine-printed swim shorts, Terry Pratchett novels dangling from their sleepy hands.
This is the Skiathos Princess Hotel, a classy beachfront joint on the tiny (50km2) island in the north-west Aegean Sea where British visitors return year after year. We've arrived right at the end of the school summer holidays and there are still some children launching themselves into the pool and squabbling over the swings in the play area. To take the edge off a very early morning flight, I've plonked myself down at the hip beach-bar restaurant, PR Ammos, and ordered a crisp glass of rosé and some really delicious salads, including a beautiful beetroot, yogurt and walnut concoction and some steamed horta (wild greens) scattered with chopped tomato and feta. Gradually we start to chill, helped along by the background of ambient music and the super-friendly service.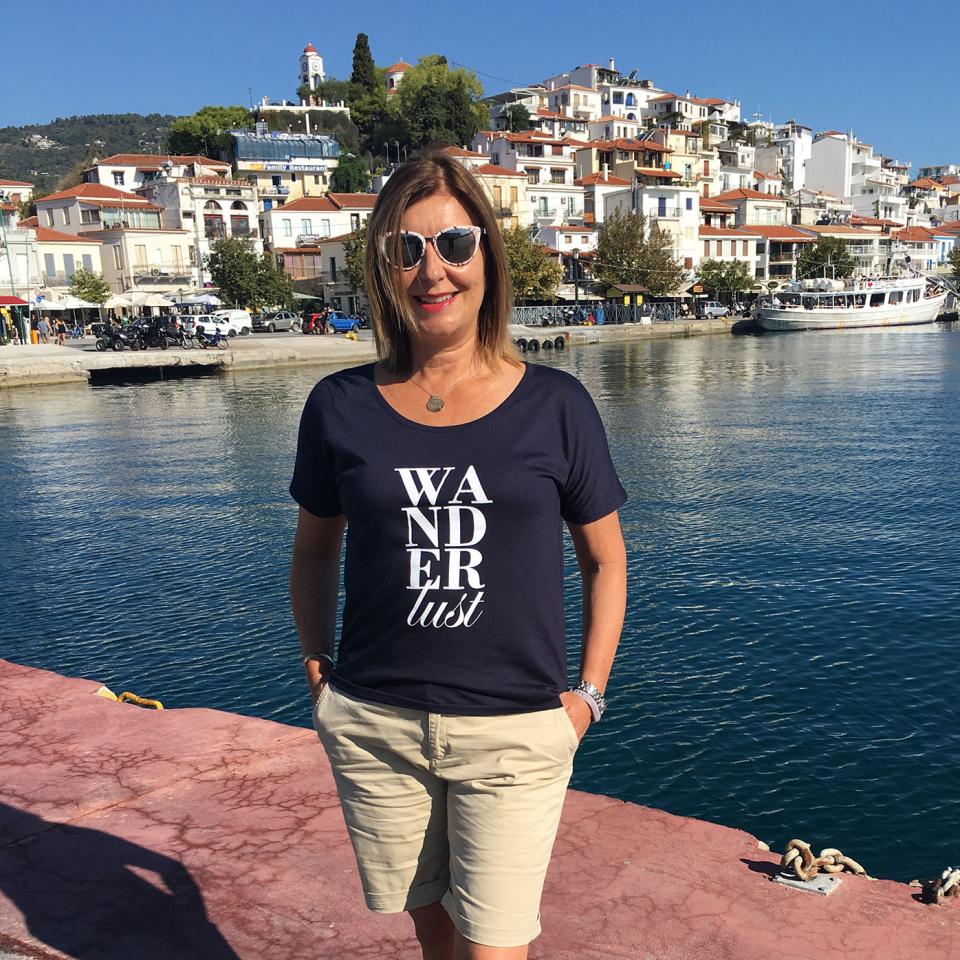 Later, after a doze by the pool, we head back to our beautiful junior suite with its Colgate-white walls, Fanta-orange velvet chaises and stylish designer touches of putty grey and dark wood. It all feels very contemporary-luxe, especially with our thick towelling robes, complimentary slippers and giant, Korres-laden bathroom.
At dinner in the Basilico buffet, it's all cool, hippy-chic maxi dresses or crisp, cropped trousers with floaty tops. Any foodie worth their salt will choose from the amazing selection of traditional Greek dishes – often surprisingly hard to find on many taverna menus. There is a thick fava-bean purée with caramelised onions; chunky slices of glossy, dark aubergine stuffed with minced lamb and topped with béchamel sauce; a slab of crispy filo-pastry pie stuffed with meltingly soft leek and cheese; and kontosouvli – hunks of chargrilled pork with a mustard sauce, served with thick and creamy tzatziki to dollop on top.
Manicured lawns surround the hotel
Vegetarians will be in gastro heaven. The buffet heaves with Greek salads and cheese saganaki (slabs of cheese fried in olive oil and drizzled with lemon juice), and there are platters of hot butter beans in a glossy tomato sauce, and emerald-green vine leaves stuffed with rice and lemon zest alongside long, thin cheese-stuffed green peppers, oven-baked stuffed tomatoes and wonky red peppers chock-full of rice, onions and herbs.
After dinner, our stomachs groaning, we carry our coffees to the laid-back lounge area where couples are playing cards and backgammon, and anxious football supporters watch England only just beating Slovakia in the corner.
Next morning, we waste no time in hitting the beach. The W-shaped bay is fringed with sand the colour of muscovado and is a snorkellers' paradise. Tiny silver fish dart just under the surface as we swim out to the speedboats moored away from the shore. Walk further along the sand and there are simple beach bars serving sandwiches and drinks, as well as a watersports centre with parachutes and paddleboards.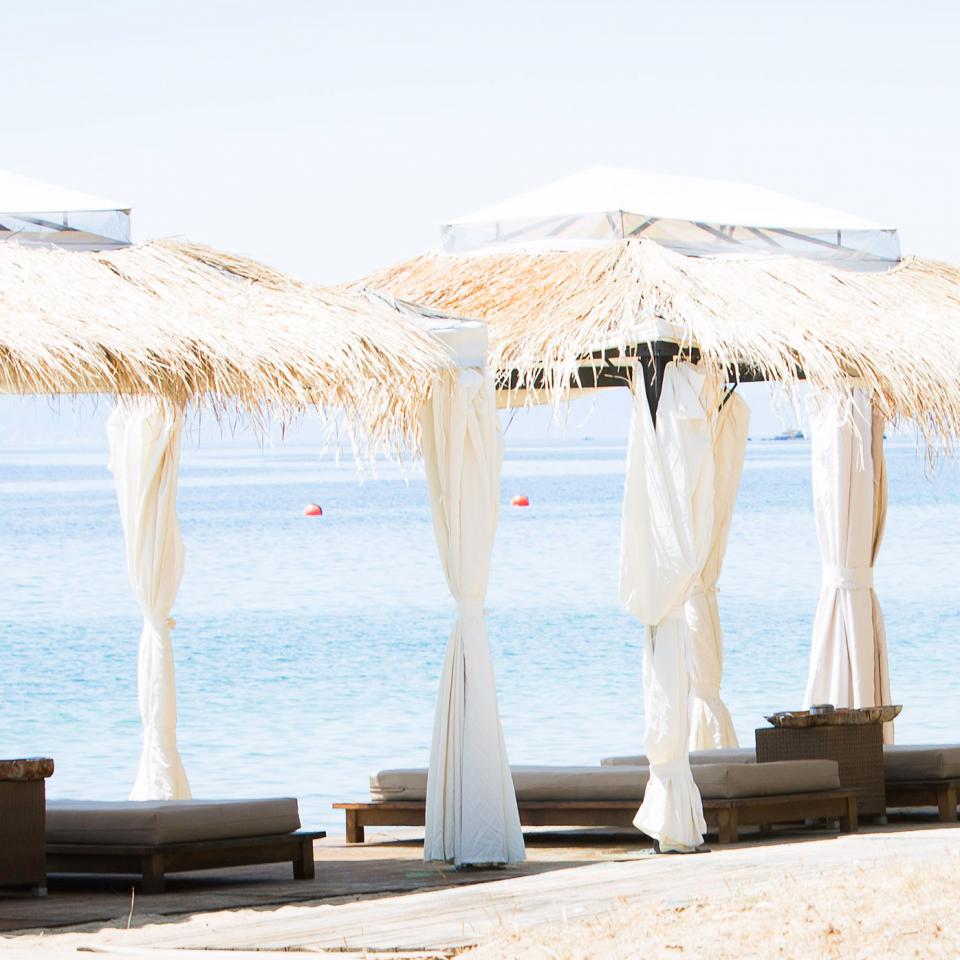 The pristine beach at 'classy' Skiathos Princess Hotel
The hotel staff can't do enough for us. This is the kind of team who remember what type of coffee you like in the morning and where you like to sit. There are plenty of nooks and crannies for quiet moments, so it's not surprising that many visitors find it easy not to leave the hotel at all. But just across the road there are several tavernas, the best of which is Platanias where they have a large menu that includes many local specialities I haven't tried before. My starter of soft cheese rolled in toasted flaked almonds and sesame seeds sits in a pool of delicious local honey, and it's followed by a diced chicken breast in a rich tomato and ouzo stew with fluffy white rice to soak up the juices. For dessert, I choose sliced bergamot soaked in syrup and drizzled with Greek yogurt, accompanied by a glass of cherry and almond liqueur – a sort of liquid (and alcoholic) Bakewell tart.
It's easy to hop on a local bus into Skiathos Town where we spend a morning browsing the souvenir shops, filling our bags with jars of local honey and packets of dried herbs before lunching by the harbour. We sit on rickety wood and raffia chairs at a fish restaurant complete with a fresh octopus left to dry in the sun, and people-watch the huge power boats heaving with oligarchs.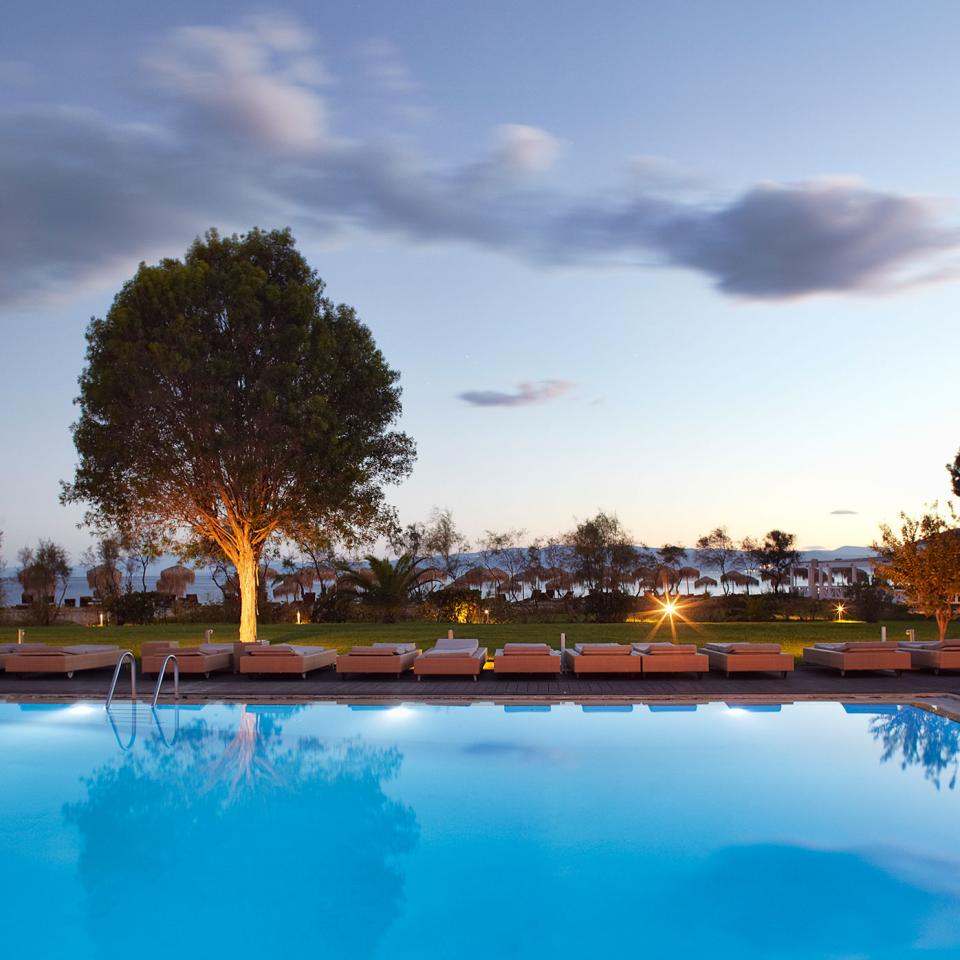 The pool at the Skiathos Princess Hotel
After four days, we decide to do some island-hopping. Following a full English and crisp pastries for breakfast, we head to the harbour and board a ferry to Alonnisos, which, along with Skiathos and Skopelos, forms the Sporades archipelago. The journey takes a relaxing couple of hours, with families picnicking on deck and plenty of selfie opportunites as we come and go from the several ports of call. The tiny port at Patitiri is a welcome introduction to this more laid-back island, and our drive to Marpunta Village Club resort includes some hair-raising bends and lots of to-ing and fro-ing with oncoming traffic in the narrow cobbled streets.
The hotel is in a beautiful location on a little peninsula that juts out boldly into the blue sea with two small, pebbled bays either side and a cluster of sunloungers. If you can shift yourself from under your parasol, you can dive among the giant clams and shoals of fish only metres away. Our beautiful suite, and home for the last few nights of our holiday, is a little independent cottage only yards from reception but quiet and with an uninterrupted view over pine trees to the sea. It's a study in cool grey, crisp white and zingy turquoise with a vaulted ceiling and a giant wet room for those post-sun drenchings.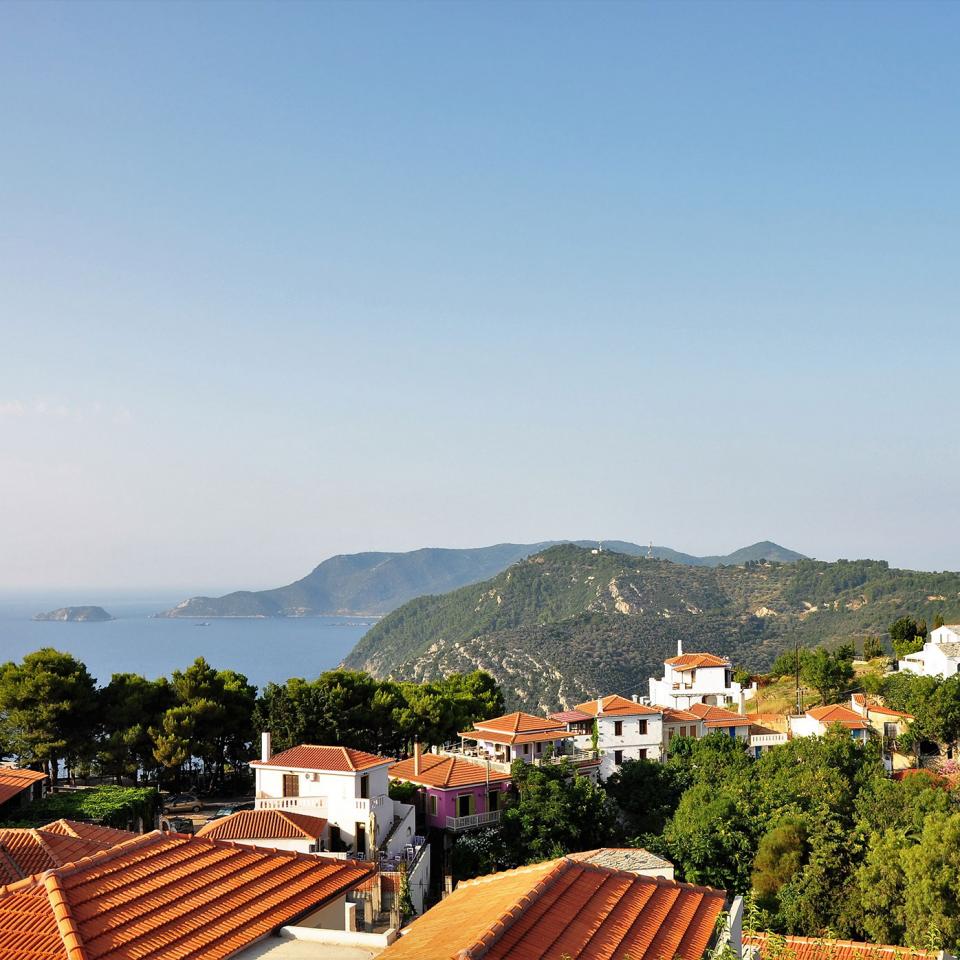 The 'laid-back' island of Alonnisos is a two-hour ferry hop from Skiathos
A must-do is a taxi trip to Chora, the old town up in the hills, which has panoramic views to all four corners of the island and beyond. Destroyed by an earthquake in 1965, much of it is still in ruins but there has been some hugely sympathetic redevelopment and its quaint cobbled streets, ancient Byzantine churches, stylish cafes and boutiques provide a welcome diversion from the coast. Here, even the beer is delivered by donkey, and the pace of life and the authentic Mediterranean diet seem even more appealing than usual. It's somewhere I definitely want to return.
All too soon it's time to board the ferry back to Skiathos and our flight home. With a few hours to kill at the tiny airport, we lunch at a charming family-run taverna just beside the entrance. There may be a better way to end a gorgeous holiday than with an ice-cold glass of beer and a bowl heaped with fresh Greek salad, but I can't think of one.
Getting there
Classic Collection Holidays offers seven nights at Skiathos Princess Hotel from £929 per person in May, based on two adults sharing on a B&B basis. Includes return flights from London Gatwick (other UK airports available) and transfers.
About the author