Travel
The best of Sicily
by Jan Fuscoe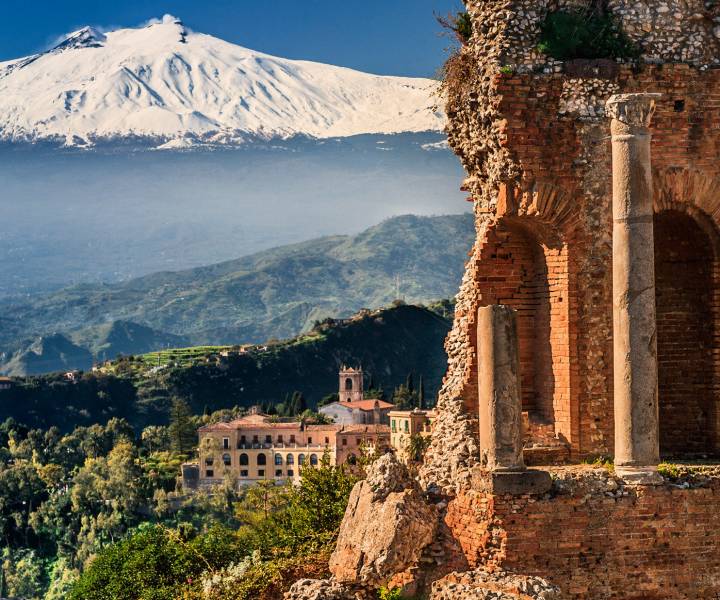 Image: Getty Images
Jan Fuscoe enjoys a luxury hotel break in Sicily and visits the cities of Taormina, Catania and Syracuse.
Goethe once said, 'Without Sicily, Italy creates no image in the soul: here is the key to everything.' Now, I'm a long-time lover of all things Italian, so it's incredible that I'd never visited Sicily, with its reputation for outstanding food and wine, until now.
Determined to make up for lost time, I booked a self-drive trip through Italian holiday specialists Citalia, which basically meant they pre-booked all my treats and I just turned up and enjoyed them.
The first stop was the medieval hilltop town of Taormina, staying at the luxurious 19th-century Belmond Grand Hotel Timeo, where the views are magical. Over the centuries, Sicily has been invaded by almost everyone, including Greeks, Phoenicians, Romans, Byzantines, Arabs and Normans, and all have left their mark on the architecture, culture and food.
Sitting on the terrace clutching an Etna Spritz, I gazed over the sun-drenched sparkling Bay of Naxos and still-active volcano Etna, before lunching on fresh seafood, caponata – the Arabic dish of silky aubergine with agrodolce sauce – and my first taste of the fried pastry cannoli stuffed with ricotta.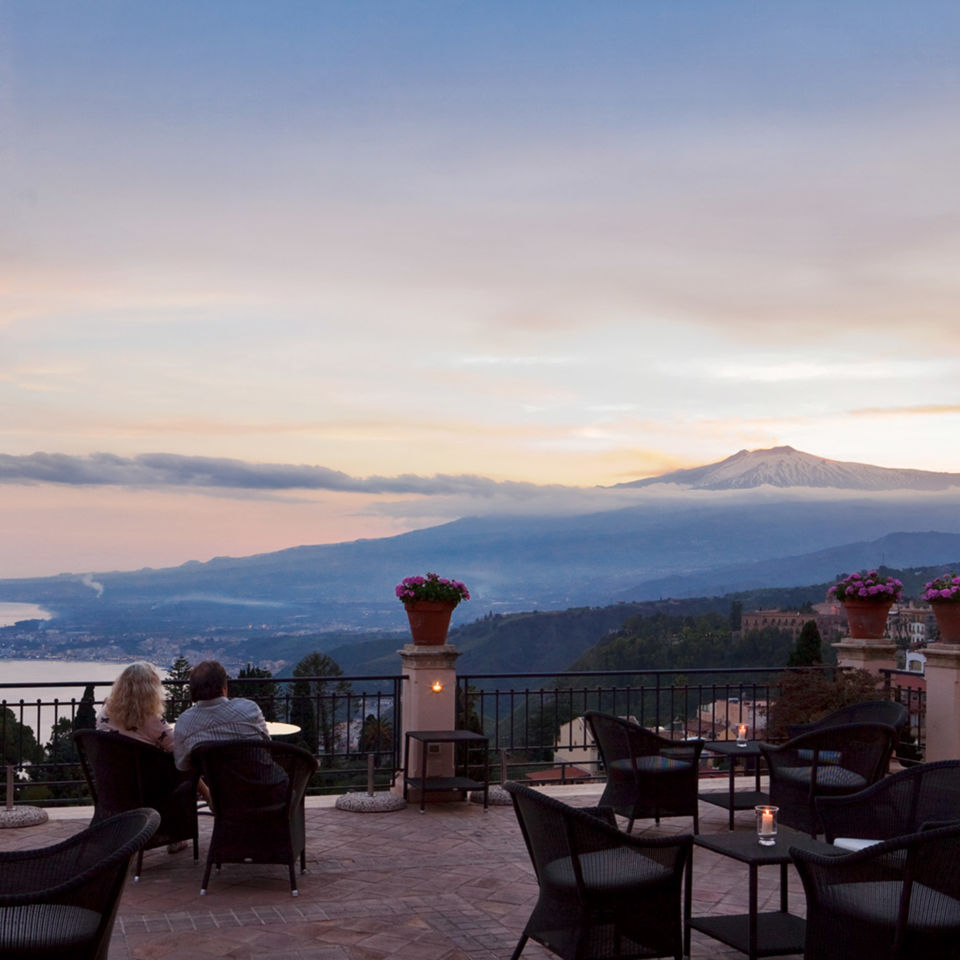 Taormina's pretty streets are filled with relaxed tourists and locals taking a stroll, exploring the shops, or sitting at a bar or cafe enjoying a delicious granita, the Sicilian semi-frozen dessert, once made using the ice brought down from the snow-capped peaks of Etna.
That night I dined at the romantic Belmond Villa Sant'Andrea just above the water, against a backdrop of lapping waves, while expert sommelier Alessandro Pugliese told us about the local wines that accompanied an exquisite dinner, which included seafood salad and scampi with lemon risotto.
Food may be the heart of Sicilian culture because of its climate and settlers, but the next day's trip with Etna Excursion Acireale revealed another reason: continuous eruptions have created exceptionally fertile slopes. At the family-run Gambino Winery, grandson Francesco explained that Etna's soil is perfect for creating robust wines; a process that relies not on the clock, but on the ability to 'read' the grapes by sight, smell and touch. Then he disappeared for a minute, returning laden with bottles of the family's organic wines, local cheeses and homemade sausages.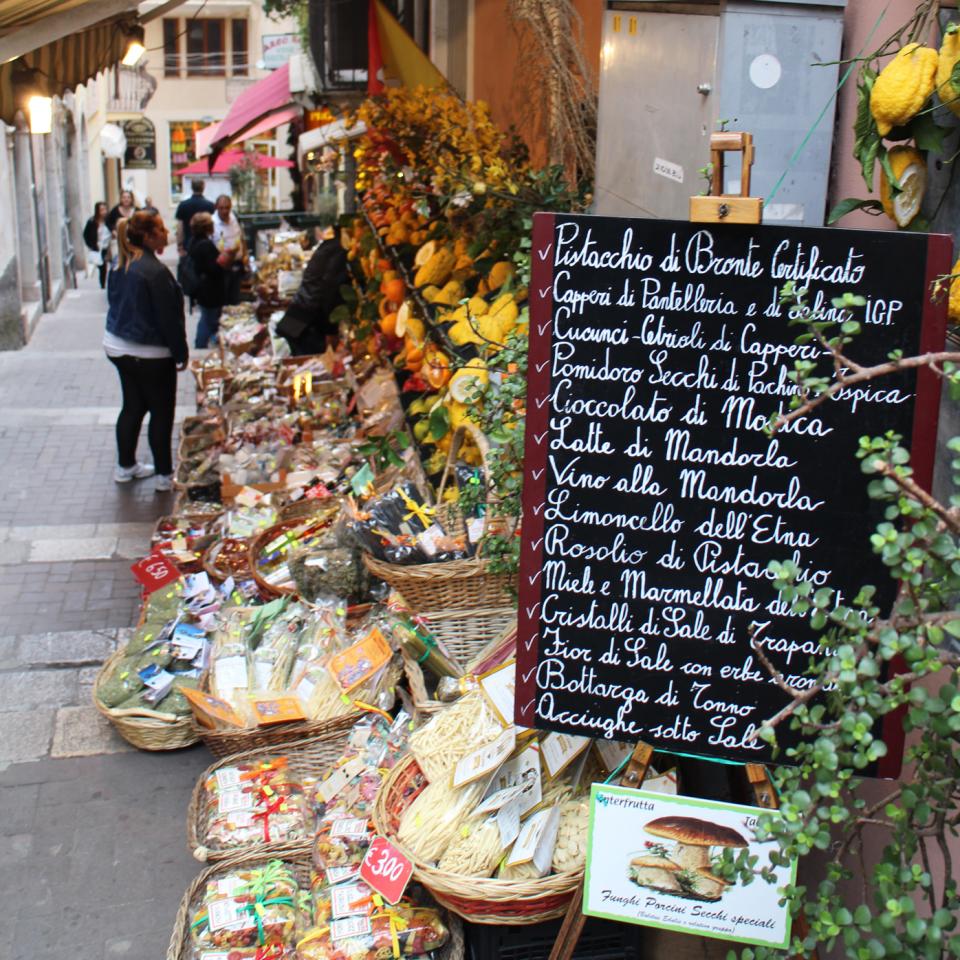 Etna isn't always so generous. Her 1669 eruption caused significant damage to the city of Catania, our next stop an hour's drive away. Today it's resplendent again, rebuilt in the Sicilian baroque style, and at the 19th-century house-museum of the Catania Historical Society, I joined a cookery class led by chefs Loredana and Ivano from local cookery school Cotumé. After expounding on Sicily's food and history, they led us into the original kitchen for a cooking lesson. We then sat down in the grand dining room for an exquisite meal of pasta with almond pesto, chicken with capers, and fennel and blood orange salad, surrounded by books, paintings and the city's memorabilia.
And so to Syracuse, home of Archimedes and a host of amphitheatres and temples. Crossing the Santa Lucia bridge to Ortigia – an island at the tip of the Syracuse Peninsula – I arrived at the bustling food market where no photo could do justice to the sight, scents or sounds; traders shouting 'fragole, fragole' (strawberries) and 'limone, limone' while locals and tourists stocked up on the beautiful fruits, fresh fish and spices.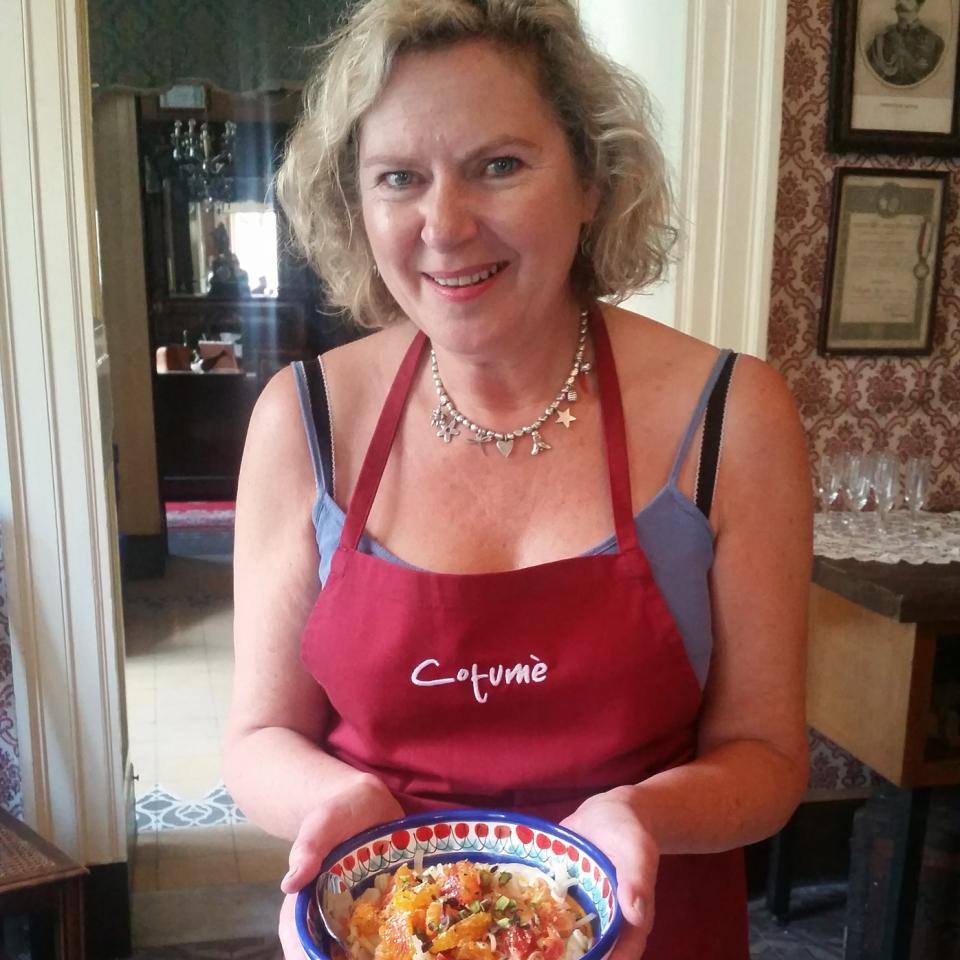 My base in Ortigia was Grand Hotel Minareto, a lovely beach hotel with stunning views and, after a refreshing dip in the pool on arrival, I enjoyed an accomplished lunch of taglioline with sardines and fennel, sea bass with clams, and a pie with carob and basil. During my stay, I met up with guide Eva Maier, who led me on a tour of the archaeological sites, then to her favourite restaurant, harbourside Darsena da Ianuzzo, where hunks of fresh bread and crisp white wine accompanied succulent prawns and tiny battered squid and octopus.
The elegant piazza, with its imposing Duomo, was perfect for a coffee and granita from Gelateria Bianca. And I was thrilled that, just opposite, the Chiesa di Santa Lucia alla Badia is home to a Caravaggio painting. The original, in his typically visceral style, showed the town's patron saint, Lucia, martyred by decapitation. The church insisted on the toned-down version that's on display.
My final dinner was at Michelin-starred Don Camillo, where the highlight was grilled tuna with pepper agrodolce. It seemed there was no end to Sicily's incredible food and, while it took me years to get there, it certainly won't be years before I'm back.
For more information, visit citalia.com (01293 765 066).
Don`t miss

---