Food
Taking Orders: Colonel Saab
by Abigail Spooner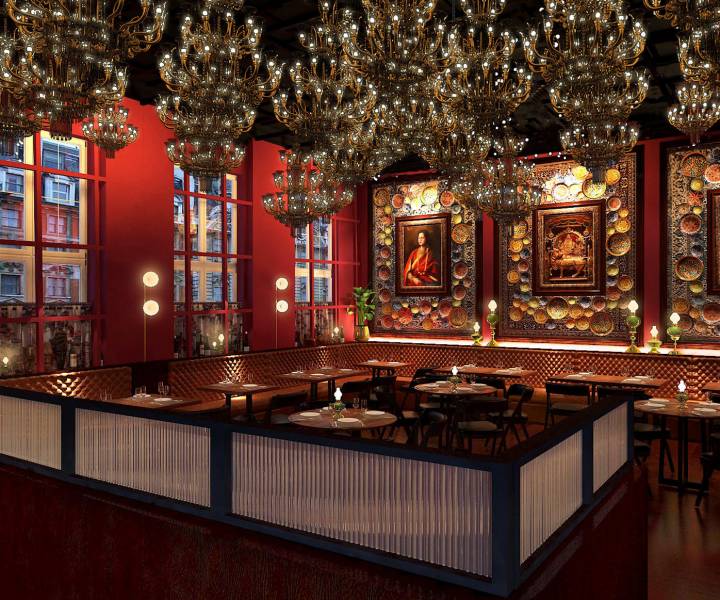 Colonel Saab
A feast for the senses awaits Abigail Spooner at London's latest Indian fine-dining restaurant
Where is it?
Situated in the former Holborn Town Hall, Colonel Saab is in the heart of London between bustling Soho and Covent Garden.
What's all the fuss about?
Opened by award-winning Indian entrepreneur and hotelier Roop Partap Choudhary, Colonel Saab is named after his father who was a soldier in the Indian army. The menu and décor are inspired by Roop's parents' travels across India, along with childhood memories of his own. With influences from different parts of the country, the food is a diverse mix of traditional, home-style Indian cuisine and contemporary, unexpected twists.
What's the place like?
The interior is grand and glamourous, with an opulent array of crystal chandeliers adorning the high ceilings and colourful Persian silk carpets and ancient paintings lining the scarlet red walls. In fact, there are so many family heirlooms and impressive artifacts, they could be charging museum entry. The team are warm, friendly and attentive and will happily talk to you about the fascinating stories behind the many treasures around the restaurant.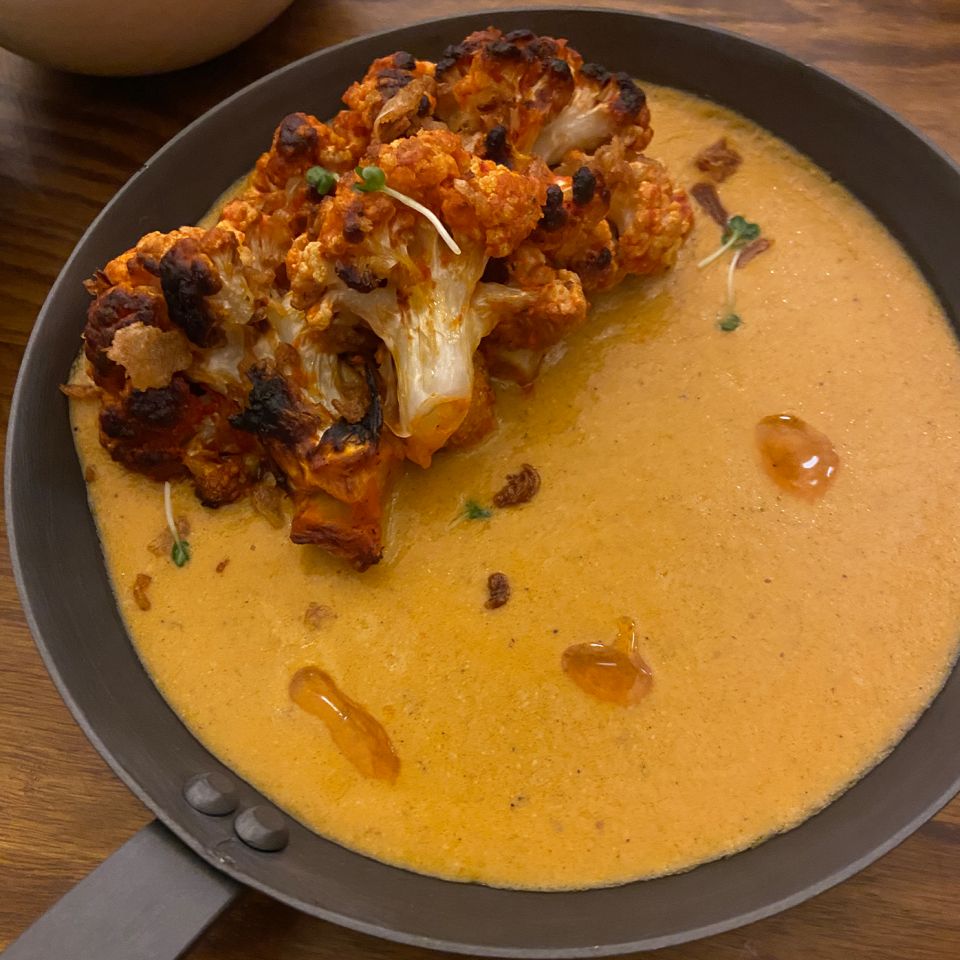 Confit of cauliflower
What did we eat and drink? 
We begin with a couple of small plates from the selection of chaat (Indian street food style snacks). The Mall Road is daal-like in consistency but with a delicious combination of textures and flavours featuring sweet potato, guava, tamarind chutney and coriander chutney. A must-try from the chaat menu is the Purani Dilli: flavoursome samosas on a bed of masala chickpeas with jewels of pomegranate and a drizzle of cooling yogurt.
We opt for two of the chef's signature dishes for our main course. Confit of cauliflower arrives beautifully presented and bathed in an expertly spiced cardamom and saffron sauce. We also can't resist trying Memsaab's chicken curry, which is made to a traditional family recipe with chunks of tender chicken in a creamy almond-based sauce. Sides of fluffy rice and baby kulchas complete our tempting sharing spread. Kulchas are similar to naan bread, and we taste one stuffed with roasted onion and cumin, and another more modern flavour pairing of truffle and parmesan. Both act as perfect sauce-moppers.
For dessert, we are spoilt for choice. Alongside an indulgent slice of Bengal lime cheesecake with jaggery syrup, we are keen to try the Rasmalai milk cake, which is new to us both. Made with condensed milk, the saffron-scented sponge has a lovely texture and sits in a luscious pool of cardamom cream.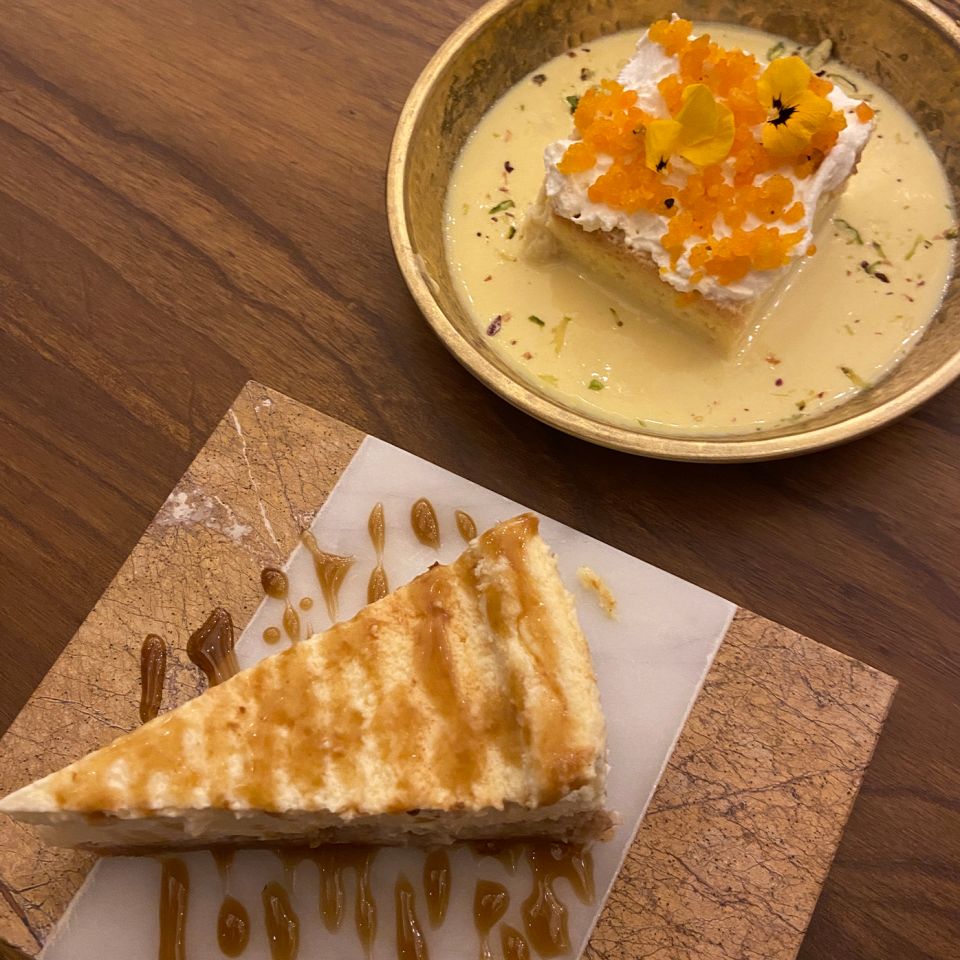 Mishti doi cheesecake and Rasmalai milk cake
Your verdict?
These days, restaurants need more than just a good menu to succeed, and Colonel Saab offers a unique dining experience with atmosphere, friendly service, faultless food and impressive surroundings.
Lasting memory?
Those samosas… crisp pastry on the outside and laced with spice on the inside. I'd happily eat a plateful.
Don`t miss

---