Food
Tom Kerridge: 'The only person who can do it is you'
Chef Tom Kerridge tells Cass Farrar how he wants to inspire us all to make healthy changes...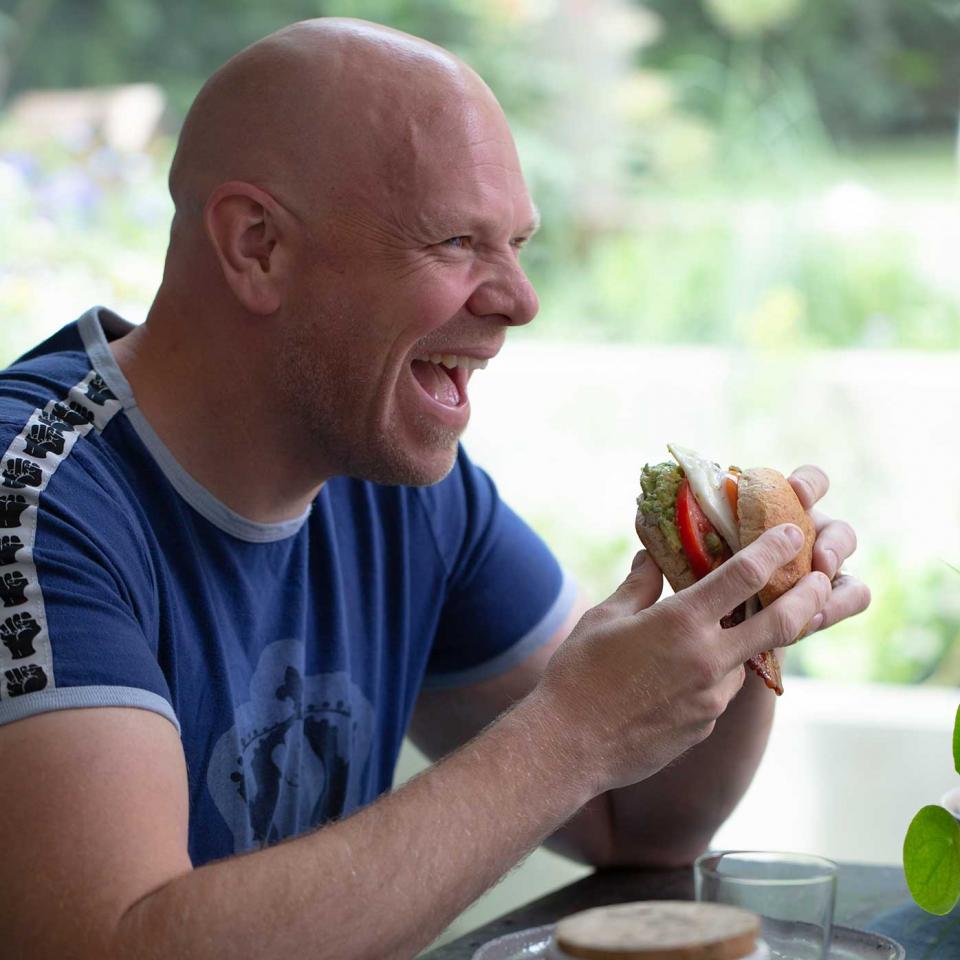 Tom Kerridge strides into his new restaurant, Kerridge's Bar and Grill in London's Corinthia Hotel, with a mile-wide smile on his face. 'Doesn't it look great?' he says, with boundless enthusiasm. It does. But the very beautiful, very large new restaurant isn't the only project he's had tucked up his sleeve. His new TV show, Tom Kerridge's Fresh Start, is about to air, and the accompanying cookbook is hitting the shelves this month. And he's achieved all this on top of running his two-Michelin-starred gastropub, The Hand and Flowers in Marlow, and squeezing in family time. He must be exhausted?
'Oh mate, it's been mad!' he exclaims, 'but I'm really proud of this place and the book.' I look around the restaurant and spy two large bronze sculptures made by Tom's wife, sculptor Beth Cullen Kerridge; some of the paintings that adorn the walls are also hers. In fact, the subject of family is ever-present, and never more so than when he talks about Fresh Start. 'This book is about having a better understanding of food and where it comes from; about creating delicious dishes as a family and not relying too heavily on convenience foods.' He quickly adds that 'not all convenience food is bad, and I recognise why it makes life easier – but it should be the exception, not the norm.'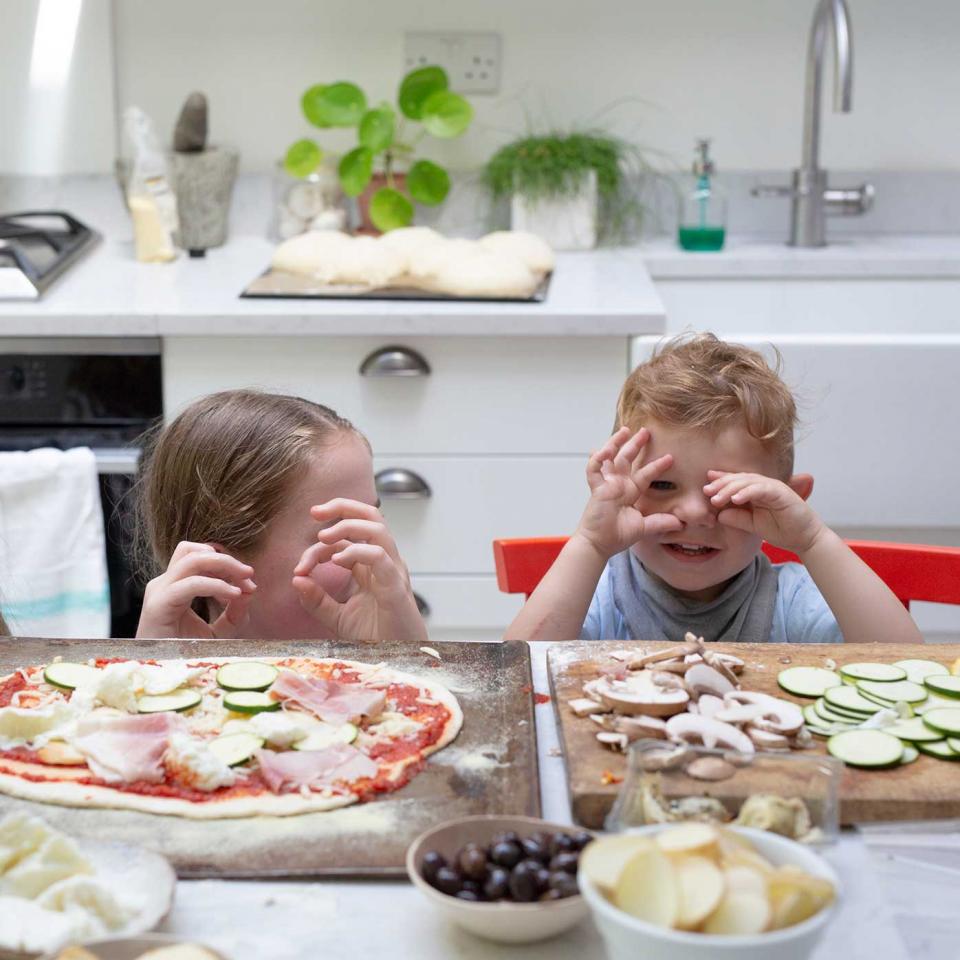 Tom's son Acey and a friend make pizza. Image: Christian Barnett
Care with carbs
With the new book and TV show, Tom aims to get people cooking and eating together, whether that's housemates, couples or families with 2.4 kids. 'Throughout filming, you could see each family [the show followed] grow, and everyone feeling much more connected in so many ways,' Tom says. He recognises that creating meals from scratch is a jump for some people, and applauds anyone who gives it a go. 'If you're eating convenience food and you're not a comfortable cook, to then get in the kitchen and cook something deemed healthy, that's taking a big step.' Tom famously had his very own fresh start when he lost 11 stone by following a low-carb, low-sugar diet and, crucially, giving up the booze.
Gone were the pints, chips, Yorkshire puddings and desserts, replaced by healthy, protein-rich meals. His post-diet cookbook, Tom Kerridge's Dopamine Diet, shot to the top of the Amazon's bestseller list, and a TV show and follow-up book, Tom Kerridge: Lose Weight for Good, soon followed. 'I still try to be low carb,' he says, 'but it has slightly changed. I go to the gym a lot and I swim. And sometimes carbs work with that but it's not burgers and chips I head to. It might be some pasta. I'm very careful on carb intake, especially with sugar. I do eat a lot of fruit but I avoid processed sugars as much as possible.' Many families embark on big lifestyle overhauls together, but Tom says that when he made changes, he had to do it alone. 'When you need to go on a big weight-loss journey you have to be selfish, because it's personal. It helps to have people around you encouraging you, but the only person who is going to do it is you.'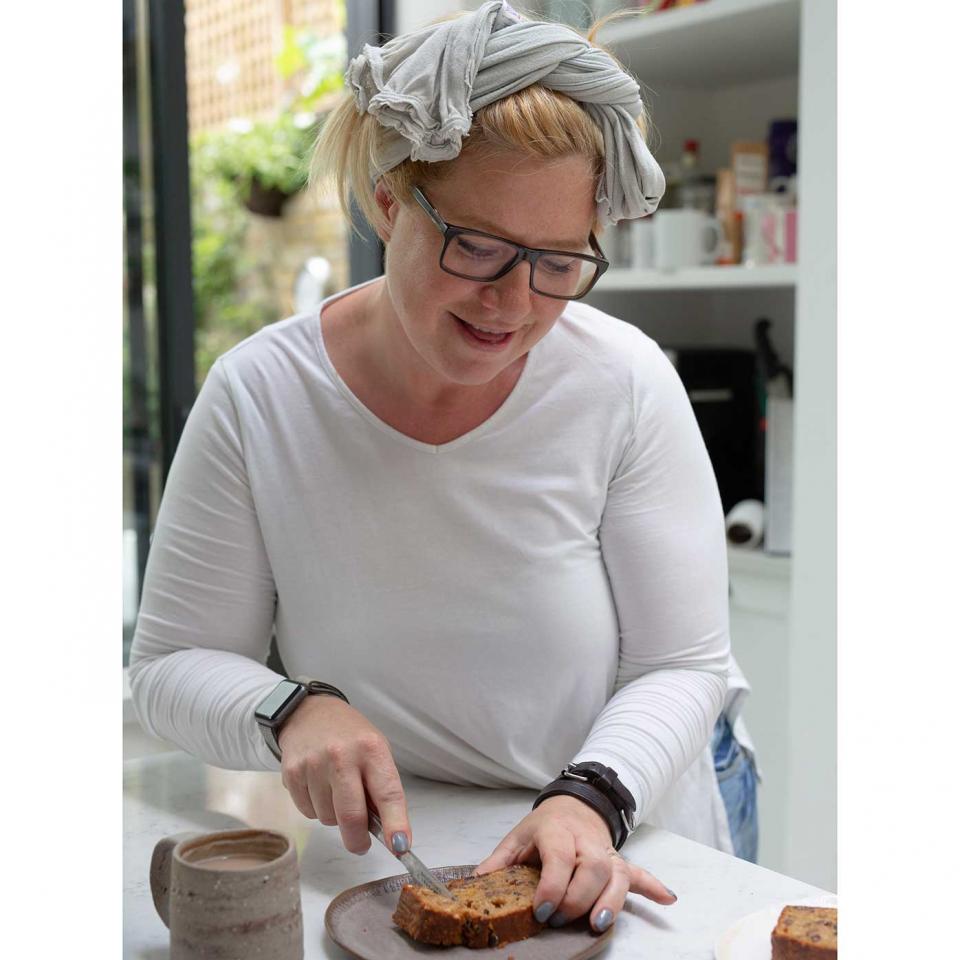 Tom's wife Beth Kerridge. Image: Christian Barnett
Healthy habits
Inspired by her husband, Beth lost weight herself, and has revealed that she cut out alcohol both to support Tom and because she was trying to get pregnant. The couple's son, Acey, was born in 2015, and they now juggle myriad work commitments with family life. Is Tom hell-bent on bringing up a foodie? 'It doesn't matter to Acey that his dad is a two-Michelin-star chef,' he says. 'He's only three, and sometimes fish fingers and chips is all he wants! He's not great with the veggies but it's important not to stress about it. He sees us eating lots of greens, and that will make an impression. He loves lamb and grilled fish; the veg thing is something that will come and that's the same as any family, irrespective of whether you're a chef or not.' Tom emphasises that his is not a typical family, schedule-wise. 'We do always try to at least have Sundays together, though,' he says. 'Sometimes we'll go out to The Coach for breakfast [his pub in Marlow], and Acey likes poached haddock on brown bread. I'll also make omelettes if we're at home. Beth and I always have fresh yogurt and fruit, and she loves her NutriBullet.'
Fresh thinking
What Tom recognises is that good food habits start young, and he's hopeful that today's teenagers will make better, healthier choices. 'As a generation, we went though a stage in the 1980s of eating loads of processed food,' he says, 'but 17-year-olds now are more likely to be coming back from the gym drinking a protein shake. They are the parents of the future and their kids will benefit. I know there's an obesity crisis, but I do think there is an awareness that there never used to be.'
Packing in the veg
Tom is keen to get people eating more veg, with favourite recipes of his including beetroot risotto and a romanesco, corn and coconut curry – and he's quick to point out that vegetables and fruit make great snacks, too. 'I've done recipes for flapjacks and muffins that are easy and a great option. But if you're out and about there really isn't anything more convenient than fruit. Our little man likes dried fruit or a squeezy fruit purée or rice cakes – try to arm yourself and be prepared.'
And for anyone out there who's not sure how to undertake their own fresh start, Tom has some sage advice. 'Don't look at the calorie content; just look through the book and see what you like. I'm a big fan of the turkey schnitzel – just view it as a massive chicken nugget that you can serve with coleslaw. You're getting the veggies in and it's recognisable. Choose familiar stuff and don't be scared by it. Just have a go. And do it together – there's no better to way to connect with the people you love than in the kitchen.'
Tom's pantry essentials
Smoked paprika: 'I love the flavour, the smokiness. It's like powdered bacon.'
Cracked black pepper: 'This gives crunch and a slight hit of spice.'
Tinned tomatoes: 'Never run out! They feature in so many recipes.'
Dried herbs: 'Such as herbes de Provence or dried Italian herbs.'
Chilli flakes: 'Make dishes exciting.'
Vinegar: 'Adds acidity.'
Curry powder: 'Plus garam masala and Chinese five spice – spices that take you to another part of the world.'
Honey and maple syrup: 'Fantastic substitutes for white sugar. I often roast honey first so it caramelises.'
Liquid aminos: 'A seasoning that contains beneficial amino acids – a bit like an extra-rich soy sauce.'
Tom's new book Tom Kerridge's Fresh Start (Bloomsbury Absolute, £26) is out now.