Food
The Hairy Bikers' curry side dishes
Recipe adapted from The Hairy Bikers' Great Curries by Si King and Dave Myers (Weidenfeld & Nicolson, £20)
Red onion, orange and pomegranate salad
This zingy fresh-tasting salad is perfect for serving with any rich or deeply flavoured meat curries like lamb, pork or beef.
Serves 4–6 as a side dish
2 large oranges
1 pomegranate
1 small red onion
1 long red chilli
1 x 31g bunch fresh coriander
1 tsp extra-virgin olive oil
1 Slice the ends off the oranges and place on a chopping board, cut-side down. Using a small sharp or serrated knife, remove the peel and pith, working your way around the orange. Cut between the membranes to release the segments. Put the segments in a salad bowl but don't add any juice that might have oozed on to your board.
2 Halve the pomegranate and tap it hard on a chopping board to shake out the seeds; discard any white pith. Scrape the seeds into the bowl with the orange segments.
3 Peel the onion and cut it in half from root to tip. Finely slice both halves and add to the bowl with the oranges. Very finely slice the chilli. If you want your salad a little less spicy, discard the seeds before slicing.
4 Trim the coriander and tear or chop the leaves very roughly, then add them to the bowl with the oranges. Pour over the oil and season. Toss together lightly and serve straightaway.
Cucumber raita
Cooling and refreshing, these sauces are perfect for serving with hot curries. They help tame the heat! Also great with poppadoms, chapatis and naan.
Serves 4-6
½ cucumber
a pinch of sea salt flakes
1 x 150g pot natural yogurt
1 tbsp finely chopped mint leaves
1 Peel the cucumber and coarsely grate it on to a board. Take a handful and squeeze out the excess juice over a sink; transfer to a bowl. Repeat the squeezing process with the rest.
2 Season the cucumber with the salt, and stir in the yogurt and mint. Cover and keep in the fridge until ready to serve.
Fresh coriander chutney
Serves 6
1 x 100g pack coriander
a small handful of fresh mint
2 plump green chillies, halved and deseeded
10g root ginger, peeled and roughly chopped
4 spring onions, trimmed and cut into short lengths
1 tbsp lemon juice
2 tsp caster sugar
¼ tsp fine sea salt
3 tbsp natural yogurt
1 Trim the coriander, leaving at least 5cm of the stalks to boost the flavour. Wash well, shake off any water and transfer to a food processor.
2 Rinse the mint and strip the leaves from the stalks – you should end up with about 30 leaves.
3 Put the leaves in a food processor with the coriander; add the chillies, ginger, spring onions, lemon juice, sugar, salt, yogurt and 3 tablespoons cold water.
4 Blend to a bright green purée. Spoon into a serving bowl or cover and chill in the fridge. It will keep for 3 days, but stir well before using.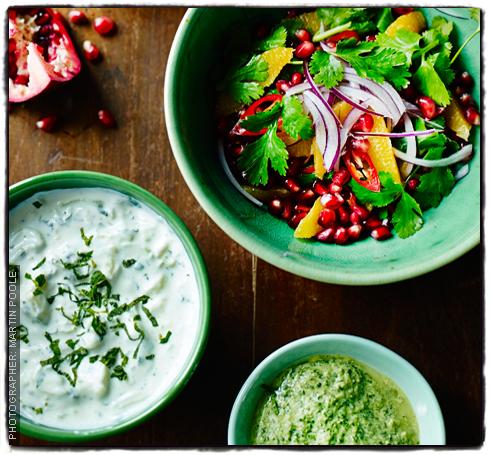 About the author