Food
This little piggy went to… THE PIG on the Beach
by Anne Robinson
The latest in the chain of quirky boutique hotels already in the New Forest, Bath and Southampton, THE PIG on the Beach overlooks Studland Bay, near Poole in Dorset.
Having opened last June, the latest piggy in the litter has the same relaxed, quirky style that has become THE PIG's signature.
The restaurant area is in a conservatory/greenhouse, with wooden tables, mismatched garden chairs, plants and pots of herbs. It also offers some of the finest coastal views in the UK – looking out to Old Harry Rocks, with boats bobbing idly about, and across to the Isle of Wight.
From garden to plate is THE PIG's philosophy and what cannot be grown in their kitchen garden will be sourced within a 25-mile radius. Head kitchen gardener Jo Macina has been busy nurturing her veg and herb garden producing fennel, courgettes, pea shoots, beans and Isle of Wight tomatoes. The fruit cages are planted with blueberries, raspberries, blackcurrants and more. It's worth taking a trip to admire the rows and rows of picture-perfect produce, all lovingly looked after by Jo.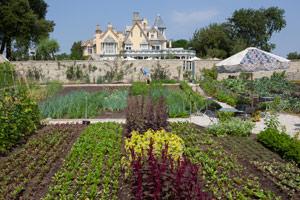 And this is reflected on the menu too, which is changed on an almost daily basis depending on what's been sourced from the garden that day.
On my visit, I enjoyed home-smoked Wester Ross salmon (smoked in their own smoke-house!) – and served with nasturtium leaves (from the garden), pickled cucumber (see recipe below) and a cider dressing. It was so light and refreshing, and the nasturtium, which I'd never had before, perfectly complemented the fish.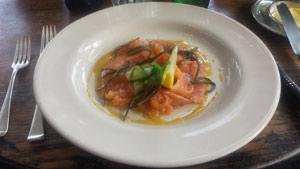 My buttermilk-marinated Purbeck pork loin was also utterly delicious – so tender and served with garden greens, roasted tomatoes and sorrel dressing. I also opted for the side of buttered Cornish potatoes, which were served with a salty seaweed dust –very moreish.
I finished my meal off with a simple and elegant blueberry frangipane tart.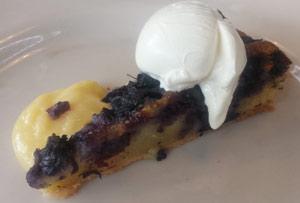 A delectable menu, fabulous service and a view to die for make The Pig on the Beach a very special place indeed. Even the coffee was served with love (and a cute little piggy).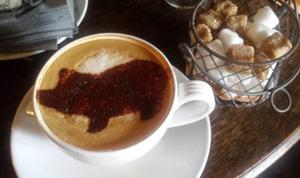 The Pig's Pickled cucumber
Makes 1.5 litres
Prep: 10 mins
Total time: 15 mins, plus cooling
Get ahead: The pickled cucumber will keep for up to 3 months; store in a cool place
Ingredients
500ml white wine vinegar
a few peppercorns (ideally white)
2 star anise
2 bay leaves
250g caster sugar
3 cucumbers, sliced lengthways or on a
long diagonal, about 2-3mm thick
Method
1 Pour the white wine vinegar into a pan with 100ml water.
2 Add the peppercorns, star anise and the bay leaves. Tip in the sugar and stir together over a low heat until the sugar has dissolved.
3 Put the sliced cucumber into a 1.5-litre sterilised jar and pour over enough of the hot liquid to cover. Seal and leave to cool.
4 Per 25g: 6cals; 0g fat (0g sat fat); 0g protein; 0g fibre; 1g carbs; 1g total sugars; 0g salt
Or use the same method for pickled beetroot...
Scrub and trim 3 medium beetroot and add to the pickling liquid in the pan. Simmer gently for 1 hour or until the beetroot is tender. Remove the beetroot from the liquid and, when it's cool enough, peel off the skin – you may want to wear disposable gloves to do this so you don't end up with pink hands! Slice the beetroot and transfer it to a sterilised 750ml jar. Reheat the pickling liquid and pour it over the sliced beetroot to cover. Seal the jar and leave to cool.
Recipe by James Golding, Chef Director of THE PIG Hotels.
Don`t miss

---