Food
Taking orders - Rawligion
Sarah and Hannah from the digital team visited Rawligion to sample what a completely raw lunch tastes like. Not just carrot sticks and crudités, this is clever cooking with health benefits to boot.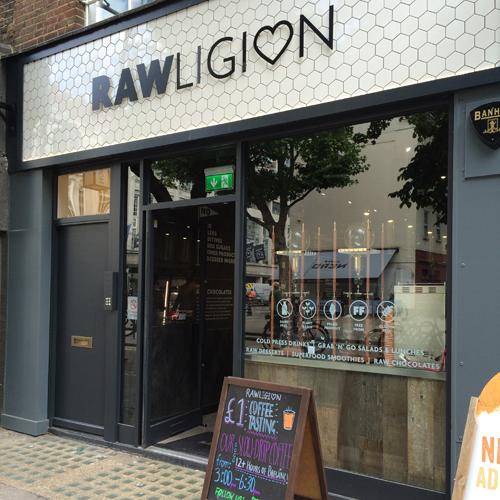 What is it?
A new 'raw' lunch place, but not aimed at raw converts like Gwyneth Paltrow who have been pretty much living off celery since 1998. It's aimed at your everyday London workers who might want to replace one of their Pret sandwiches with something they know is going to do good. (We're not knocking Pret, though. It's one of our go-to lunch spots.)
Where is it?
Just by Goodge Street station in central London.
Who would love it?
Anyone who likes to pick up a juice on the way to work and visit Pod at lunchtime.
What's the signature dish?
The juices. They aren't cheap, (between £5-£8), but you get to try before you buy, and the staff can tell you all about the ingredients and their health benefits so you know what your money gets you. We loved the John Dee juice – it's designed for the mornings. The black colour comes from charcoal (V trendy), and also has grapefruit, lime, ginger, volcanic salt and 'black magin extract'. There are so many flavours, it gets you at the back of your throat, but we kind of liked it. Then there's the brain-boosting milk (I am drinking it as I write). It's made of walnuts, vanilla and medjool dates and it tastes like ice cream. It would definitely make a good breakfast.
The dish we would order again...
Our favourite dish on the lunch menu was crunchy kelp noodles (£7.50).
Our dessert choice...
There's quite a healthy selection of desserts, but for us there was one clear winner – the millionaire shortbread. Thick chocolate, caramel (made with dates) and a crunchy bottom. For something (ever so slightly) lighter, the blueberry cheesecake is also a winner and not too sweet.
Next time we would get...
The chia puddings
Watch Sarah and Hannah's review video below:
About the author