Canadians take maple syrup very seriously – and at White Meadows Farms in the Niagara region of Ontario, they not only make it, sell it and drizzle it liberally on their delicious pancakes (and in their home-made baked beans), they even have maple ambassadors! On a recent trip to Canada I was lucky enough to take a tour of the farm with owner Ann Bering – the farm's been in her family since 1937 and there's not much she doesn't know about maple syrup.
Syrup season (when the maple sap rises) here runs from February into March and from the 5,000 'taps' (each maple tree has two taps on average drilled into it), the farm produces around 5,000 litres of syrup per year. The clear and tasteless maple tree sap is collected through plastic pipes, and then boiled and filtered until it becomes syrup – nothing else is added, so it really is a completely natural and pure product. The syrup varies in colour and flavour depending on the time of season – lighter syrup is produced at the start of the season and darker towards the end – but all maple syrup has to contain 66.5% sugar.
And what does Ann make with her maple syrup? She is thrilled to have perfected maple sugar (made by heating and stirring syrup continually until all the liquid evaporates), which can be used in baking like normal sugar. She also loves syrup in butter tarts (a local sweet treat) and recommends using it in fish dishes, particularly trout and salmon.
I tried and loved this White Meadows Farms recipe for salmon with a sweet and sticky maple glaze.
Maple teriyaki salmon
75ml apple juice
75ml maple syrup
3 tbsp soy sauce
1-2 garlic cloves, crushed
4 salmon fillets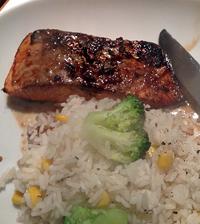 1. In a bowl, combine the apple juice, maple syrup, soy sauce and garlic; remove 120ml for basting (cover and chill). Pour the remaining marinade into a large sealable freezer bag. Add the salmon to the bag and seal it, then turn to coat both sides. Leave in the fridge for 1-3 hours.
2. Drain and discard the marinade. Grill the salmon for 5 minutes, then baste with the reserved marinade and grill for 10 more minutes or until the fish flakes easily with a fork.
For more information and maple syrup recipes, see whitemeadowsfarms.com
About the author