Food
Bake Off's Candice Brown: you should always play around with flavours
by Leah Hyslop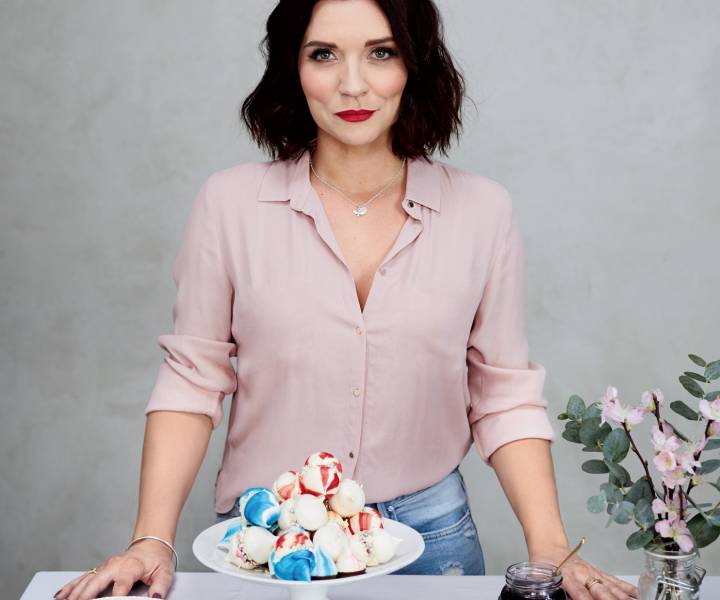 Image: Ellis Parrinder
We talk to The Great British Bake Off's 2016 winner Candice Brown about lipstick, life after the TV show and her new book - Comfort...
Your new book is called Comfort. What does the word mean for you?
It's the kind of food I like eating – dishes that make you feel cosy and warm inside. They are nostalgic, too. I love food that sparks memories; when you take a bite and go, 'Oh, that reminds me of something my mum used to make, or that we had at school!'
Many of your recipes are inspired by your family – from your grandmother's clove-stuffed apple strudel to your mum's quiche. Is family veryimportant to you?
My family are my everything. We are very close-knit. The book is filled with so many of their favourite recipes, and memories – especially of my nan. She was the apple of my eye and such a great cook. When I was a kid, I was attached to her hip. She only passed away recently and I still remember absolutely everything about her. And she made the best roast dinner I have ever had.
Your parents were pub landlords for most of your childhood. What was that like?
They gave us such a great childhood. We moved around a lot, and it wasn't easy; people always think running a pub sounds lovely, but it's hard work. But you meet people from all walks of life in a pub.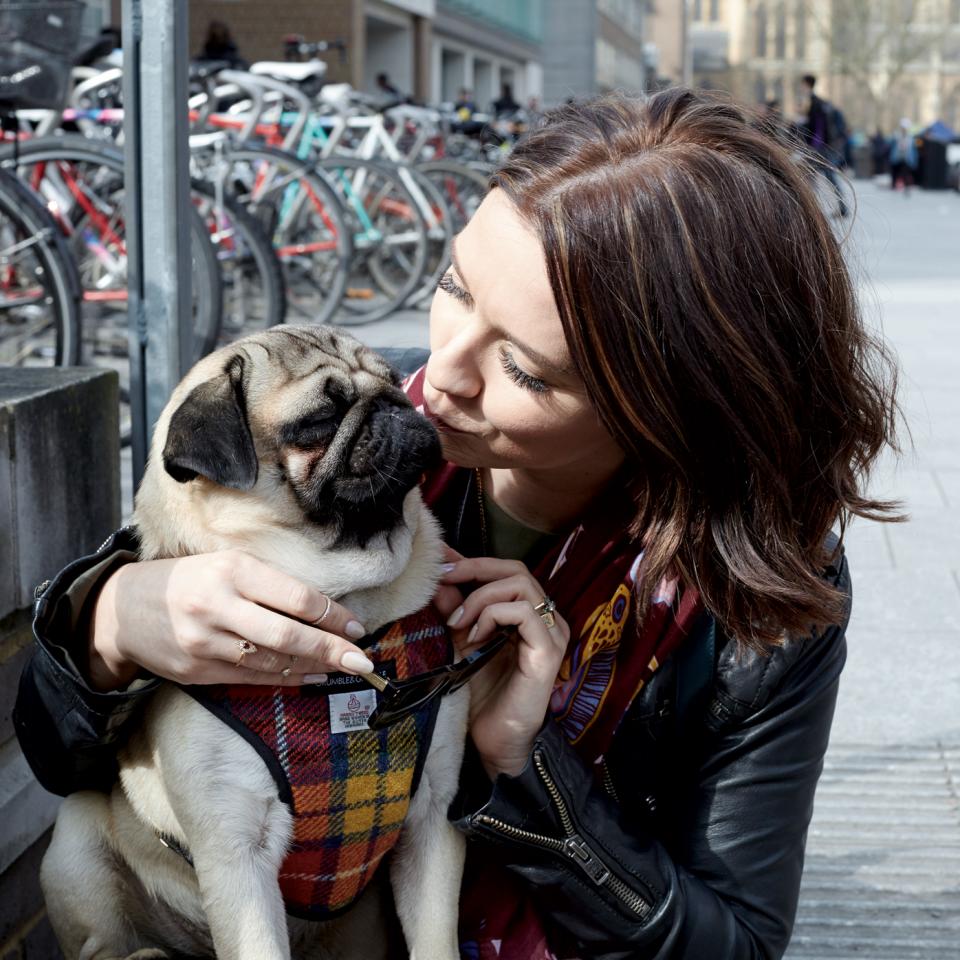 Image: Ellis Parrinder
Are you a very careful cook, measuring everything out by the gram, or do you like to run a bit wild in the kitchen?
I do a lot of what I call 'guess-a- cakes', where I throw everything into a bowl, bung it into the oven and hope for the best. If it's bad, I just don't tell anyone about it. But when you're doing recipes for a book, you have to be a lot more careful, and make yourself measure out things very carefully. Still, I say in the book that you should always play around with your baking, especially with different flavours. Don't be scared of mixing things up – cross out ingredients and add ones you like, and if it goes wrong, well, it's only a cake! I like it when recipes are passed down and changed – they might start out as mine, but then they become someone else's.
What are your favourite flavours to cook with?
I really love seasonal fruit. I think it comes from my love of going to markets. Even if I'm on holiday on the other side of the world, I will track down a market. I really like raspberries, passion fruit and anything that is tangy – the kind of food that makes your face go a little funny. And my whole family is obsessed with coconut. We often joke it's a miracle that I wasn't born brown and hairy.
A lot of your recipes are very nostalgic, like the Black Forest gateau. Is the past a big inspiration for you?
I love anything old or retro, from clothes to kitchenware. My absolute hero is Audrey Hepburn. I love the way old things have so much character. A French copper pan, or a chipped bowl have stories to tell.
You became famous on Bake Off for your glamorous lipsticks. Has a make-up company asked you do a lipstick range yet?
You know what, I was sent a lot of amazing lipsticks, but nobody has asked me to do that. I'm quite happy doing 'research' though – and by that I mean popping out to the shops every few weeks and treating myself to a new one, along with a coffee and a slice of cake. If you feel rubbish, putting on a bit of lipstick always makes you feel better.
You balanced appearing on Bake Off with your job as a PE teacher. Was that difficult?
It was really hard. I taught PE for special needs children, which is a very emotionally difficult job, then every night I was testing cakes and going away to film at the weekend. I certainly didn't sleep very much. And I had to keep it a secret. Every Monday, I'd go into school and my colleagues would ask, 'Do anything interesting at the weekend?' and I would have to reply, 'Oooh, not really!'
You've given up teaching now to focus on your cookery career. Will you ever go back?
There are days I miss teaching – especially when it's summer, and the kids are finishing exams and they're all so happy. But I'm doing something I have always dreamt of doing, and I really am so grateful to be given these opportunities.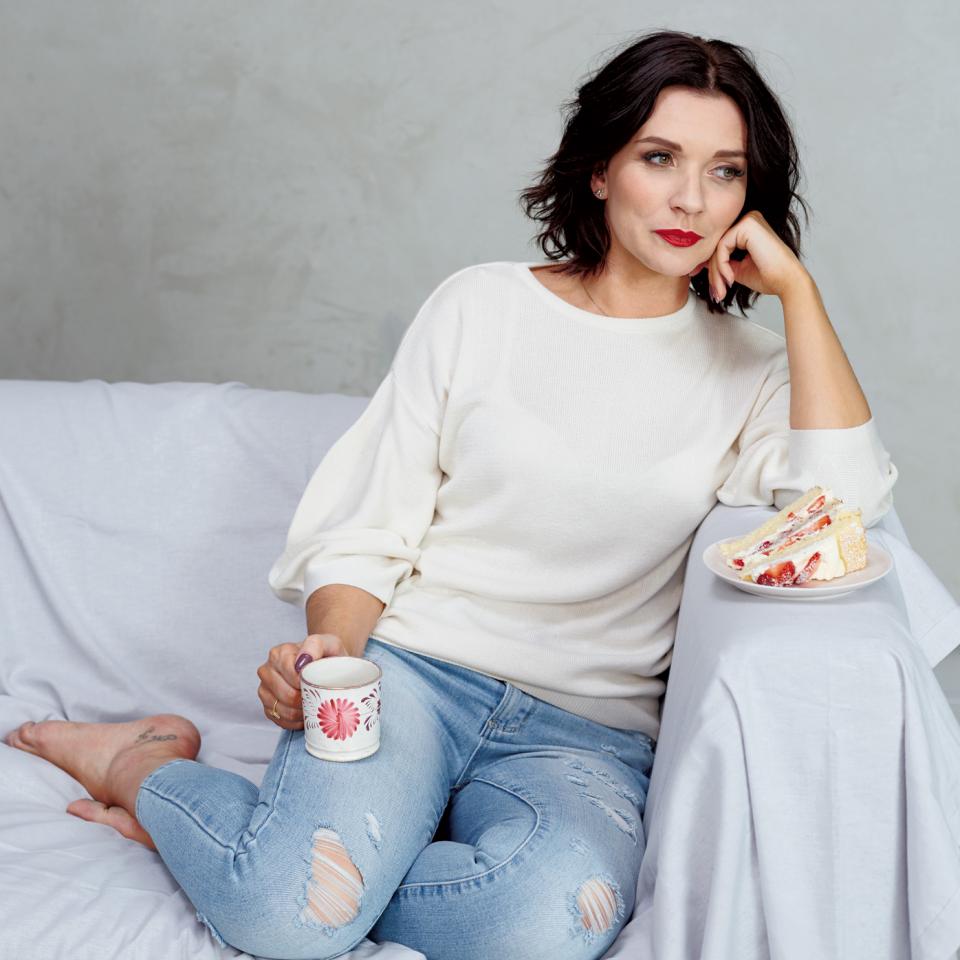 Image: Ellis Parrinder
You tested the recipes for your book at home. How did your partner Liam cope with all that cake?
There were days he'd come home and say, 'What's for dinner?' and I'd say 'Um, chocolate cake and pavlova…' He often complains that he doesn't even like cake but then I'll find him in the kitchen eating one with a spoon before it has even come out of the tin.
Are you still friends with any of your Bake Off colleagues?
Oh yes. We have a WhatsApp group, and some of them are even going on holiday together soon. We were very lucky that as a group of 12, we got on really well. We laughed a lot during Bake Off, and we still do.
What's the biggest lesson you took away from Bake Off?
It has made me realise that I can do things, and that I am actually quite good. That was a big thing for me because every week on the programme I would feel so nervous, as if they'd find out that I shouldn't really be there. I have especially learnt that I can work well under pressure. When Mel and Sue shouted, '60 seconds left!' I'd think, 'OK, well, now I'll construct a house'. It turns out you can do a lot in a minute.
Candice's book Comfort is out now.
Don`t miss

---