Food
Gizzi Erskine's Easter around the world
by Gizzi Erskine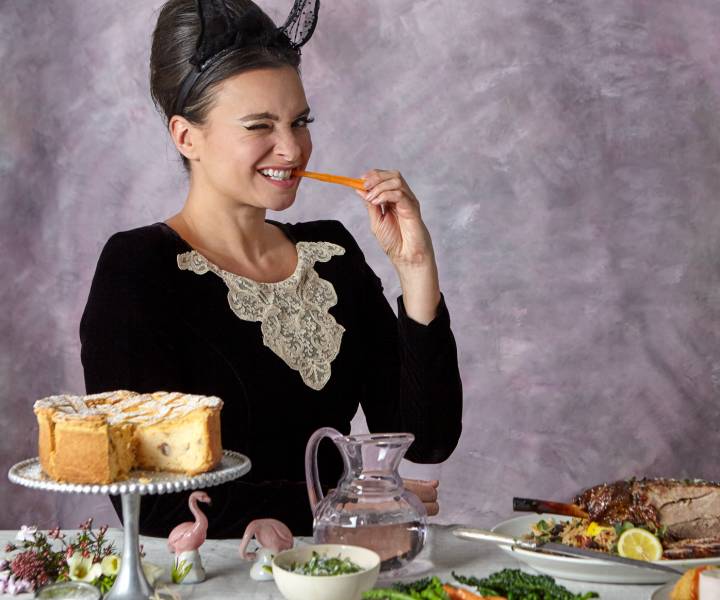 Image: Nassima Rothacker
From Mexican molotes to Polish cheesecake via Greek lamb, food writer Gizzi Erskine munches her way through Easter treats from around the world.
I've always been pretty confused about when Easter actually hits. I know it's different every year, but even at 37, I'm still not entirely sure why. The internet tells me that 'Easter Day falls on the first Sunday after the first full moon occurring on or after the March equinox.' Still confused? Me too, and that's coming from a girl who totally digs astronomy.
What I do understand is that Easter marks the first bank holiday of the year, and the end of Lent and all that miserable deprivation. So that, my friends, means a big old family shindig.
Usually, my sisters, their partners, the kids and my mother, all gather at my house (the Easter bunny only knows my address, you see). My mum is Polish, but married a French man before my father, so our supper is roast leg of lamb, studded with rosemary, garlic and anchovies, with flageolet beans and dauphinoise potatoes. We also nod to our Polish heritage. This includes favoriki, strips of deep-fried pastry dusted with icing sugar that no one likes except for my mum! But we all love her Polish cheesecake – so zesty and light. Interestingly, the Russians have a similar dessert called pashka – usually shaped into a pyramid – which must be related back in the gene pool somewhere to Polish cheesecake.
A global Easter
Thinking about my family's global mishmash of traditions has led me to be curious about other countries around the world, and the foods we eat around this time – often blindly, without understanding where they come from. Some say the exchange of Easter eggs, for example, can be traced back to the early Christian community in Mesopotamia, where chicken eggs were stained red to represent the blood of Christ. Nowadays this idea has been replaced by hollow chocolate eggs – much better if you ask me!
No Easter is complete without hot cross buns, and the Erskines devour them by the bucket load. Just like at Christmas, when we basically jump into a vat of mince pies, my big sister Heni and I carb-load them, slathered with butter, competing to see who can eat the most. The eating of spiced buns was institutionalised around the Tudor era, when consumption was banned apart from on Good Friday or at Christmas. The cross appearing as a reference to Christ's crucifixion was first recorded in the 1700s, and is echoed in a Polish sweet bread that is slashed with a cross.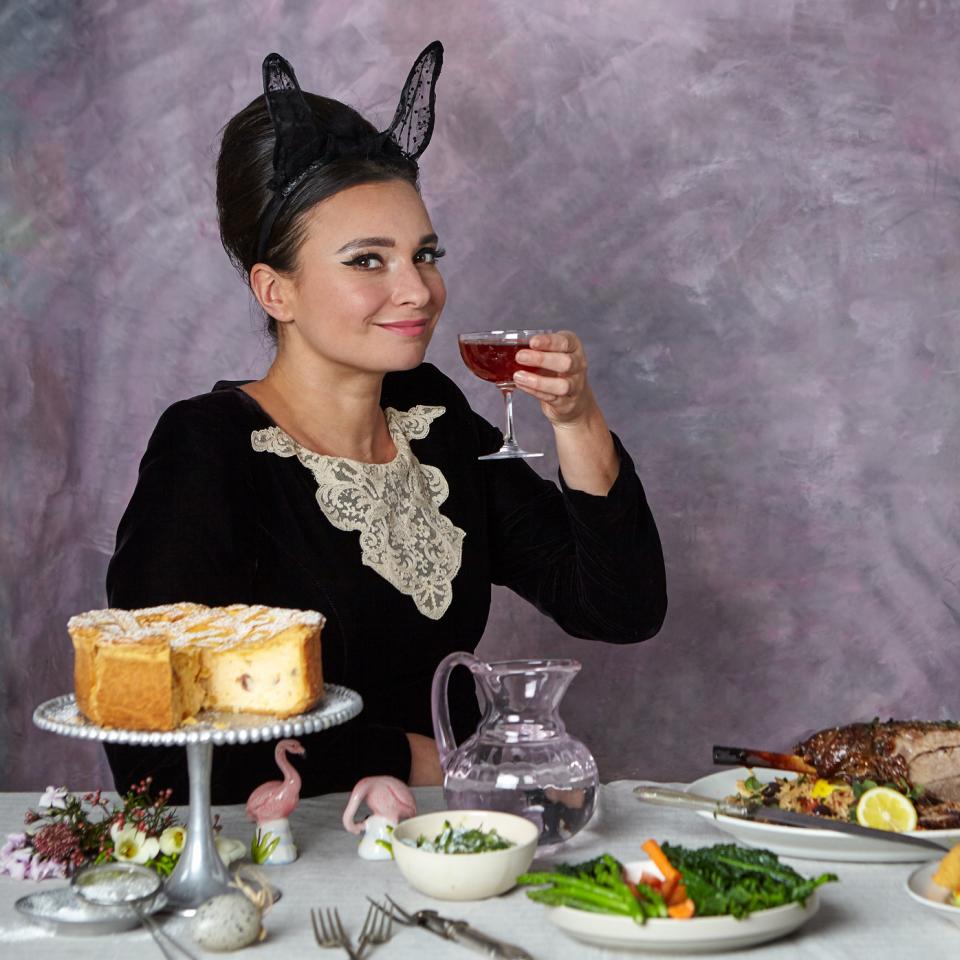 Image: Nassima Rothacker
It seems every culture that celebrates Easter has some kind of symbolic, fruity bread, such as the German osterbrot, the Russian kulich, or the Italian colomba – similar to panettone but shaped like a dove. In Jamaica they apparently eat their Easter bread with cheese, which is something I want to try this year.
All over the world, lamb is synonymous with Easter, and a common centrepiece of the Easter table. This makes sense due to all the spring lamb about, but there is more to it. Some say it's a representation of Jesus, the 'Lamb of God', which is probably why the Pope eats lamb at Easter. Traces of this symbolism can also be found in Poland, where butter is shaped into little lambs and given as gifts.
A country that does Easter well is Greece. Most Greeks still fastidiously observe Lent, avoiding all meat, milk, cheese and eggs, so the end of Lent is a big occasion. I was once on the beautiful island of Kefalonia over Easter, sitting on the beach with friends while locals spit-roasted a glorious whole lamb. They had massaged it with lemon, herbs, salt and spices, and it was some of the most succulent meat I've eaten. We devoured it with tzatziki, a classic Greek salad and kokoretsi. That's lamb offal skewered on a spit, wrapped in its caul (intestines) and roasted over the coals. I know many of you will think that is disgusting, but it was absolutely delicious. It also felt like a real celebration of the entirety of the animal, which is the way that we should all be eating meat – with nothing wasted!
Get inspired
One year I'd love to go to Mexico for Easter. Elaborate processions, rituals and ceremonies take place everywhere, and there's lots of delicious street food. Molotes, little parcels filled with chorizo, potato and spices, are a must-have. Served with a fiery chilli sauce and cooling sour cream, these are a wonderful brunch idea. In my recipes, I've taken inspiration from my Easter traditions, and other countries around the world. Whether you're religious or not, the four-day weekend is an opportunity to get into the kitchen, explore new ideas and energise your Easter menu. Happy eating!
Don't miss Gizzi Erskine's delicious recipes:
Chorizo, potato and three-cheese molotes
Don`t miss

---