Food
Burger & Lobster: from sea to table
I'm ashamed to say that until last week I'd never been to Burger & Lobster (one of the UK's most popular surf and turf restaurants). But I finally went along, not only to the restaurant, but to see how those delicious lobsters get from icy Canadian waters to our tables... and it's pretty fascinating.
THE JOURNEY FROM NOVA SCOTIA
In the UK, lobsters are still considered a delicacy – but in Canada and the United States lobster rolls are as widely available as fried chicken and hamburgers. Over-fishing of cod in Nova Scotia has led to fewer fish preying on baby lobsters, which mean more reach adulthood. As a result, lobster stocks have rocketed – so they've got enough spare to send some to us in the UK!
I was taken to an industrial estate near Heathrow, where the lobsters are kept after their flight from Nova Scotia. I had a vision of hundreds of lobsters sitting with seatbelts on – and although it's not quite as ridiculous as that, these lobsters are treated very well. That's all thanks to Burger & Lobster's executive chef, John Cadieux, who has developed his very own lobster distribution unit near the airport where they are kept clean, happy and fresh after their long flight.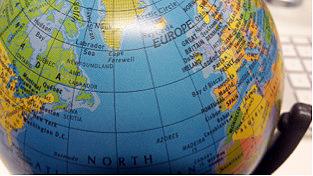 In case you didn't know where Nova Scotia was
– my desk globe often comes in handy...

Burger & Lobster use over 23,000 hard-shelled lobsters each week in their restaurants; that's a lot of lobster flying into Heathrow! Anything other than hard-shelled lobster (below) won't survive the journey; these guys are tough cookies.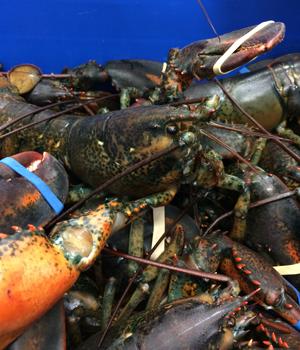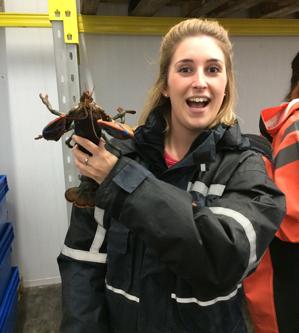 I'm totally at ease (!) holding this lobster
THE HEATHROW LOBSTER CENTRE
Once they've touched down in London, they are brought to the Burger & Lobster distribution centre, where their temperature is gradually lowered to around 4-6 degrees (to make them less active), then they are cleaned and kept in this amazing room...
John and his team create their own saltwater, which is sprayed on the lobsters during their stay at Heathrow. It keeps them clean and happy until they're ready for their next journey. I've never met anyone with such a passion for these lobsters as John. The tanks, which he designed himself, enable this restaurant business to expand and deliver fresh lobsters every day.
Here he is with a giant crab that will eventually make its way to Beast – another surf and turf restaurant under the Burger & Lobster umbrella.
DINNER AT BURGER & LOBSTER
After my eye-opening trip to Heathrow, I headed back into Soho for my first taste of the menu. I was excited to see the result of all John's hard work, and it didn't disappoint.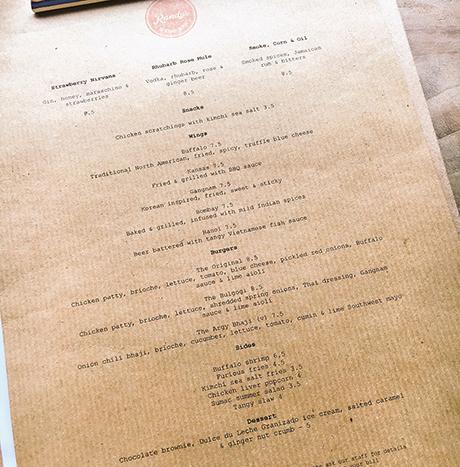 There are only three offerings: burger, lobster roll and whole lobster (all £20 and served with fries and salad). Obviously I wanted to try everything!
The lobster roll is fresh lobster in delicious mayo, served in toasted sweet brioche. The crunch of the fresh lobster next to the sweet, soft buttery brioche is heavenly.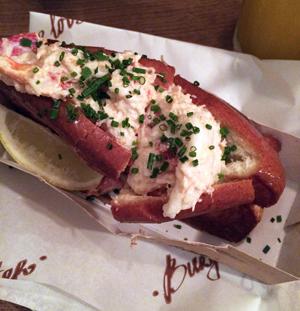 Yummy lobster roll
If you've never had lobster before, ask one of the waiters to show you the best way to eat it. Crack into the claw meat – it's the tastiest bit; sweet and delicious. Then dip some of the meat into the garlic butter.
If you're not a seafood fan, the burgers – made with minced steak – are pretty incredible, too. In fact, food writer Neil Davey has called them 'a 10oz thing of beauty'.
I'd recommend sharing a lobster roll to start, then having half-and-half of burger and lobster – thereby tasting the whole menu. Winner.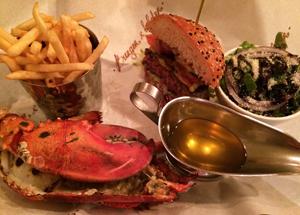 Half a burger, half a lobster, chips, butter, salad. Mmm.
Another plus is the cocktail menu. There are so many amazing concoctions, all for £7.50.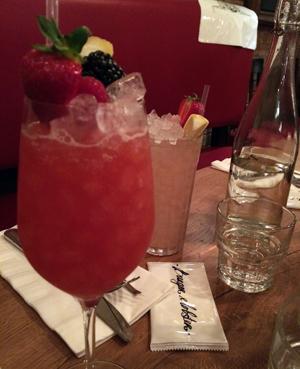 Burger & Lobster is opening in Manchester on 7 August and in Bath on 11 September.
About the author