'Snickers' brownies
Makes
12
|
prep
20 mins
|
total time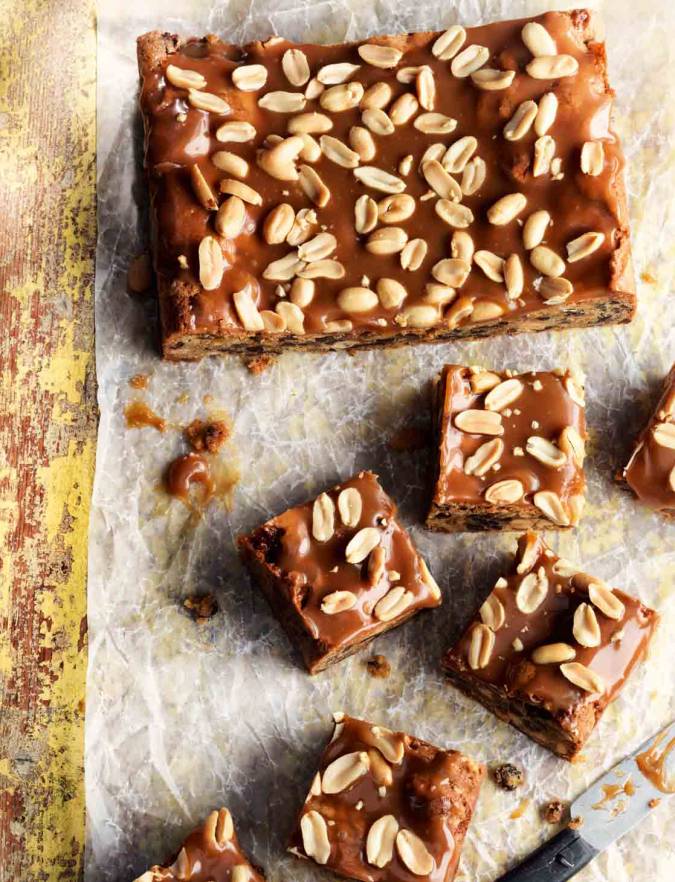 Nutritional information (per serving)
See more
Ingredients
125g soft unsalted butter, plus extra for greasing

225g plain flour, plus extra for dusting

¾ tsp baking powder

½ tsp bicarbonate of soda

175g smooth or chunky peanut butter

225g granulated sugar

225g light brown soft sugar

3 large eggs

¾ tsp vanilla extract

200g dark chocolate chips

50g mini marshmallows

200g salted peanuts
For the topping
100g granulated sugar

100ml double cream

25g unsalted butter
Get ahead
Make up to 3 days ahead. They can also be frozen.
Preheat the oven to 180°C, fan 160°C, gas 4. Grease a 5cm-deep 20 x 30cm baking tin with butter, line the base with nonstick baking paper, then dust the sides with flour – tap out any excess.
Mix the flour, baking powder, bicarbonate of soda and ½ teaspoon salt together in a bowl; set aside. In the bowl of an electric mixer, cream the peanut butter, butter, granulated sugar and light brown soft sugar at a medium speed until smooth. Beat in the eggs, one and a time, followed by the vanilla extract.
On a low speed, gradually add the flour mix, then the chocolate chips, marshmallows and most of the peanuts. Let the mixer start to fold these into the mixture, then stop – you don't want them to be fully incorporated. Spread the mixture evenly into the prepared tin.

Tip Sprinkle any leftover mini marshmallows on to hot chocolate for a winter treat.

Bake for 40-45 minutes or until the brownie is golden and a knife inserted into the centre comes out clean. Leave to cool, then chill for at least 4 hours.
Loosen the brownie with a knife and turn it out of the tin. For the topping, combine the sugar, ½ tsp salt and 100ml water in a medium pan. Whisk it a bit to help dissolve the sugar, then bring to a simmer. As the mixture heats, brush the sides of the pan with a wet pastry brush to remove any crystals that form. Don't stir but, if you can't resist, swirl the pan to mix it a little. Once the bubbling syrup starts to take on a caramel colour, watch the pan closely – it'll go from golden caramel to burnt mess in no time. You're aiming for a deep amber colour – this can take up to 20 minutes.

Remove the pan from the heat. Slowly and gradually pour in the cream, whisking the mixture after each addition to stop it from boiling over. Whisk in the butter until the caramel is creamy and smooth, then leave to cool slightly before pouring it evenly over the brownie, spreading it with a small spatula if necessary. Scatter the brownie with the remaining peanuts and leave for 1 hour to set before cutting into 12 pieces.