Raspberry and Champagne marshmallows
Makes
20 large or 40 small marshmallows
|
prep
20 mins
|
total time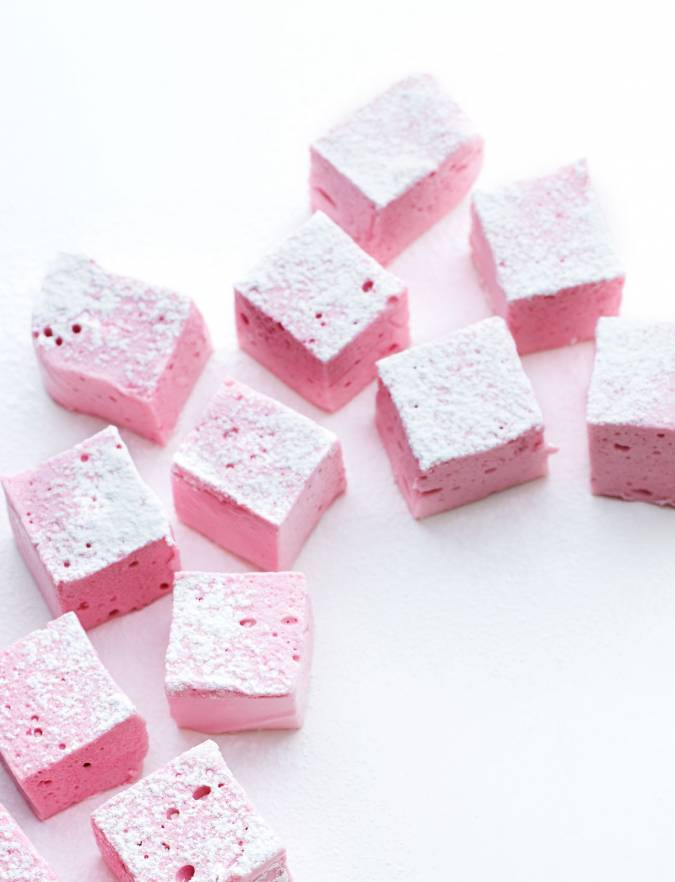 Nutritional information (per serving)
See more
Ingredients
15 leaves Dr Oetker select leaf gelatine

300g raspberries

a drizzle of vegetable oil

300g white granulated sugar

240g liquid glucose syrup

2 tbsp Champagne (or prosecco)

75g cornflour

75g icing sugar
Get ahead
Best eaten within 24 hours of making
First, soak the gelatine leaves. Measure 200ml cold water into a shallow, microwaveable bowl, then, one by one, add the leaves to the water, fully immersing each leaf. Leave to soak for 10 minutes. Meanwhile, whiz the raspberries in a food processor, then sieve them and discard the pips – you need 175g of raspberry purée. Line a 20cm x 30cm tin that's 3cm deep with clingfilm so it covers the whole surface completely and smoothly. Lightly grease the clingfilm with a little vegetable oil.
Heat the soaked gelatine and water in a microwave (category B/650W) for 1 minute (or in a pan) until dissolved.
Put the granulated sugar, half the glucose syrup and 100g of the raspberry purée into a medium heavy-based saucepan and bring to the boil. Heat until a sugar thermometer shows 112°C (this will take 4-5 minutes), then pour it into a food mixer. Add the remaining 80g of raspberry purée and the remaining glucose and mix on a low speed.
Whisking all the time, add the melted gelatine and liquid, then increase the speed to medium.
 Once the consistency of the mixture thickens and is less liquid-like, and there is no danger of splashback, increase the mixer speed to maximum for a further 12 minutes until the mixture is thick enough to hold its shape on a whisk – it should have quadrupled in size.
Reduce the speed of the mixer to low, add the Champagne to the mixture and continue whisking for a further minute. Tip the marshmallow mixture into the prepared tin, level and leave it to set at room temperature for 4-6 hours (or overnight).
Sift the cornflour and icing sugar into a bowl together. Cut the marshmallows with a hot, wet knife and dust with the icing sugar mixture.