Zingy prawn cocktails
---
Prep time: 25 mins
Total time: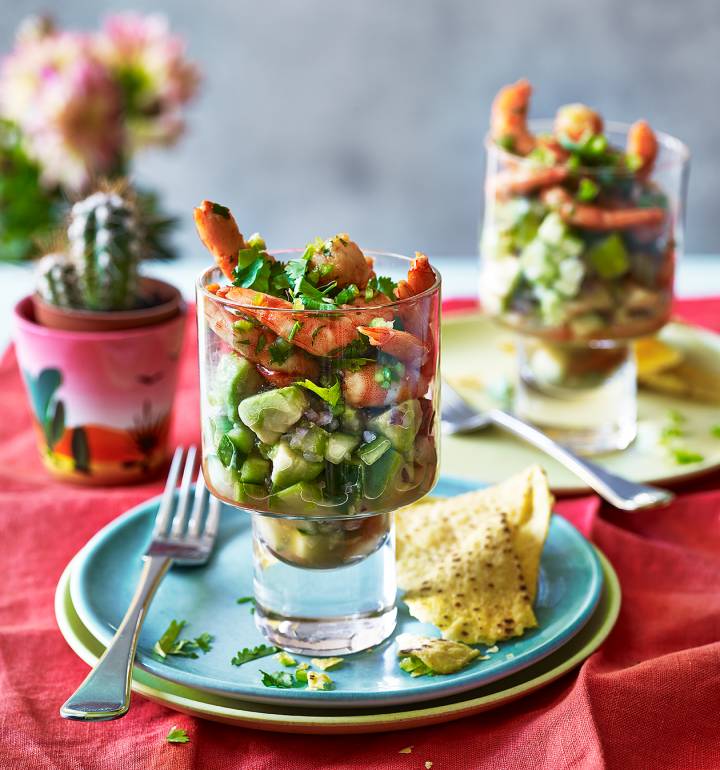 Recipe photograph by Toby Scott
Zingy prawn cocktails
These make an impressive-looking starter but they're really easy to make
---
Prep time: 25 mins
Total time:
---
See more recipes
---
Nutritional information (per serving)
---
Ingredients
200ml V-8 or Big Tom's tomato juice - check the juice is gluten free, if required
juice of 3 limes
½-1 tbsp chipotle paste or use 2 tbsp chipotle Tabasco sauce
1 large handful of coriander, roughly chopped
300g Taste the Difference cooked peeled king prawns
1 ripe avocado, chopped into 2cm pieces
1 celery stalk, diced
3 tbsp diced red onion (about ½ small onion)
½ large cucumber, peeled, seeded and sliced into 2cm pieces
1 green chilli, finely chopped
Step by step
The tomato dressing can be made and the celery, onion, cucumber and chilli chopped up to 4 hours before and chilled. Marinate the prawns up to 2 hours before serving. Assemble 30 mins before serving and keep chilled.
In a small bowl, mix together the tomato juice, nearly all the lime juice (reserve 2 teaspoons for the avocado), chipotle paste or sauce, most of the coriander (save a little to garnish) and some seasoning. Mix well and add the prawns. Cover and chill until ready to assemble.
In a large bowl, toss the avocado with the reserved lime juice. Add the celery, onion, cucumber and some of the chilli. Divide the mixture between 6 short glasses. Spoon the prawns and the spicy tomato juice on top of the avocado/vegetable mix; keep chilled for up to 2 hours.
Sprinkle with the reserved coriander and green chilli.
Don't miss

---