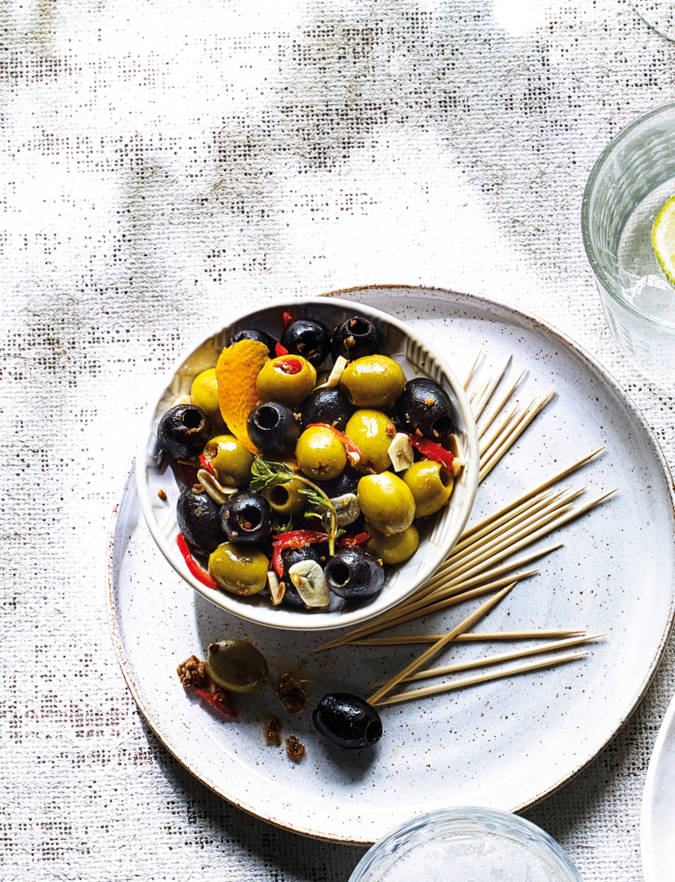 Nutritional information (per serving)
See more
Ingredients
1 tsp coriander seeds

1⁄2 tsp fennel seeds

2 tbsp olive oil

2 garlic cloves

1⁄2 red chilli, deseeded and sliced

juice of 1⁄2 unwaxed orange

juice of 1⁄2 lemon

a few thyme sprigs

1 x 150g tub of Basics black pitted olives

1 x 150g tub of Basics green pitted olives
Toast 1 tsp coriander seeds and 1⁄2 tsp fennel seeds in a dry frying pan, then grind coarsely with a pestle and mortar.

Very gently warm 2 tbsp olive oil in the frying pan, add 2 garlic cloves, sliced thinly, and 1⁄2 red chilli, deseeded and sliced, and cook for 1 minute without letting the garlic brown. Add the crushed seeds, the pared zest and juice of 1⁄2 unwaxed orange, the juice of 1⁄2 lemon, a few thyme sprigs, and 1 x 150g tub each of Basics black pitted olives and green pitted olives.

Warm through for a couple of minutes, then tip into a bowl. Serve warm or at room temperature. These keep for 5 days in the fridge.